Say a lil prayer for me.
Aah, yesterday was fascinating. On first day of Eid-The Malaysians actually wore their traditional Malay costumes (and I mean with Kain samping and songkok just like in Malaysia) and walked around Seoul. Pretty Cool !
Anyway, today's topic is about the COURAGE.
Thru out my self development courses, one thing I learn and has been my way of life is…
"Get out of your comfort zone!".
Every week, acts of courage is in my to-do list. That's why I love to travel cos it creates endless "out of my comfort" zone activities.
Simple stuffs like saying hello to a stranger or a local, doing what the locals do, meet new people and be open to their beliefs, embrace anything that life throws on you (not easy) , tasting new delicacies and bizarre stuff you never ever could believe you can ever attempt etc
This Japan and Korea trips are much challenging than any other. I "peel my onion skins" in much faster rate and somehow able to continue with the momentum.
Truthfully, it's uncomfortable. And there are times, I just don't wanna do anything uncomfortable. But once it's done, I feel great.
Like an "expansion " of self. And then looking forward to do more new uncomfortable things. I've got a whole bucket list actually. And I'm starting to do it now. Not when I'm on the verge of kicking the bucket and regretting it.
I've tasted all kinda of stuff and I thought nothing new can emerge. I was wrong. How about raw beef?
It sounded simple but yet when I see it in it's gory reddish blood red colour. I began to tremble inside. Eeyew?! Do I really have to eat that?
How about the wormy looking animal I saw just outside the restaurant?
(Did u say it's penis what?!) Eeyew! Will it still be alive in my tummy after I devoured it?
The sights of men and women covered in medicated plasters in gangnam and the big colourful posters beckoning me in to try plastic surgery, well… ouch! I love my face, thank you. I love my every part of my body.
This last pit stop (is it really?) of my world tour asia is like transcending stage of womanhood. I've been unleashed, groomed inside and outside and then when all else fails, you can always go for a permanent "makeover".
I'm not encouraging it. My religion forbids it unless it's necessary to stay alive.
I felt like Seoul is somewhat like America but it has it's own unique flavours and feeling. Kinda like a restless teen finding it's own identity.
In between, it's quest for romantic and endless love can be seen thru out it's city.

I'm in the wrong place, the guy travelers I met, sighed. They said that one cannot travel to Seoul alone. Need a companion. It's too lonely being on your own. And it's overrated because of the TV shows. If you know nothing, you are screwed. You won't be magically swept off into the air.
I smiled. I felt it too. As much as I love to unite with my soulmate, this is what I must do. My last solo trip around the world (hopefully).
And what better way than to do something major and life threatening huh? Like bungy jumping?! It's safe.(really?!)
Then why are my knees wobbling at the thought of it? Will I pee in my pants? Will my overweight tummy full of kimchi be too much for the cords? Lol.
Dear love coaches and mentors, I have been a very good student. Doing my assignments in a foreign land. Even when I cry at the uncomfortable moments of trying something new, I will still do it and complete it.Tsk.
And omg bungy jumping… Paragliding not so bad, at least there is someone with you. Lol. But bungy jumping is a solo act.
Wait, did u say one can marry and jump off the cliff together? As in bungy wedding? Cool!!
DMZ was kinda creepy and negative. Ya know, I don't fancy going to places I believed are "negative" to me esp war stuff. But I'm curious. Feeding my inner child curiosity.
But now knowing from the southern side about the North Korea, I felt weird. Are there such people living on this earth? Can't everything be solved with love and hugs and kisses? Isn't there any possibility of world peace and unity?
I wanted to ask-Did they have a very bad childhood experiences?
But I fear, I won't make it back so I bite my tongue.
I dunno but I'm not supposed to judge. This is just one side of the story.
From my experiences, everyone is just doing the bestest they can to live their life with the best that they know how.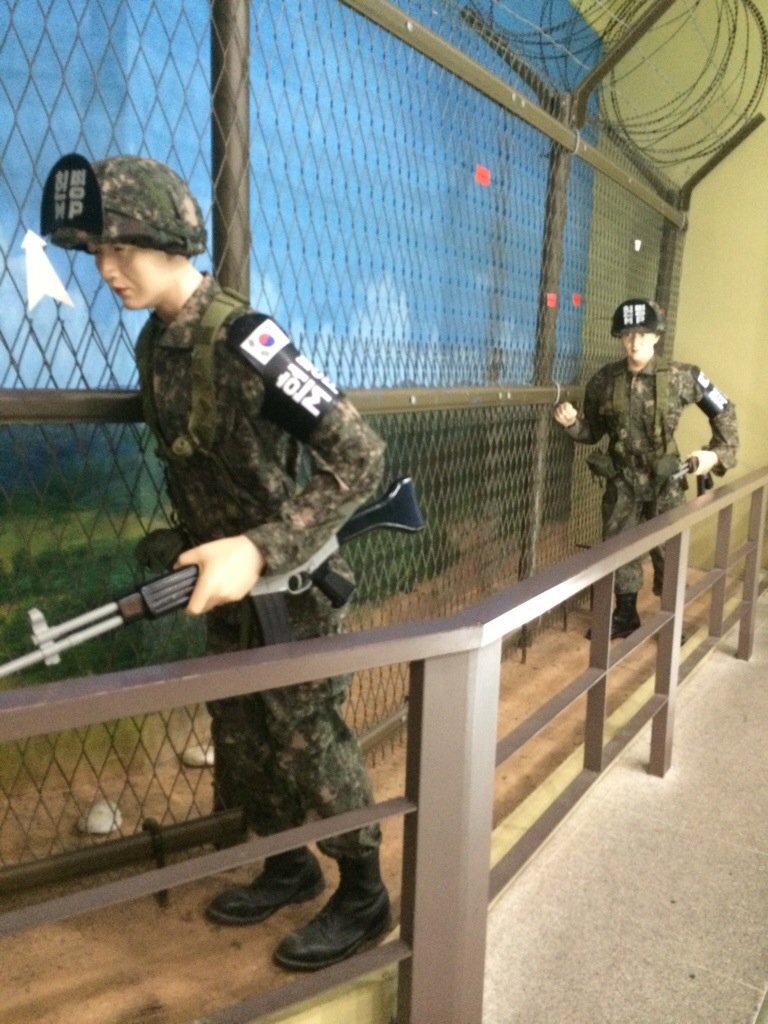 This DMZ tour (North Korea border) is really an eye opener. I went thru the tunnel, and I thought I won't make it back.
Do not attempt this when you are fasting…my opinion.
It's up to you to follow or not. It's small, damp and narrow and there are too many people. The steepness of going up is like endless. Those who are claustrophobic and has heart problems, it's best not to go.
But again, go for it, if you must! Follow your guts and instincts. It's not as narrow as the stairs I took up the church in Europe.
That is crazy. I'm not claustrophobic but that was too small, I may end up being one.

The people I've met are pretty nice.
Dear mom and dad, I'm in good hands. The guys took good care of me. One day, I was so tired and don't feel like doing anything, one actually whip up crepes with icecreams and Nutella (my favorite!) for me! (aww so sweet!Strangers' kindness). Do not worry

And I'm done blurting my actual age. No one believes me! So whenever they say I'm a student, I looked away and nodded. lol.
Ok, I believe our life has been prepared and plan well by the Almighty.
So I'm just gonna trust that it's serving my highest good.
I hope all these are preparing me for my warrior camp (T.Harv Eker's program) in September.
I think it's somewhere in Malaysia.
Overall, I think Seoul is pretty cool. Not fantastic but a mixture of everything nice.
Just random topic :My fascination with goatees is never ending… I even notice that the imperial guards wore fake goatee! Charming. If I'm the Queen, I order all men who wished to serve me to start growing one! Lol.
Ok back to the bungy jump…
Will I pee in my pants? When I'm anxious or nervous, it's always high tide.
No matter how many times, I've been to the loo. Lol.
Say a lil prayer.
I'm coming back a different woman.
But erm with the same face, I hope.
Love,
Lina.
P.s: Blogging while wandering about. Just another random thoughts sharing session with you.
Erm, is it safe to land in the water? Any man-eating animal inside this lake?
(Visited 9 times, 1 visits today)