Dear awesome love warriors of the world…
I'm so glad that I said yes to Dr Lara and Johnny Fernandez course.
Thru that I met all of you, wonderful souls.
All these were so unplanned. I never plan to travel as far as America this year. It was not on my to do list.
Even as I did the telecourse, I was still not planning on coming to USA. I thought-Hmm, California? Been there done that, twice. Although I've never been to SF and I do want to visit it someday, I thought that some day will be next few years.
Anyway, the telecourse was also unplanned. I was browsing thru reading Arielle Ford's emails on soulmate secret etc and I chanced upon reading about Dr Lara and Johnny. And like magic , from one video lead to another and soon I was in the telecourse.
The telecourse peeled a lot of my "onion layered" skins and healed them. At first it was uncomfortable to be in the raw but with like minded powerful female support, I was able to pull thru with many breakthroughs.
I grew up with boys and have many guy friends. I seldom hang around girl friends because I felt like an outsider. But I felt like family with you all.
You embrace me and treat me like a sister. In such short period and although we have different colorful backgrounds, I felt cocooned in the love web that y 'all have spun. The best part is that we were all there for a common reason: soulmate love.
At first I was skeptical and fearful of the uncertainty, but I made a promise to myself to commit to this. And I'm glad I did it. Even the flights, accommodations were all unplanned but somehow it all went smoothly for me. I trust the Almighty for everything. I trust myself and the people involved. And I trust the process.
I never knew what blocks I created for myself in relating to soulmate love. I never even take LOVE seriously as a subject on its own. But I learnt so much from this .And with our awesome love coaches guidance and experiences; we all overcame that and grew far beyond our own expectation and imagination.
The San Francisco trip was also unplanned but somehow, alhamdulillah the Almighty has made it beautiful for me , for us, love warriors.
The four of us; Linda, Celina, Sarah and me were still growing from that experience and from each other. We were all students and teachers and we shared our strengths and weaknesses with each other.
I salute each and everyone of you. You are all so beautiful internally and externally. To go thru various life changing experiences near death experiences and many more.
Our miracles continue to pop up here and there. And thru the gift of awareness we are all able to witness in awe and gratitude and learn from it.
I remember how we put the tools that we learnt especially the California and New York Technique at the gorgeous retro boutique hotel.
Sarah and I nearly brought the hotel down *lol Celina immediately rushed to us after recognizing our gorgeous voices near the rooftop. Lol. Oh god that experience is priceless.
Linda is an amazing lady. I want to be like her in her age. She ran her first marathon at age of 40?! I'm still huffing and puffing while walking up the hill in SF. Still as vibrant and young and so energetic and so committed in manifesting her soulmate love. Love this woman. Her kindness and big heartedness is shown in her face. And she glows with much happyness and satisfaction.
Celina, what can I say? She is always looking so hot and pretty and so ladylike but yet deep down this lady is very adventurous. Has travelled to various countries on her own and live there and have healed from cancer on her own with no medical intervention- just by eating right and focusing on the right mindset. She is also a raw food chef. She taught me how to voice out my mind and heart loud and clear.
Sarah, my roomie. Like a sunshine, she brings happyness wherever she goes and whoever she meets. She is so comfy in her own skin. A health coach, intelligent and very spiritual lady. She taught me to be comfortable in my own skin, my body, my temple. Her every being spells out L-O-V-E it's a great pleasure to see her grow from every experience and sharings.
All these ladies are my teachers. They are beautiful, kind and big hearted beings. We all believe in similar teachings and we accept one another without judging each other.
I believe the next time we meet, we will be blessed to meet each other soulmates . And I believe some of us will be inviting each other for weddings. Woohoo!
Looking forward to that.
Remember, we are magnetising for the One, not many guys but for that one special soulmate in which we each deserve. That level 10 relationship of soulmate love. Not 5 or 6 or less but 10. Why? Because we are worthy. Its our birth right.
It definitely will happen, ladies. Believe and have faith.
I was not able to take shots of all the beautiful ladies present with our coaches because we are not allowed to take pictures. (Why? Other than confidentiality… There are celebrities amongst us and I'm not referring to me lol)
But these are the ones… Closest to me.
And not forgetting….
Melissa, I'm looking forward to your visit in Asia, soon!
The kindness and awesome Mariposa alongside her boyfriend and son for the tip on gorgeous halal food and the mass workout with 500 locals in SF. I learnt lots from you and your experiences!
My love and prayer goes out to each and everyone of you and I know your soulmate love will be manifested.
Thank you for embracing me and for being with me thruout this soulmate love journey.
I love you.
The journey of love warriors continue….
Aho!
Blogging on the move…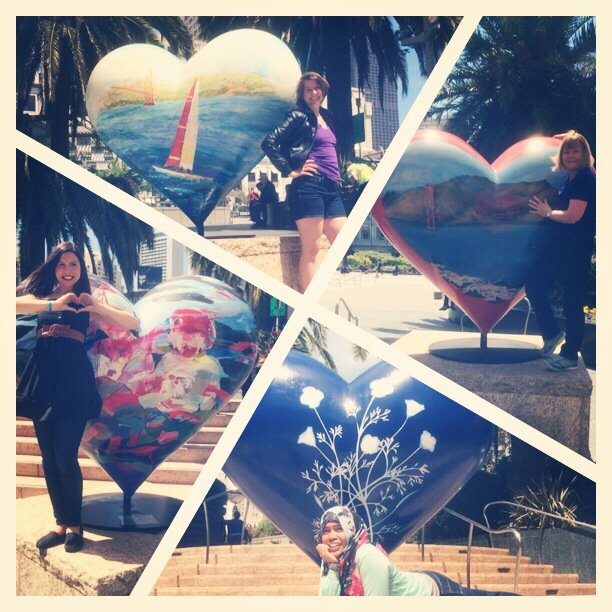 This has been a magical miracle.
God bless.
Psst… My Brazilian ribbon has fallen.. Woohoo!!
(Visited 4 times, 1 visits today)