They claimed they dont use msg and no boric acid etc.
The bowl looked stupendously huge with steam escaping-good for my facial and also I can sniff my running nose goodbye.
Hungry for breakfast, left home about 4am. Ate some potatoes n chicken for breakfast but the hunger for food adventure always beckons me as I step into new territory, new country.
This noodles restaurant seems fascinating. I listened with much excitement at one of the waiter expressing his delight on everyday news at the ordering counters
Aah, what great energy to start off the day huh?
I ordered: $18.90 Taiwan beef noodle soup. (I just felt like having a soup good to clear my head n my soul as well and I know Taiwan beef noodles are good at that.)
The bowl came about 15mins after ordered. Ask the waiter to recommend ,he recommended the herbal chicken. Nah, my inner child felt like being rebellious-I wanna eat beef today!
This is in preparation for "future" lack of meat while I gallivanting about in Japan. I'm not sure whether my "carnivorous" palate will be satiated in Japan cos I'm unsure of the Halal spread over there.
The steaming huge bowl of noodles came. The soup reminded me of my rendezvous with the beef noodle chef back then.
Not bad but my happyness was soon dampen by the blanched noodles not properly cooked. I felt like I'm eating uncooked noodles ya know the ones when u r too hungry n 2 minutes ain't gonna make it for the tummy.
I felt like asking the chef( I saw one with the top hat) to redo the noodles again. But then again, perhaps I'm taking the noodles too seriously. Got to loosen up a bit.
I allow the noodles to wade itself into the pool of beefy broth like an "onsen" (I cannot wait to get to Japan woohoo!).
And I distract myself from the hunger by blogging to you gorgeous readers out there.
I did take a look at the directory, I wouldn't want to go to a Burger King that would be a mistake. The next best place is satay club. I miss gombak satay. And I don't wanna be disappointed so early in the morning. My carnivorous appetite starts early.
Oh well, this noodles is not bad. I say, I gave it a 2.75 out of 5. I make it 3 if the waiter say something nice or make me feel like a customer.
I like the broth, 3.5 out of 5. But minus some point cos it's noodles r not complimenting the goodness. Ignore the few slices of long beans n leafy green n chopped cauliflower.
Place is clean.
Service-what service?
But nevertheless I'm thankful of such eatery (doesn't feel like a restaurant) exist or else I may need to eat Burger King (yikes?!).
Blogging on the move. Gotta start doing this or else my think tank gets overloaded.
Kinda lazy, my twitter mode is on so pardon my short abbreviations which I only knew lol.
Onward to Japan! Yeah!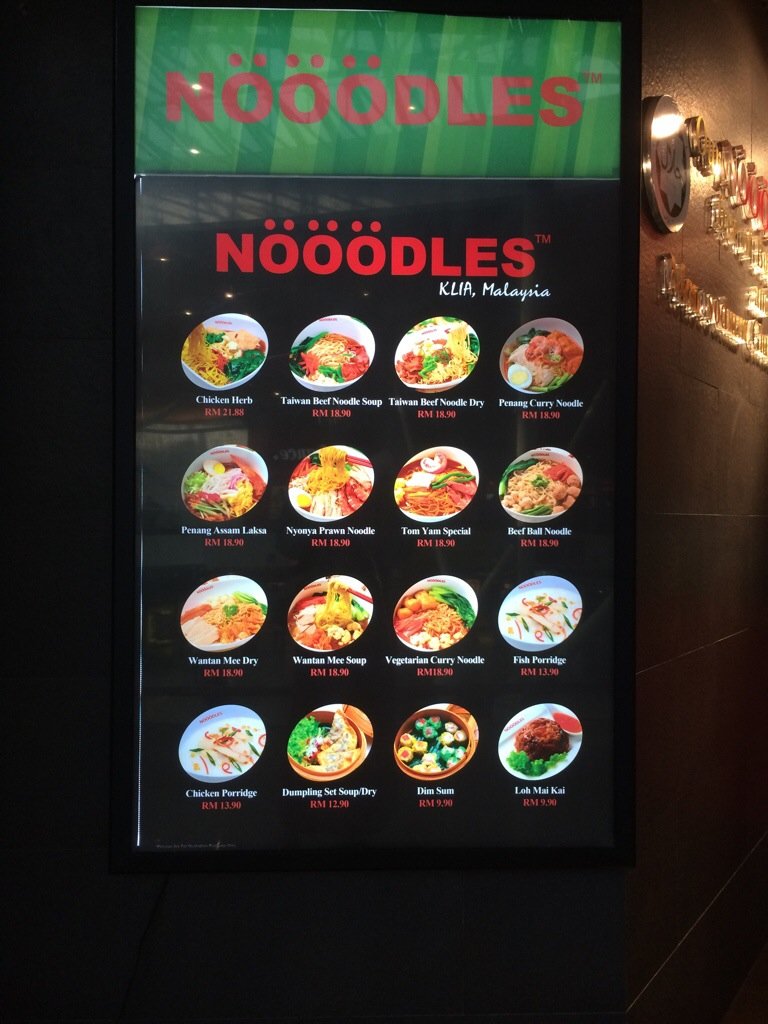 Noodles
KLIA (Satelite building)
Sepang
https://m.facebook.com/pages/Noodles-Restaurant-Satelite-Building-KLIA/178674992183177?_rdr
(Visited 4 times, 1 visits today)