Country:
Singapore
J'S RESTAURANT – HALAL CERTIFIED
Review by: June Juniadin
Contest:
Write and Win.
It's been a few months since I met up with my BFF, so we finally set aside the time to have dinner on Thurday, 29.08.2013.
BFF said she heard from a friend about a new halal Mexican joint but she doesn't know its name. I immediately thought it was J's Restaurant , as I have been wanting to dine there and it has Mexican food. Later on it turns out J's wasn't the place she had heard about so we shall scour the net for info on this other halal Mexican joint.
So on Wednesday, I checked out J's website (www.dineatjs.com) and gathered a bit of intel on the place. Readers will be pleased to know making reservation is easy as pie. J's has partnered with Chope, a website dedicated to booking reservation for various eateries around town (I've checked out Chope as well and it's a really well-designed website with a huge list of eateries).
Anyways, I made my reservation for 7:15 p.m. (Chope will then send an automated email stating reservation details) and on Thursday morning, a staff from J's called to once again confirm the booking.
J's Restaurant is located at 7 Purvis Street, opposite National Library. Finding J's amongst the row of shops is quite easy as they have an okay-sized circular neon purple signage with the letters "J's".
A brief excerpt of J's history, from the website:
"J's is a testimony to how Joy Mahbubani, Managing Director of the restaurant can achieve her dreams, how her passions can turn from wishful thinking to an inspiring reality and how the human spirit can triumph over adversity.
From the simple desire to create a 'space' where her teenage son and his friendscould "chill out" on an evening in a safe environment, coupled with a deep affection for Latin American food garnered from her extensive travels in South America, Joy found an ideal solution when purchasing a struggling restaurant called El Toro Restobar, formally in Winsland House, in 2011."
Reading the history of the place, one can tell that Joy Mahbubani is someone who treasures and celebrates the gifts of life i.e. family, friends, food. Her decision to change the menu to be halal/kosher as well as offering vegetarian/vegan option reflects that she wants everyone regardless of religion, race and dietary preferences to be able to have a place to dine together. It's admirable, really, that she respects and takes into account such differences. Kudos to her!
I arrived early, so I went in first. I was shown to my reserved table and the staff enquired if I would like warm or iced water (I choose iced).
I have to say, my first impression of the place was good. The place is dimly lit, with faux tea candles on each table, and there is a light fragrance in the air. The décor is nice and simple, mostly in reds. They have huge mirrors lining up one side of the wall, which makes the space look bigger than it actually is. On this side of the room, the seats comprised of long couches and contemporary chairs. On the other side, where I was, the seats are normal dining chairs. A nice bar and cashier up front, and the staff were dressed in all black. Mexican songs blared through the speakers, setting the mood.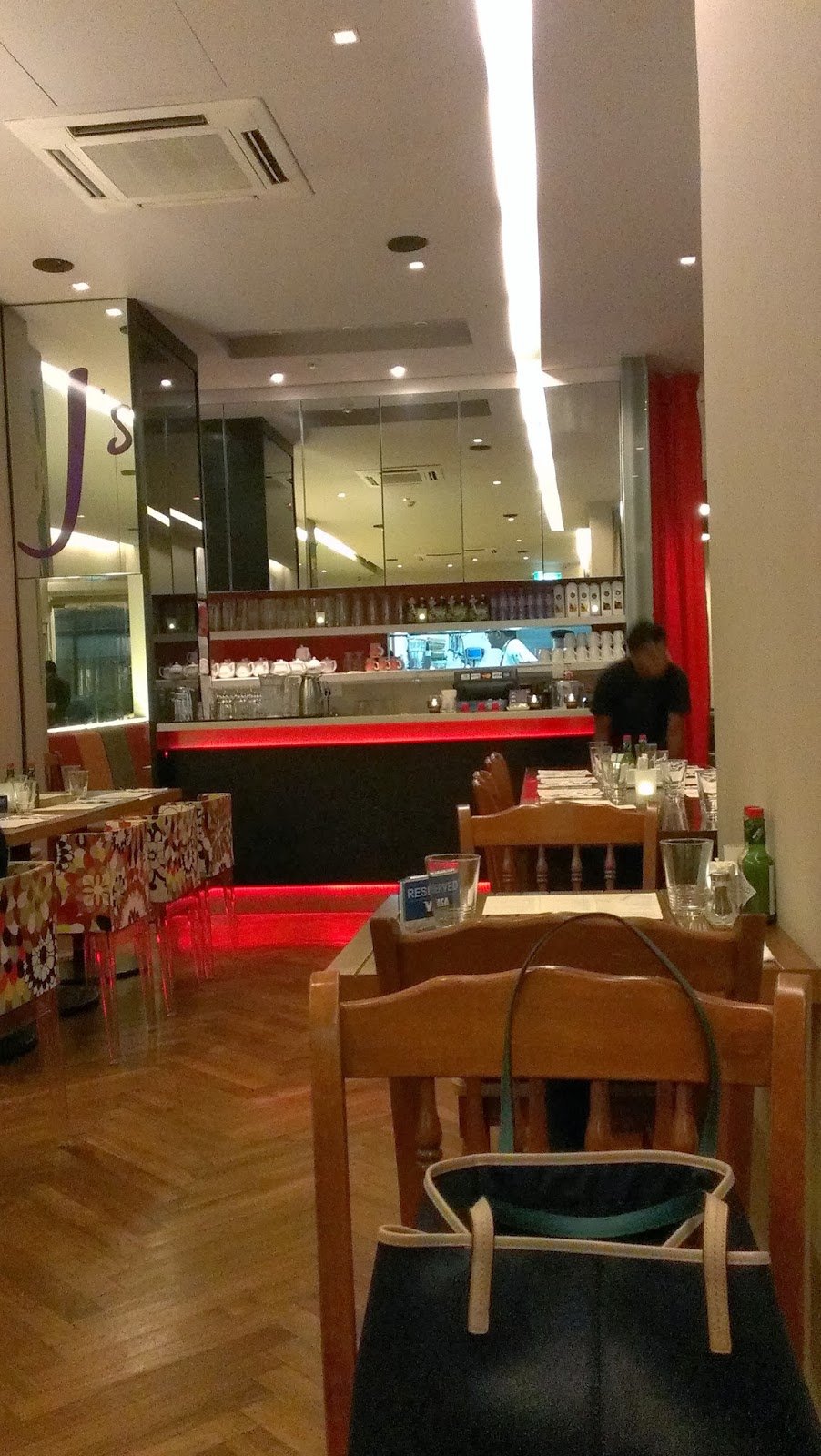 Once my BFF arrived, we made our orders.
She chose the following: Soup of the Day (Pumpkin), Beef Fajitas (main), Frozen Lime Mexicana (mocktail) and Bread & Butter Pudding.
I chose: Lamb Tostadas (appetizers), 'Adobo' Chicken (main), Puerto Rican Colada (mocktail) and Churros with Bananas & Mangoes
Let's go through them in order, shall we?
1. Soup: Pumpkin – It arrived in a big plate with a shallow centre. Very clean presentation, garnished with croutons and chopped parsley. I'm not a fan of pumpkin, but I did have a spoonful and didn't quite like it as it was weirdly sweet and savoury at the same time. BFF told me it's an acquired taste and I agree. She liked it though.
2. Appetizers: Lamb Tostados – Love the presentation! Cup-shaped crispy corn tortillas fixed atop a slab of black tile plate with sour cream, accompanied by pico de gallo (salsa). The tortillas are stuffed with fresh, shredded cabbage and generous serving of slow-cooked lamb meat, with a dash of cheese sauce. BFF is not a big fan of lamb meat so she gave me a huge portion of hers. In exchange, since I don't eat any greens at all, I gave away a huge portion of my cabbage. I loveeee the lamb meat. Tender, juicy, melts-in-you-mouth texture, and deliciously seasoned with the gravy it's cooked in. Doesn't taste lamb-y at all. The tortilla is really crispy and crunchy, and eaten together with the lamb, bits of cabbage and salsa, so yummmmmy! I could actually just eat this dish only, probably ordering 2 or 3 plates.
3. Main: Fajitas – It's a hotplate dish of grilled beef, sautéed onions, bell peppers, cabbage and mushrooms, accompanied by warm tortillas and platter of condiments consisting of cheddar cheese, guacamole, sour cream and pico de gallo. Looking at the generous heap of veggies, it is so not the kind of dish for a carnivore like me. Anyways, I had a taste of the grilled beef… it was brilliant! It was well-seasoned with salt and pepper, and the smoky taste of the grill adds to the flavour. Meat is tender and chewy, and not so dry. Wrapped in a piece of warm tortilla with the assorted condiments makes for a more flavourful and enjoyable eat.
4. Main: 'Adobo' Chicken – Adobo means seasoning or marinade in Spanish. Not really sure exactly how this dish is made despite a search on the net but nonetheless, the presentation is interesting as the chicken leg comes tied in a plastic wrap immersed in the adobo gravy. Comes with warm tortillas and green salsa, which I think might either be green peppers or jalapeno or a combi of both; regardless this salsa is SPICY but strangely complementary in taste when eaten with the chicken and tortilla. I forgot to mention that the tortilla is delicious in itself – warm, fluffy, soft. The chicken is super tender, falling off the bones. The adobo gravy is not too bad, slightly sweet and tomato-based, though you can pick up twangs of herbs used. It's like ayam masak merah, without the sambal but more tomato-ish, if it makes any sense. The chicken leg, to me, is a sizable portion indeed.
5. Drinks: Frozen Lime Mexicana – I was so excited when I saw mocktails on the list. Poor me never had a mocktail before (I think). Anyways, the mocktails on offer seem like those famous cocktails we often see in dramas or films so I urged BFF to try one of them (she wanted Coke at first, pfft!). This drink is so cute. The rim of the glass is lined with salt, so what we did was to lick a bit of salt off the rim and quickly take a sip of the drink, so you get a refreshing combi of salty and sour and a hint of sweet. The drink itself is sour, though the lime taste is a bit muted to me.
6. Drinks: Puerto Rican Colada – I ABSOLUTELY ADORE THIS! It's my happy drink, I like to think of it now. A quick search reveals that pina colada is basically rum with cream of coconut and pineapple juice. The mocktail version omits the rum and some people add vanilla ice-cream. I think maybe J's does too, as the taste of vanilla is subtle but unmistakable and the drink is so creamy. I taste the pineapple and coconut too, and it's so wonderful because in such mixed drinks, one flavour may offset or mute down others. But for this Colada, all the flavours seem to be in perfect harmony, nicely and delicately balanced. Wanna cry as I'm writing this because I love this drink so much and I want it again!
7. Desserts: Bread & Butter Pudding – Warm brioche, with bits of crunchy walnuts, raisins and poached sweet peaches. Vanilla gelato is nice and creamy. Milky gravy, though it was a bit too egg-y in taste for my liking.

8. Desserts: Churros with Bananas & Mangoes – Presentation is so lovely. Churros are dusted with cinnamon sugar with an added touch of melted chocolate drizzle. So crispy, so yummy. Mascarpone sabayon is the star though. Sweet, creamy, sigh-inducing pleasure…coupled with fresh banana slices and mangoes, and salted caramel… ooh la la, serious goodness party delight in the mouth! Although if I have one gripe, the salted caramel doesn't really taste… salted.
This was a really hearty dinner. Overall, I enjoyed my selections of dishes, in particular the lamb tostados, colada and churros with mascarpone sabayon. My BFF gave an okay-okay rating for her choices. The bill came up to a whopping $130+, and we both agree this is a once-only kind of splurge restaurant. Although if we ever come back, we're probably gonna stick to just appetizers, desserts and mocktails.
Overall, the ambience of the place is really good, very relaxed and chilled. Staff are friendly in a professional capacity, though I noticed with the regulars they can be very personal and warm. A family had a birthday celebration going on and at J's they do seem to offer the service of bringing out of complementary dessert for the birthday person and singing a song. A step further for the staff though is that they tend play a short birthday song over the speakers. Very nice gesture, I thought.
Place is squeaky clean. Food presentation is clean for some and lovely for others. Quality and taste of food is good overall, though I feel more love and creativity in the desserts and mocktails.
One not-so-nice thing that happened was that my BFF's dessert was presented to us whilst we were still in the midst of finishing our mains. We didn't call for dessert and said to the staff to bring it out later. He obligingly went back to the kitchen but returned with the dessert again explaining they couldn't keep it because the gelato will melt. BFF was a nice, no-fuss person so she reluctantly take the pudding and I told the staff to pack my BFF's food because I know she couldn't possibly finish her meal now. BFF was also quite disappointed that the gelato was melting so quickly.
Final words, if you're celebrating something or in the mood to splurge, or if you're a group consisting of people with different dietary needs, then do consider J's. Good food, great mocktails and desserts, nice place to chill out.
My rating: 3.5 / 5
Disclaimer:
WHQ is not responsible for any of the articles written by the public participants. Our intention is to encourage everyone to express and write more about their halal food experiences around the world.

WHQ doesn't care how other foodies do it. We are not critics. We are simply food lovers who love to eat with all our senses and especially our hearts. We are not representing anyone. Halal is an act of individual's responsibility. What we feast on may or may not fulfil your standard of 100% halal. We are not responsible for your own tummy and bodily experience. Our intention is to make Halal a no.1 brand in the world for the world …in our own unique way.
.
(Visited 10 times, 1 visits today)