Country:
Singapore
vs
Malaysia
WHQ 10 KG Challenge
Prize: 1 week Japan trip (flight and accommodation)

Congrats to Kahar for leading…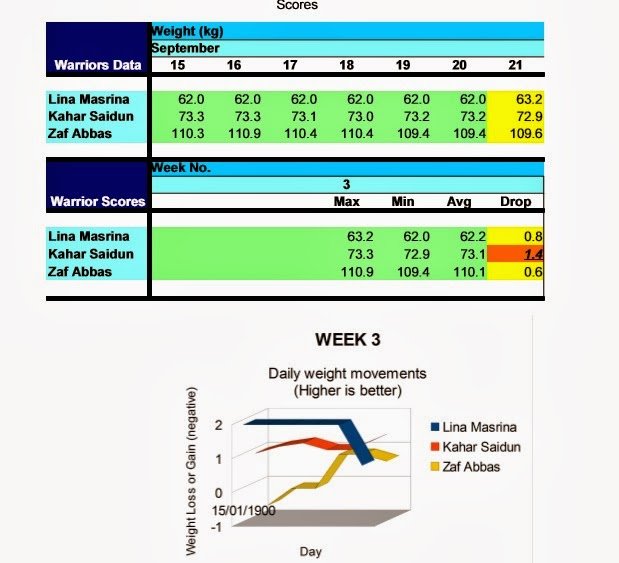 At last, some improvements!
After my disastrous second week, I decided to take a tip from Tim Ferris' book, The 4 Hour Body, where he found that dieters tend to plateau after a few weeks of dieting. Weight loss would slow down and eventually stop. The solution? Have a binge day! One day of the week where you can eat all the carbohydrates you want! I highly recommend this book if you want to lose weight and/or build strength and muscle mass.
My weight started gradually trending lower, at last! It dropped below 110 kg for the first time in years and stayed there for the rest of the week. On week 4 though, after buying a new weight scale which gave a reading higher (usually 0.5 kg higher) than my previous one, my average weight went back up into the low 110's. It's ok, consider it a handicap to Lina and Kahar. Yes, I'm that confident!
And lately? Well, that will have to wait until the next report. Safe to say I'm quite happy! I do have a lot of catching up to do though. In retrospect, it may have been a mistake to start the diet early. Had I started on 1 September, I wouldn't have hit a plateau until sometime now.
Lina seems to be having a bit of trouble at the moment, and she's decided to follow a low carb diet. I shared some tips with her, as follows:
Lina, some tips for low carb diet:
Eat plenty of leafy veg, spinach highly recommended.

Include beans, make you feel full for longer. E.g. Dahl, soya, kidney beans, red beans, green beans, peas etc etc. Google legumes for a full list.

Keep snacks handy such as fried beans. This is for when you get hungry. Don't get too hungry or might gorge on the next meal. Snack only enough to stave off hunger. Technically nuts are ok as snacks but tend to overeat (can't stop eating them!) Just a handful at a time will do.

Have a binge day once a week otherwise rate of weight loss may slow down over time.

Cook your own meals whenever possible to make sure what goes in.

It's ok to eat same thing every day, the goal is weight loss, not enjoyment
Hope this proves useful for those who want to try the low carb diet.
By the way, you may have noticed on the week 4 graph, some lines were flat. On those days, we did not manage to weigh ourselves as we were too busy at an event out of town. So I assumed all weights stayed the same through those days where no weights were reported.
Unbalanced, Shock and Restart
I haven't been updating. And have been eating too much the past 2 weeks. I take credit or responsibility for my own debacle.
Past 3 plus weeks have been a storm of imbalances. Before I went to Enlightened Warrior Training Camp, I had to work 2 shifts per day for 4 days. So it was not enough rest and too much food at the wrong time for 1 whole week.
Then I went to warrior camp. Out of the box and beyond my comfort zone are understatements. That plus awesome food buffet style… well you know what I did lah… 3 or 4 plates for every single meal…
Then I went to Singapore for Master Facilitator training. This time, Lina brought me to some great food places with greater food to match. Plus, again, lack of sleep and rest…
After finishing that training, went back to Malaysia thinking life would return to normal… BANG!!!! Something happened at work which caused me to work long and very odd hours. And at the same time, Lina and a good friend Zaid came. Again foods at odd hours.
Result, my weight this morning is 74kgs, which is right at the starting point!!!
Moving forward, and since I don't really have that much time I gotta do something drastic to win this.
Strategy. Back to basics and back to Islam. Puasa plus Rasulullah's eating methods which are:
1. To munch it until its reduced to balls of goo.
2. Eat only when hungry and stop before I am full.
3. Not mixing seafood with chicken or beef, not mixing chicken or beef with eggs, not mixing chicken or beef with milk etc.
4. Mainly vegetarian diet
To add to this, I will also do the following:
1: Practice my kungfu especially heavy weapons
2. Do VAKS affirmation and left-right brain affirmation with high frequency repetition
3. Mind imaging plus dream board and whole body (VAKS) story telling.
My target is to lose 12kgs by end of this challenge. Japan here I come!!!
YOSSHA!!!!!
Kahar Saidun
Coach, Trainer, Facilitator, Leader
Hayyalal falah

Erm, now is what week?
The past few weeks hit me like I was the punching bag. I felt the incoming blows even before it was being manifested. I thought week 3 was tough, week 4 was even tougher. Knowing the nature of my self-proclaimed "job" -travelling and eating, it's not helping much.
The current fascination with Malaysia…is like falling in love all over again with the gorgeous country and especially its wonderful food and fantabulous locals.
Thus that is not helping my waist line at all. No chance to exercise. All I know was that the moment my eyes were opened, I was fed fully and then walk elsewhere and then fed again and so on until dinner time. And then it's sleeping time, and the "eating regime" starts again.
Even when I was "Crewing" for Blaire Singer and Zaid Masagos, it seems that they too fed me well. I guess, I have "FEED ME" on my forehead-*lol.
Whispers of "DIET" seems to be ignored by both the subconscious and the conscious mind. It felt like it has totally been erased from the "mind dictionary"?!
Zaf, Kahar and me…we have been visiting each other lately that I felt we are neighbours. Even our 5 hours travelling distance bonded us closer than some of my relatives who lived nearby.
So many things happened. I don't even know where to start.
Oh yes, Me and Bryan have also been thru many feasts. So tell me again, how can I lose 10 kg in 3 months as a food blogger?
For now that 10 kg weight loss -may just be a distant destination, but I BELIEVE with firm conviction that I can do it!
I have done nothing unusual these past few weeks. I just eat and eat and travel and eat and "work" and eat…
So if the weight also seems to be enjoying its increase… I'm just gonna grin happily for now. But deep down, the panic button has been pressed. I gotta do something major.
Perhaps, I should start being SERIOUS and pay attention!
I hope I'm not giving any false hopes or encouraging the bad habits of losing the 10kg challenge. I'm just sharing what I'm experiencing "LIVE"… the life of a food blogger.
Please continue doing so and show your endless support and motivations. We love you and your colourful comments! Thank you! Keep them flowing.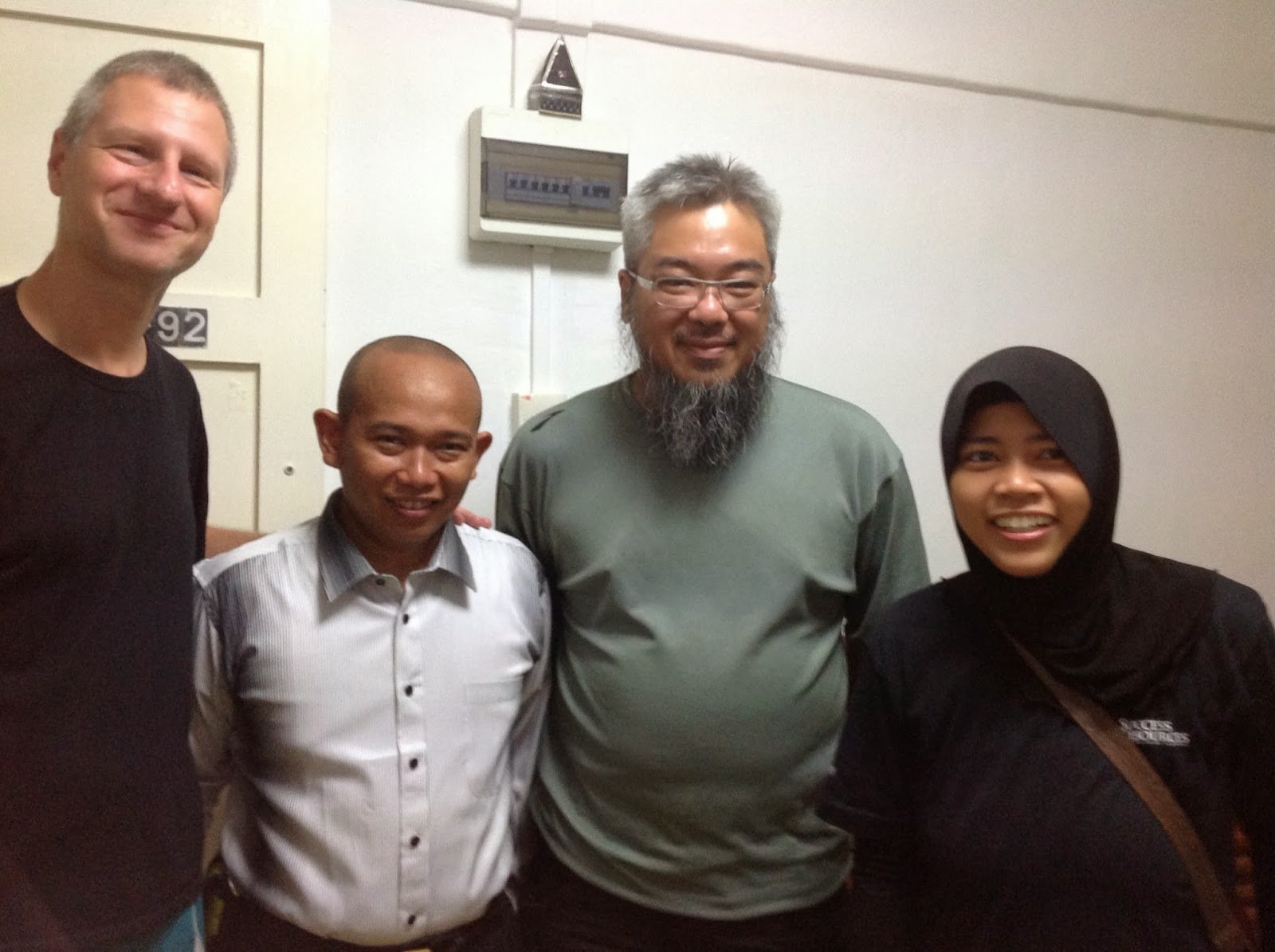 Disclaimer

: Please do not attempt any of our challenges and follow through our "diets" or exercises without consulting your own physician or doctor. Do not try this at home or anywhere else. We are responsible for our own actions and hope you do, too. Our intentions are to encourage the world to be responsible in their own health and being by choosing to be healthier and fit. If we can do it, so can you!
(Visited 11 times, 1 visits today)