Country:
Singapore
vs
Malaysia
WHQ 10 KG Challenge
The 2nd Week.

Princess says:
Dear awesome people of the world,

Thank you so much for all your TLC and awesome comments in keeping updated with our #10kg Challenge thru twitter, instagram and facebook:

Last week, I was slightly happy, when I lost 1 kg and then found out that I gain it back half a kilo nearing the end of the week…yikes?! Perhaps, that happiness has some "weightage" to it (guys, can we take that into consideration?! *lol)

I realised long time ago that we do not really need to eat much. But as time goes, I forgot.

Sometimes, I do "binge-ing" aka "EMO EATING" . I eat to make myself feel better. But that is not a habit (denial). I only do it when I need a tiny "perk up", like an ice-cream after a hard day's work or whenever I'm feeling down and also whenever I'm feeling up 🙂 (just an excuse to eat ice-cream)

Anyway back to the story, what did I eat?
Hmm…

1)LISTEN to the body:

This week, I "listen" to my body. I only eat whenever I'm truly hungry.

In the beginning its not that easy. Because sometimes, we are so used to eat at the slightest so-called "hunger pangs" that we kinda listen to the wrong cues. Sometimes, we eat even when we are not hungry. Just for the fun of it. As you get used to listening to the real hunger pangs, I realised that :
Few spoonful of rice is enough for me. I'm beginning to get easily contented and full.

2)Be aware of what I eat:
– and so I EAT 4-6 smaller meals daily
-early dinner

I started to zoom in on what I eat. I focus on the food that goes into my mouth. The intention, the colours, the smell, the taste. I switched off all peripherals to focus on food. And I do have a habit of eating smaller 4-6 meals thru out the day unlike the usual proportionated breakfast, lunch and dinner. And my old habit of eating an early dinner, resumes. I started eating dinner by 5-6pm.


3) My SECRET drink.
I've got a secret drink. I drank this regularly when I had to do lots of reviews. It helps to balance out my body. Sorry, none of that special shaker stuff. Some of the fans already knew the secret. I surprised some of them with home visits upclose and personal and I did share with them this simple recipe. I learnt it years ago when I was travelling. Travelling really takes a toll on your body. This is my secret drink. Simple for the lazy me. (No, not the ubat periuk, don't worry.)

Oh, the guys were talking about cutting down on caffeine and stuff (in whatsapp and below). I have not been drinking any ever since the start of the challenge. Just loads of plain water. But past 2 days of "crewing" event, I drank coffee everyday… It's just temporary. I'm not an avid coffee drinker cos I can stay awake for hours or even days if I drink just one cup of coffee.

4)POSITIVE affirmations while exercising:
Be happy, stay happy while doing this…

This is one of my favourite routine..
http://www.youtube.com/watch?v=3YxoCj_hfiY
(I wanted to embed this vid but its kinda sexy…so for ladies only)

My big CHALLENGE, next week:
I have to visit KUALA LUMPUR, the Halal food paradise…

How can I maintain the weight that I had lost?
I hope I can push 90% of the FOOD over to Bryan. *lol

Everything is definitely possible!
Lina Masrina





P.s: OK, look below… woohoo! And the leading weight loss for this week is…. *Drum roll please ..it's …. ME!

(The recent motivation for this… is the JAPAN travel trip-Flight and accommodation for a week sponsored for the winner of this whole challenge thingy *still under discussion . Nevertheless, once you mentioned TRAVEL as a reward… I'm easily motivated *eyes gleaming. Guys, I've already packed my bag…so you know what that means, right? *doing the jiggety jaggety winner dance)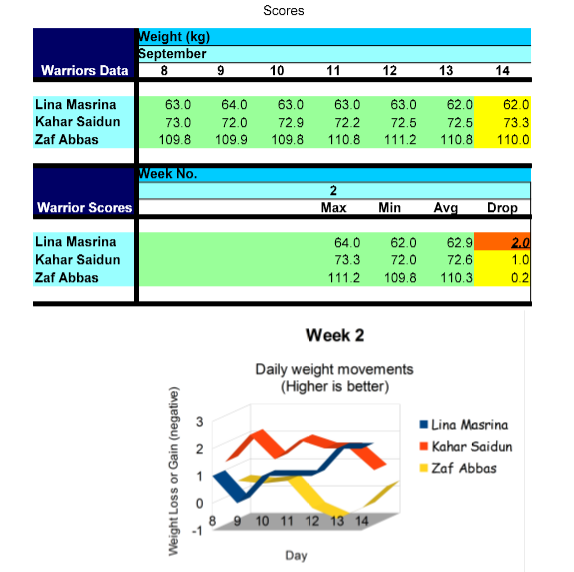 Warrior Kahar says:

Busy week at work. Life felt like riding a roller coaster. I can even count how many minutes I sat at work!

Have you ever thought "What's next? How do I do this better? How to get better results?"

I kept thinking how to do this better which prompted me to do an experiment the week before. It is a dangerous experiment. I become sleepy when I drink coffee but I kept at it and survived!!!

Result was I had a great release of weight the week before. This week was like yoyo. Up and down everyday…

Next week. Back to coffee and no tea hehehe. Also, I started a simple exercise. Let's see how both shall work! May Allah allows!!

Kahar Saidun



Warrior Zaf says:

On Wednesday, my weight went up by a whole kg! From 109.8 the day before to 110.8. It went further up to 111.2 the next day before coming down to 110.8 again today. These are higher than the weights I started with! Subhanallah! What happened?
Quite a few issues explains this HUGE jump in weight.
I did not eat enough for

breakfast

, and was starving the rest of the day, causing me to eat more.

I ate too late for breakfast.

In an attempt to eat breakfast earlier, I changed my weighing routine. I used to wait until answering calls of nature and before breakfast before I weigh, but now I make sure to at least prepare and eat breakfast first.

I have been less physically active due to a cough and cold I'm nursing.

I hit a plateau in my weight loss and/or my metabolism had slowed down.

I did not drink enough water, causing increased water retention in my body. This is quite likely as a 1kg shift in weight is very large, unlikely to be caused only by fat gain and most probably caused by differences in water content.

My weighing scale is on an uneven floor, and a shift in its position from where it usually is caused a fluctuation in reading (if you have an uneven floor, try it, its true!).

Strangely, while my weight has shot up seemingly overnight, my waistline appears to not have grown. At the very least, I still have to tighten my belt a notch, and loosening it to what I used to wear leads to drooping pants! Still, this is a time to evaluate and adjust. What should I do?

I'll eat a large (ish) breakfast, and eat it early, even if I have to start preparing it the night before.

I'll commit to a new routine where I can eat breakfast early and this will be what I stick to, hopefully ensuring consistency.

I'll start exercising based on Kahar's recommendation (i.e. skipping for 5 minutes after waking up). Thanks Kahar!

I need to take regular diet breaks during which I'll eat non-diet food with carbs, like ice-cream (my favourite). Apparently this step is important to increase metabolism.

I'll make sure to increase the amount of fluid intake I take daily.

I'll have to place my weight scale on a fixed location, on an even floor.

To make sure my body weight changes are due to fat loss and not increased water content or muscle mass, I need to take other readings besides just weight alone. I'll start measuring my waistline, hips, thighs and arms, as well as invest in a weight scale with a body-fat percentage reader (although they're notoriously inaccurate!).

So, analyse, adjust, adapt and I will get back on track to prevail over Lina and Kahar in this challenge!
Zaf Abbas
Thank you for following the #10Kg Challenge updates on www.twitter.com/worldhalalquest .
Please continue doing so and show your endless support and motivations. We love you and your colourful comments! Thank you! Keep them flowing.
Disclaimer: Please do not attempt any of our challenges and follow through our "diets" or exercises without consulting your own physician or doctor. Do not try this at home or anywhere else. We are responsible for our own actions and hope you do, too. Our intentions are to encourage the world to be responsible in their own health and being by choosing to be healthier and fit. If we can do it, so can you!
(Visited 1 times, 1 visits today)