An Affair With Charco's Halal Ribs
A big sign with the word Charco's welcomed us from afar. The font and the background colour provided a rustic impression. It also says Perth famous. Consider me intrigued.
After getting news from one of our readers that there's a famous steak house at Ang Mo Kio. We took our asses there in no time.
Lina ordered a plate of lamb ribs with 3 side dishes. She chose the potato salad, Greek Salad and additional $1.60 for their famous Creme Potato.
THREE minutes later, the dish was served to us. Yes, you read that correctly. THREE! It couldn't have looked any better for the price of $17.60.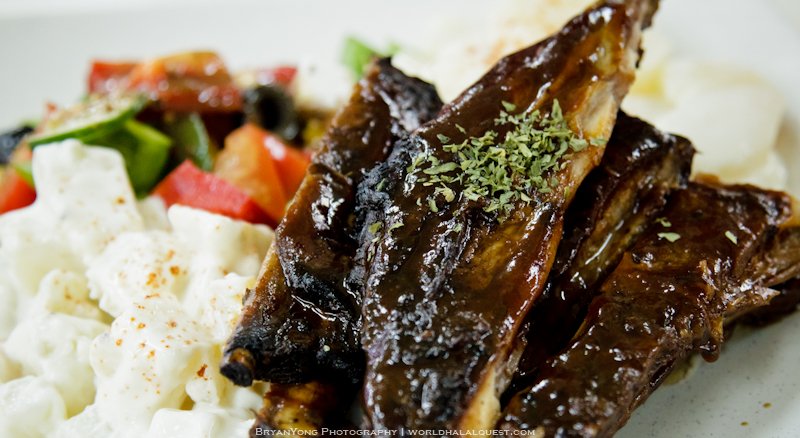 A pinch of parsley to top it off
I spooned the creme potato and took a bite. It was warm and firm. The added creme gave it a wholesome taste. One bite and it already felt a bit like the month of December in Cape Cod. Cosying up in a warm cottage while it snows outside. Best feeling ever.
There was one disappointment though. The ribs was like a compressed tyre. It didn't feel fresh. I'm sorry I had to say this. It was really hard to eat it. We finished the potato salads but not the ribs which was the main component on the plate. It's a shame really. We had high hopes for the ribs.
However, i won't rule them out because it's only our first time there. Maybe it was us being unlucky for getting the bad ribs. I'm sure they have a ton more of delightful dishes to offer.
I'd like to go there again and try out the steaks and the potato salads.
Charco's
Blk 608 Ang Mo Kio Avenue 5
(We took a 265 feeder bus from AMK interchange to AMK avenue 5)
Open 7 days a week
11am – 10pm
Writer: Bryan Yong
Photographer: Bryan Yong Photography
Disclaimer: WHQ doesn't care how other foodies do it. We are not critics. We are simply food lovers who love to eat with all our senses and especially our hearts. We are not representing anyone. Halal is an act of individual's responsibility. What we feast on may or may not fulfil your standard of 100% halal. We are not responsible for your own tummy and bodily experience. Our intention is to make Halal a no.1 brand in the world for the world …in our own unique way.

.
(Visited 13 times, 1 visits today)