1) I-LOVE-MY-BODY challenge: Princess (WHQ Founder) vs her warriors.
Who will win?
"The food you eat can be either the safest and most powerful form of medicine or the slowest form of poison."
―
Ann Wigmore
Lina has accepted the challenge of losing 10 kg in 3 months with inspiring "warriors" who have been her recent unconditional support, TLC and motivations of life. She has never attempted this in such a short period of time, ever!
(thk U Warriors for ur endless support: Bryan Yong, Kahar Saidun, Zaf Abbas, Zaid Masagos, Maliki, Hanif, Meor, Boon Song and not forgetting their beautiful spouses and families!)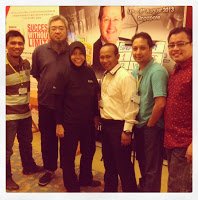 Their 1 main intention is to re-invent their bodies to embrace the gratitude of having such wondrous miracles of life and have fun. Hopefully this will also create wide awareness of being grateful of what we have, cherish and maintain these miracles and that health is definitely wealth.

"I have been pampered by many gorgeous food thru out my life but without the body, good health and the whole being ,there is no way I can appreciate each and every flavour, taste, beauty etc…And so I realised that:- Every morsel of food that comes in thru my mouth, is a blessing ; regardless whether it's good or bad, everything has a reason to serve me! (thk U, Zaid Masagos for that reminder!)."

"And in order to embrace that miracle of life, I choose to maintain its amazingness by being aware of it and keeping it fit. Our bodies have been working so hard 24X7 daily, even beyond our understanding, consciously or sub-consciously. We will be in these bodies thru out our life time. So let's cherish them by being healthy! " -Lina


Their challenge is to lose 10 kilograms of weight in 3 months. This challenge will begin on the 1st of September and end on the last day of November.


The winner will get a reward. And the losers will be "fined". Interestingly, if the threesome did not complete their challenge, all 3 of them will be fined. They shall give a weekly updates on the summary of their daily habits and activities.

Hopefully, this will encourage others to embrace their beautiful bodies (regardless of the colourful shapes and sizes) and be grateful to them by keeping them healthy and fit always.

Together, let's give them our TLC, motivational encouragement and endless unconditional support to their challenge! *applause

2) FANS CHALLENGE:
While Lina goes on a different journey, WHQ wants active participation from the fans as well.

WHQ is opening its doors to awesome readers and fans to come forward and have a beautiful moment of "being in their shoes" as food and travel writers yes…by BEING THEM!

We want to encourage more Halal food writers to come forward and write their own fascinating food stories. Everyone can do this! We welcome any awesome entries from people of various races, religions, genders and even ages.

All we need…is for you to write about your local Halal food experience with any of the restaurants/eateries (not reviewed by WHQ site: www.worldhalalquest.com) . They have to be either HALAL-CERTIFIED or MUSLIM-OWNED only. (please include these in your write-ups, thank you!)

There will be a prize for the winner of this FANS CHALLENGE. The winner will be chosen and get to dine with WHQ in one of the top Halal Hotel buffet lunch in Singapore and collaborate on an article together in WHQ.

For now, we are focusing on Singapore. But we do have the intention of opening this to the world, as well.

So if anyone is interested to submit their entries, do email us at worldhalalquest@live.com.sg. We will then email you the guidelines. (Do not worry, we shall guide you thru out, if you have any queries or questions, WHQ will personally answer them asap) The closing date is 2 weeks from now: 13th of September 2013.


Do note :
Do not let the guidelines intimidate your writing.
Let it out from the heart with as much sincerity as you can muster.
We are here to lend a helping hand to the Halal food industry by seeking to improve standards all around.
By writing, you are doing the world a great favour. Keep it up. Unleash those hunger pangs and creativity. Let your personality shines!
You may submit as many entries as you like but each entry has to be of different restaurants. We retain the rights to choose which one to publish.
Thank you for being awesome! We are looking forward to your creativity!


We shall then leave you in complete love, bliss and happyness of the day..with a question:


What are you grateful for today?

God bless.

Happy regards,
WHQ awesome team.


p.s: All submitted articles are subject to WHQ's discretion. We can choose to omit, edit or amend anything before we publish. Thank you!

Thank you Celebrity Doctor (U can watch his TV show on Suria Channel) : Dr Taufiq @ Jeunethica for advising us on extending the 2 months challenge to 3 months so that we can lose fats in a much better & healthier way.
(Visited 9 times, 1 visits today)