Country:
Malaysia
I grew up, hanging out at a place close to the heart, cited to be the best well-known Malay restaurant in Singapore. Back then,
Aziza's Restaurant
was located at 36 Emerald Hill Road. I still remember their entrees of tantalizing flavours as if it was just yesterday. I remembered snooping in and out of the kitchen, messing up the dining area, learning the etiquettes of Malay dining and culture. I remembered the strong family-spirited unity of the awesome staff working together and even participate in their occasional Malay Cultural dance/performances.
Ever since their closure, I never got a replacement of similar Malay fine dining restaurant in my tummy's wish list. Until decades later…. in Kuala Lumpur.
WHQ team visited Enak, one of the top 5 prominent Malay fine dining restaurants in KL. Their accolades include Best Malay Restaurant awarded by Tourism Malaysia, Best Malay Restaurant in TIME OUT KL, Malaysia's best restaurant in Malaysia Tatler and many more.
"Enak" symbolises the pride behind the well-intended name which meant "delicious". We heard so much raving reviews about this restaurant that our expectations have risen beyond our normal tasting standards.
Located amongst the many trendy restaurants on the Feast floor at Starhill Gallery, Enak stood tall in its own silent voice. Decorated in mild romantic ambience with splashes of sophisticated red lingering everywhere…we felt so out of place dressed in casual jeans and shirts. Like a coupled of teens so lost in an adult's social world.
Mr Hamidon, the Manager was swiftly carrying out his duties professionally, mingling with the dinner patrons. Serving them with his heart and smiles. As we arrived, he came to us and treated us well with no judgement (on our dressing, especially) and even make time to chat with us. Such a wonderful man who believes in serving the bestest for his patrons. He also believed in working like a family-team where everyone is treated fair and just and served with love.
We were welcomed with a plate of "Belinjao crackers". A saltish bitter combination, a norm in typical Indonesian/Malay restaurant to welcome its patrons and to simmer those hunger pangs while waiting for the entrees to be cooked and served.
This "Nyiur Enak drink" was served and boy, did it caught us by surprise!
(I am an avid fan of fresh coconut juice. Tell me where I can find the best coconut drink and I will do whatever it takes to drink it even if I have to learn how to climb that tall coconut tree, seriously.)
The coconut pulp swirled vainly amongst the non-pretentious tamarind juice. Slightly milky sweet with sourish flavours fused as one.
Something in which my tongue cannot fathom that I'm actually drinking coconut juice…the closest it can think of was that its like a fermented coconut juice, like "air tuak" or something.
This Enak KL appetiser (pembuka selera) came longer than expected. We are so looking forward to their food. We let them surprised us with their signature dishes.
These 3 bit entrée was a mild start-up. The deep fried calamari (fluffy batter with slight turmeric flavour) was a delight.
The crispy fried prawns were yummy at first bite eaten with that bit of tar fruit concoction.
The third one was a slightly crispy pergedil (potato cutlet) filled with tasty minced meat.
Subtlety flavoured with nutmeg and accompanied with a sweet Thai Chilli sauce.
One has to take patience in consideration when one goes to fine dining restaurant. We dressed like kids and were soon restless like them as well. Too much in a hurry and in high exhilaration of anticipation of what's next, our curiosity seems to be on the higher side. Unlike other patrons who seems to enjoy time as it… flows by. We were done with the food as soon as it arrived.
The steamed white rice came hot and piping alongside its main dishes of Rendang Padang, Ikan Asam Pedas and Kangkong Belacan. Desserts came appropriately later: Sago Gula Melaka and Banana Caramel with ice-cream.
We loved the crunchiness and freshness of the stir-fried Kangkong Belacan. The mild garlic flavours and belacan (dried shrimp paste) was just right, not too overly done nor saltish. Good.
The Rendang Padang with New Zealand topside beef chunks puts a damper on our enthusiasm. Our hopes were dashed because we were so anticipating that Enak will nail this recipe well. Perhaps the beef was cooked too well-done, for far too long, which ended up the meat being too dry.
Even when we "bathe" them in dollops of the thick orangey brown rendang gravy, the tongues just won't compromise for less. The gravy and the meat just cannot see eye to eye with each other. Like a long-time feud with no hopes of reconciliation.
Put aside that disappointment, this Ikan Asam Pedas was then served. We were cautious and kept on looking at the thick fish steak from all angles. I smelled the black peppery dust. I reckoned this recipe must originate either from Muar or Melaka. And I was right, it came from a family traditional recipe in Muar.
The cherry tomatoes looked so cute drenched in the reddish asam pedas. It was savoury sweet and sour with slight peppery after-taste. Wild ginger torch bud was used and daun kesum was omnipresent. Gravy was not too thick, nor too diluted. Perfect asam pedas. I bet Singaporeans will love this! (and especially asam pedas lovers like me!)
We tasted the butter fish. Oh my God! This was the bomb. We were in ecstasy after spooning mouthfuls after mouthfuls, almost fighting over it… like in a drug-like phase or in a "hookah" gathering but none of that happened. Imagined being drugged without the drug.
We were totally blown away by the fish! Its fresh buttery meat kinda melts in your mouth with the asam pedas flavour infused in every part of its cells. And its really buttery… And you know how much love I have for butter…
Wow! The bestest ever…. Asam Pedas in the whole wide world (except our own mother/grandmother's cooking, of course cos that came with abundance of love)
A dish in perfection which needs no introduction.
I begin to wonder if anyone can ever whip up a dish like that, for sure he/she is gonna be the best marriage candidate in the Asian peninsula. Throngs of suitors will queue up to vie for the best wife/husband post *lol.
After that awe-amazing Asam Pedas fish… we cannot eat anymore. We were thoroughly satisfied, like a cat waiting to lick its paws after its meal.
The waiter then came with desserts. The greenish jelly-like sago wobbled shamelessly in front of me. I was tempted to gobbled it up almost immediately. But I didn't. I practised what I have learnt. To eat desserts like a lady. And I did a single bite with that tiny teaspoon.
We felt that it was not as good as expected, slightly bland, or perhaps too watery and flimsy. Even the extreme sweetness of the palm sugar cannot do justice to its taste.
And the second dessert came: The banana were lightly sautéed with drizzles of almond flakes, and sprinkled with cardamom dust. The appetite was soon aroused, again. The fragrance and richness of the Vanilla ice-cream was satisfactory. Never was a Maraschino cherry fan, though.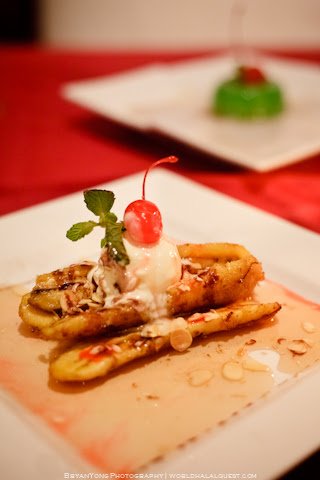 Overall, WHQ team will definitely come back for the "bomb"; Buttery Fish Asam Pedas…whenever we are in town . It's P-u-r-r-f-e-c-t.

Enak Restaurant LG2, Feast Floor,
Starhill Gallery,
181 Jalan Bukit Bintang
Open from 12pm to 12am
(Last order at 11:45pm)
For reservations and enquiries,
Call +603-2141 8973 or
Email : info@enakkl.com
Muslim-owned
(Liquors and wine are present)

Heartfelt gratitude to Enak Restaurant especially to the owner; Ms Sherena Razaly for giving us this opportunity to fine dine your wonderful food and to understand the heart behind the recipes. Thank you to Mr Hamidon for his professionalism and sharing his time and inspiring story with us. Not forgetting all other staff such as Shahrur Riza for serving us well. Thank you and God bless.

Disclaimer: WHQ doesn't care how other foodies do it. We are not critics. We are simply food lovers who love to eat with all our senses and especially our hearts. We are not representing anyone. Halal is an act of individual's responsibility. What we feast on may or may not fulfil your standard of 100% halal. We are not responsible for your own tummy and bodily experience. Our intention is to make Halal a no.1 brand in the world for the world …in our own unique way. .
(Visited 9 times, 1 visits today)