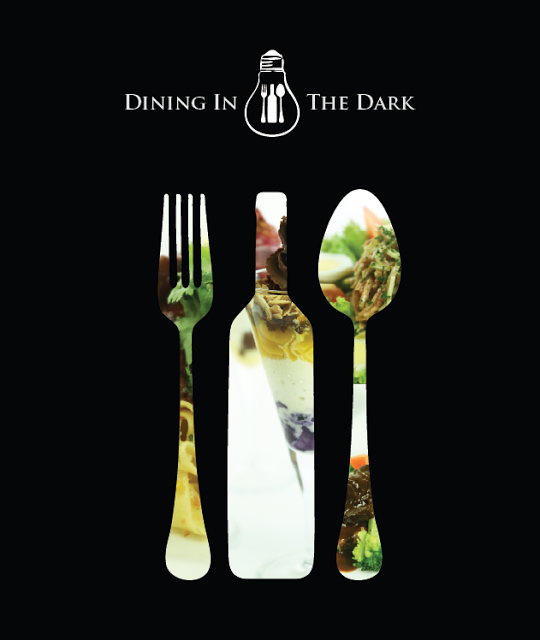 There was one question that boggled me.
When in total darkness how does a restaurant serve their patrons? Night goggles? By heart? Walkie talkie?
I was about to find out soon.
Located on the busy street of Changkat, Kuala Lumpur, Dining In The Dark was really hard to find. It was hidden among the bars and bistros. It wasn't any easier than finding a needle in the haystack, a speck of dust on a beach, black cats in a charcoal cellar.
When we finally found it, the restaurant was actually right in front of us, our effort were rewarded immediately. We were greeted with a warm welcoming smile. It's located opposite Movida.
The good service didn't stop there. A kind staff dressed in black sat us down and thoroughly explained the process to us. He even prepared a mini game to keep us entertained while waiting. The game had its purpose. We had to wear a blindfold while searching for 5 paper clips in a bowl of rice. It warmed up our sense of touch.
It was time for us to enter. The door to dining in total darkness slowly creaked open as a fine young gentleman emerged from the other side. "Hi, my name is Darius. I'd be your host today". May I know what are your names?" he asked while looking somewhere elsewhere. "I'm Bryan and she is Lina." He leaned closer with his ear when we were speaking. I thought to myself, "hmm… he's exceptionally friendly, isn't he?" "Oh wait… he's blind?" *mind blown*
So that's how they do it. They hire the visually impaired to serve us in the dark.
It was genius. Not only did we get to experience food in an unusual way but we were also helping out the visually impaired community. It's about time.
Don't get me wrong. Darius was one of the most efficient and polite host I've ever met; even better than many service staffs in other Malaysia's highly rated restaurants.
He remembered both our names and other customers as well until the very end of our visit in Dining in the Dark. When was the last time you had a service staff addressing you by your name after you paid?
Darius then asked us if we are ready to go on an adventure. We told him we were ready. He led us to our dining tables. After a few steps, light was no longer present. We were in total darkness.
Alright, I leave the rest to your wild imagination. I'm not going to ruin it for you. You should go there and experience it on your own. I will part with a couple of my personal tips though:
#1 You'll be served a four-course meal.
#2 It's RM98++ per person.
#3 Don't go in and play a guessing game instead savour the food served with all your senses.
46 1st Floor, Changkat Bukit Bintang,
Writer: Bryan Yong
Pork-free: WHQ Team has researched and communicate with the restaurant on the Halalness of their food. There were wine and liquor present, meats are from Halal suppliers. Although, we went for it, does not mean you should. If you have done your research and not in doubt, go ahead and indulge. If you are very doubtful, its best to avoid it. Vegetarian options are also available. Please informed them early. We believe Halal food is everyone's own responsibility. Read our disclaimer (below). Thank you.
Disclaimer: WHQ doesn't care how other foodies do it. We are not critics. We are simply food lovers who love to eat with all our senses and especially our hearts. We are not representing anyone. Halal is an act of individual's responsibility. What we feast on may or may not fulfil your standard of 100% halal. We are not responsible for your own tummy and bodily experience. Our intention is to make Halal a no.1 brand in the world for the world …in our own unique way. .
(Visited 1 times, 1 visits today)