Countries:
Singapore
and
Malaysia
Recently, we were busy travelling to and fro Singapore and Malaysia for work. A week before Ramadan, Bryan told me his intention: He said he wanted to fast.


I acknowledged his initiative and embraced his suggestion. But when he told me that he was going to do it for the whole Ramadan month, I was stunned.

I asked him whether he had done this before, he replied-Never. I asked him to consider fasting half a day or (if he was adamant enough) probably 1-3 full days would suffice. I believe by then his curiosity would be fed and his questions will be answered. And that will put a sweet end to his determination and perseverance as well..for this challenge.(In my lifetime, none of my non-Muslim friends ever tried fasting that long. So I'm quite new in facing this new challenge)
But he said that he had done his research. He further explained that he wanted to understand more about the Muslims of the world and Islam. He also wanted to experience Ramadan (more in-depth) and its overall benefits. He told me with such conviction that I was soon bought over.
I shall let him continue his story, in his own words….some day.
Meanwhile, as I did my best to share my knowledge about Ramadan with him, I too learn lots about my own religion (especially fasting) in which I often took for granted as a Muslim-born.

Bryan will update as often as possible in twitter.com/worldhalalquest about his day-to-day fasting updates/challenges.

So far, he has been fasting since day 1 till now and is adapting well to it. WHQ team has also paid him a visit in Malaysia to support his challenge.
In spite of the "raging war" in his head and tummy, he even went thru various Ramadan bazaars with the team. And he survived!
WHQ applauded his strong determination and perseverance to fulfil this challenge till the end.
Do click LIKE in facebook.com/worldhalalquest to receive instant updates on this challenge or join us in twitter.com/worldhalalquest

Thank you and have a blessed Ramadan with your loved ones in much peace, love, happiness with great iman and taqwa! And may all of us get the Laylatul Qadr, as well. amin.
Note: We do not recommend any non-Muslims to do what Bryan did. Please consult your doctor or physician before starting to fast. Normally, in Muslim families, we "trained" kids as young as 5 years of age to fast half day and then proceed on to full day if they can take it. The same goes for adult converts/reverts….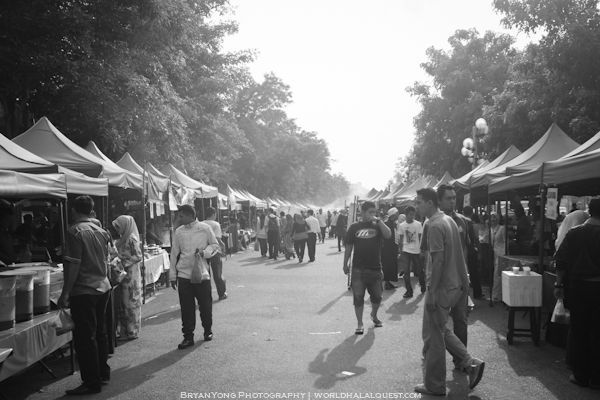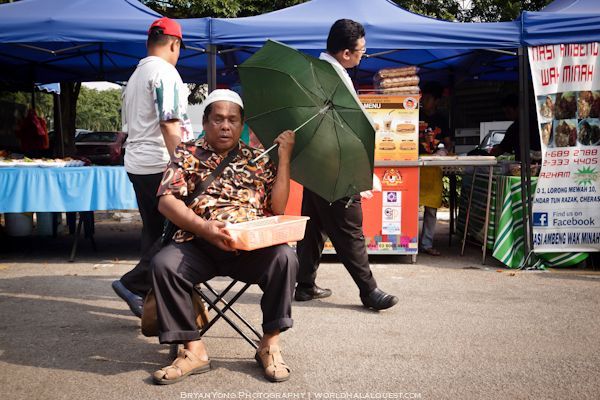 P.s: This is a long overdue post. I have no idea on how to begin. I knew that the presence of a new person in WHQ might be overwhelming for some especially when he is not of same race, religion, sex or even nationality. And it's tough explaining everything in 1 post. So I'm just gonna reveal in bits and pieces,my own way, my own time. (Best if you read the snippet in our about WHQ, before hand).
If you have followed me thru out the years (thank u!), you already knew a bit about my dream and it is huge! (For more hint, click here).
Not many wanted to be a part of this mission vision. Aside from it being fun with colourful nature of travel and glorious food..it has a great responsibility tag to it. Only those who can see what I see are able to embrace this opportunity given and those who are passionate enough are willing to go where I'm going.
Anyway, along came Bryan…coincidentally, we speak the "same language" and saw the same vision. We had worked well, together in 3 different countries and we decided to go with the flow. So do continue supporting WHQ as our journey unfolds…. Thank you.
Disclaimer: WHQ doesn't care how other foodies do it. We are not critics. We are simply food lovers who love to eat with all our senses and especially our hearts. We are not representing anyone. Halal is an act of individual's responsibility. What we feast on may or may not fulfil your standard of 100% halal. We are not responsible for your own tummy and bodily experience. Our intention is to make Halal a no.1 brand in the world for the world …in our own unique way. .
(Visited 9 times, 1 visits today)