Country:
Vietnam
Jamiul Islamiyah Mosque
(Thánh Đường Jamiul Islamiyah aka Nancy Mosque)
Quận 1, Ho Chi Minh City,
Bryan and I departed separately from our backpacker's alley "Pham Ngu Lao" and we got lost. No way of contacting each other except the fact that most fast food restaurants have free Wi-Fi.(just ask the staff for the password with a smile).
We were very thrifty (aka cheapskate/miser) to spend on any local SIM cards (I think u can get it for $3US). I had to run some errands and so I left first. And I'm quite particular on being on time and I took the easy way out-cab. But the cabbie sent me to the wrong landmark instead and so I ended up walking down the whole stretch of Trần Hưng Đạo (huge road). All I noticed were endless of small shops, police stations, schools and huge roads with endless traffic.
The road was endless, I nearly gave up. I was asking the locals thru out. Some wanted to send me by motorbikes. But since it's just ahead, I thought…it should be easy breezy. I politely say no and moved forward. I went into these small shops, bookshops and even wink at some military men in uniform (because I was trying to figure out whether it's a fire station or some military camp. Sorry, dad.. I did my best).
Did not have any breakfast. My tummy was playing all the KISS records backwards (yes, dad thanks for the major music influence! *wink). I had to eat something. No Halal stalls nearby. I went into a tiny little stall. Fumbling with my poor Vietnamese language skills… asking if its totally vegetarian.. I ended up buying 1 freshly baked baguette and chew it on the spot. (Oh, how I wished for some butter).
It took me more than an hour to reach the mosque (pardon my wandering eyes and small feet). Actually, the main intention was to eat at one of the bestest Halal Beef Pho in HCMC (thanks Kevin!) and the mosque was just behind it.
Eventually, no matter how tired I was, I did reach my destination. Alhamdulillah. The light green mosque was easily to be seen. I sighed with relief and thanked God (Alhamdulillah)that I reached safely. But was I on time? Nope.
But my buddy was not there either. As much as I was relieved that I was not late, I was also worried.But somehow I was calmed deep down. I believe we can find each other somehow (blind faith and trust). There seem to be an in-built antenna within us to connect (hello, hello?).
The locals at the mosque greeted me warmly. Although no way of communicating in English, somehow we understood each other thru gestures and body languages. I sensed that one man was very happy, he thanked me profusely for visiting the mosque. Alhamdulillah.
It was a small but cosy mosque. A group of men were reciting the holy Quran as I stepped in. They were all dressed in typical western shirts and pants but their heads were covered by white caps (kopiah). Symbolises Islam unity.
I do understand that the Islam journey with the Chams were faced with many unbelievable challenges, back then. Many have died to bring Islam to where it is today. Click
here
to find out more.
I did not see any Muslim ladies at the mosque. It was 11am. I was so engrossed in the intricate internal decor and the beauty of their reading that I had forgotten to take note whether there were any "telekung" for female ladies who visits to pray.
Note:
Female Muslim tourist/travellers: Just bring your own telekung/prayer dress. Ablution (2nd level) and toilets (1st level) are separated but if you ended up like me-I went to the mens instead of the ladies/toilets, it's ok. They are very forgiving. *smile. The ladies prayer section is on 3rd level.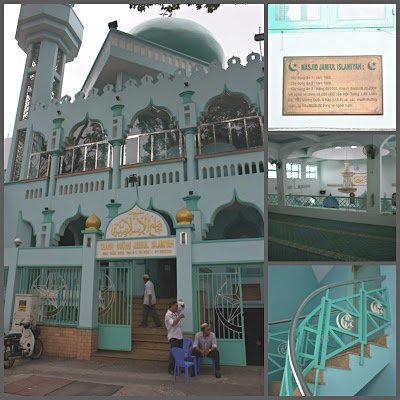 p.s: I did meet up with Bryan, later on…at Pho Muslim stall (Alhamdulillah). He was bathed in sweat and looked disarrayed. Luckily, a man steered him in the right direction. He rode with a motor biker and paid about $20.000 dongs (what?! he paid twice than usual, it must have been a comfy ride, huh? *rolled eyes ). Luckily he was on time for my second servings of yummilicious local brunch. A feast of Pho noodles, the bestest ever.2 be continued…

The lost and found PAGODA (temple), Quan 3/district 3.

If you have read our previous fresh entry on the Pagoda road trip , you would have known how disappointed we were that we did not get to see any Pagoda. But all hope was not lost.
Bryan was almost dozing off to sleep on this OMO (one man operational) bus, and I got extremely excited when my eyes saw something big and shiny from a distance. It was the roof of a temple, gleaming in gold. I nudged him and he pressed the bell. The bus stopped right in front of the temple. (they do have designated bus stops. See carefully for the little signage).
There was a death ceremony/procession going on at the pagoda. We decided not to disturb their procession and proceed on to the main temple. It was a huge temple. Went up the steps. Took off our shoes and entered the main door. No one stopped us. They were very happy to see us, I guess…from the smiles beamed at us. We separated ourselves and silently sat amongst them.
I watched intently at the locals were peacefully doing their prayers and recitation.
I noticed there were some similarities between Islam and Buddhist. In some parts of the recitation, they will do a somewhat "Sujud at- Tilawah"/Recital Prostration
(Muslims prostrate when they hear certain sentences / readings in the Quran recited by mass/individuals regardless from what position they were in : sitting/standing/lying etc.)
There was a unique hymning tune, engrossing repetitive beats as they unite their voices reading the same scriptures. As they finished their reading, there will be a loud "GONG" sound repetitively from a nearby drum. And then the monks cladded in their handsome bright yellowish robes walked flowlessly in front of us as the rest of the mass turned to them in respect. I noticed that they looked very young.
Hmm, it was an interesting experience. I've been to temples around the world and especially in Tibet but I never get the chance to see the completion of a reading session nor did I get a chance to be in it.
(Note: Bismillah. I understand some people are peeved at the fact that some Muslims like me entered other faiths'/religions' temples and places of worship. They have a strong resentment towards that. Growing up in a secular country like Singapore, I was taught to be open. I am always curious. My friends are of multi-races and multi-nationalities. I want to know much about other non-Muslims and hopefully they too want to learn much about me and my religion. I believe that disputes/war or restlessness are due to us not knowing much about each other. To me everything is knowledge. To me, all religions are good. Be open. Everything in life is up to you. I do what I do to satiate my inner curiosity and to learn more about people of the world. You do not have to follow my footsteps. Love is the bridge to everything. Do what you love and makes you happy and at peace. Assalamualaikum; May peace be upon you.)
Be Happy. Be Peace. Be Love.
Disclaimer: WHQ doesn't care how other foodies do it. We are not critics. We are simply food lovers who love to eat with all our senses and especially our hearts. We are not representing anyone. Halal is an act of individual's responsibility. What we feast on may or may not fulfil your standard of 100% halal. We are not responsible for your own tummy and bodily experience. Our intention is to make Halal a no.1 brand in the world for the world …in our own unique way.
(Visited 10 times, 1 visits today)