Country:
Vietnam
The abundance of Halal food at Malaysian street near Ben Thahn Market.
Do take note of the warnings and tips from the top Halal Food blogger in Vietnam:
http://saigonnezumi.com/halal-restaurants-in-saigon-and-hanoi/
The Halal restaurants are opened as early as 7am till late night.
The Halal street vendors started as early as 7pm, daily.
We are not gonna bore you with Halal food feasting's facts and info at Nguyen An Ninh Street.
Too much food, too much info.
We are just gonna direct you to …. http://gohalalvietnam.com/
…and give due credits and praises to his site, please.
(Thank you, you are definitely AWESOME, dear WHQ/Halal fans!)
Feast for the eyes…
Please feel free to drool…buckets. We thoroughly enjoyed eating in these places.
Every tummy stop was a unique adventure in itself……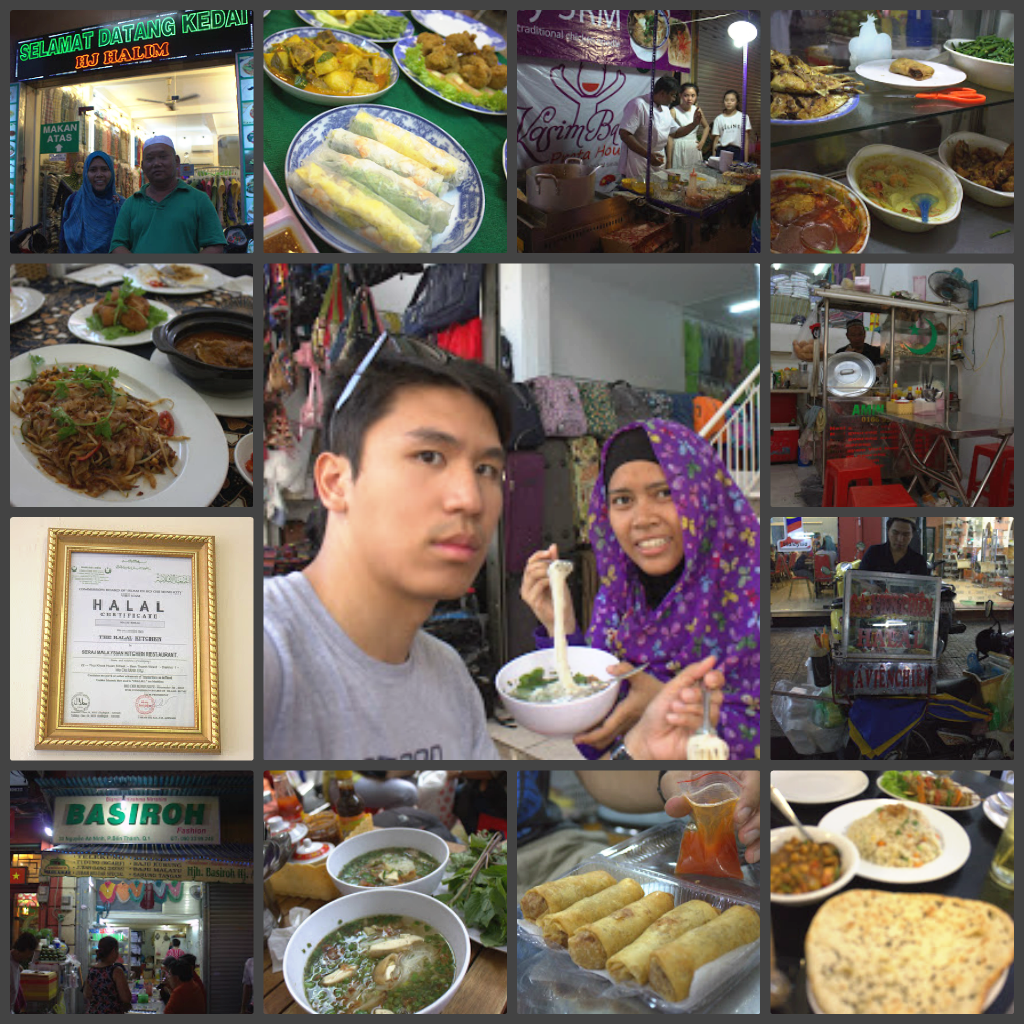 WHQ's top favourite!!!
Food cooked with loads of LOVE – Beef Pho (pronounced as "fur") and something sounded like Ba-Khor (the orangey soup based noodles) . Read more about it here .
Rating: 4.85 LOVE out of 5!
PHO MUSLIM
Alley 505, 25/18
Tran Hung Dao Street,
Ho Chi Minh City, Vietnam
(near Jamiul Islamiyah Mosque/Nancy Mosque)
Kevin told us to come early because it will be congested with many patrons especially for breakfast. And so we did.
The broth was the secret. It was the bestest ever. We did our share of beef Pho tasting…in and out of many Halal restaurants and street haunts in HCMC. But we love it here. We ate bowls and bowls of Beef Pho at the side streets. We ate in our own world without a care of the traffic passing us by. We ate so messily and happily.
It was so good, I felt like someone gave me an wholesome sincerity hug with so much LOVE thru out the meal.
Thank you Kevin for the discovery of this amazing Halal food haunt!
(It is one of his favourite weekly indulgence)
Disclaimer: WHQ doesn't care how other foodies do it. We are not critics. We are simply food lovers who love to eat with all our senses and especially our hearts. We are not representing anyone. Halal is an act of individual's responsibility. What we feast on may or may not fulfil your standard of 100% halal. We are not responsible for your own tummy and bodily experience. Our intention is to make Halal a no.1 brand in the world for the world …in our own unique way.

.
(Visited 23 times, 1 visits today)