"Adventures told through photos and captions."
Country: Vietnam

Photos taken by:

Captions: Bryan Yong
Day 1 – 2330: WHQ has finally arrived at the hostel.
Day 1 – 2345: In no time, we hit the street looking for supper
Day 2 – 0005: A local coffee shop. Next!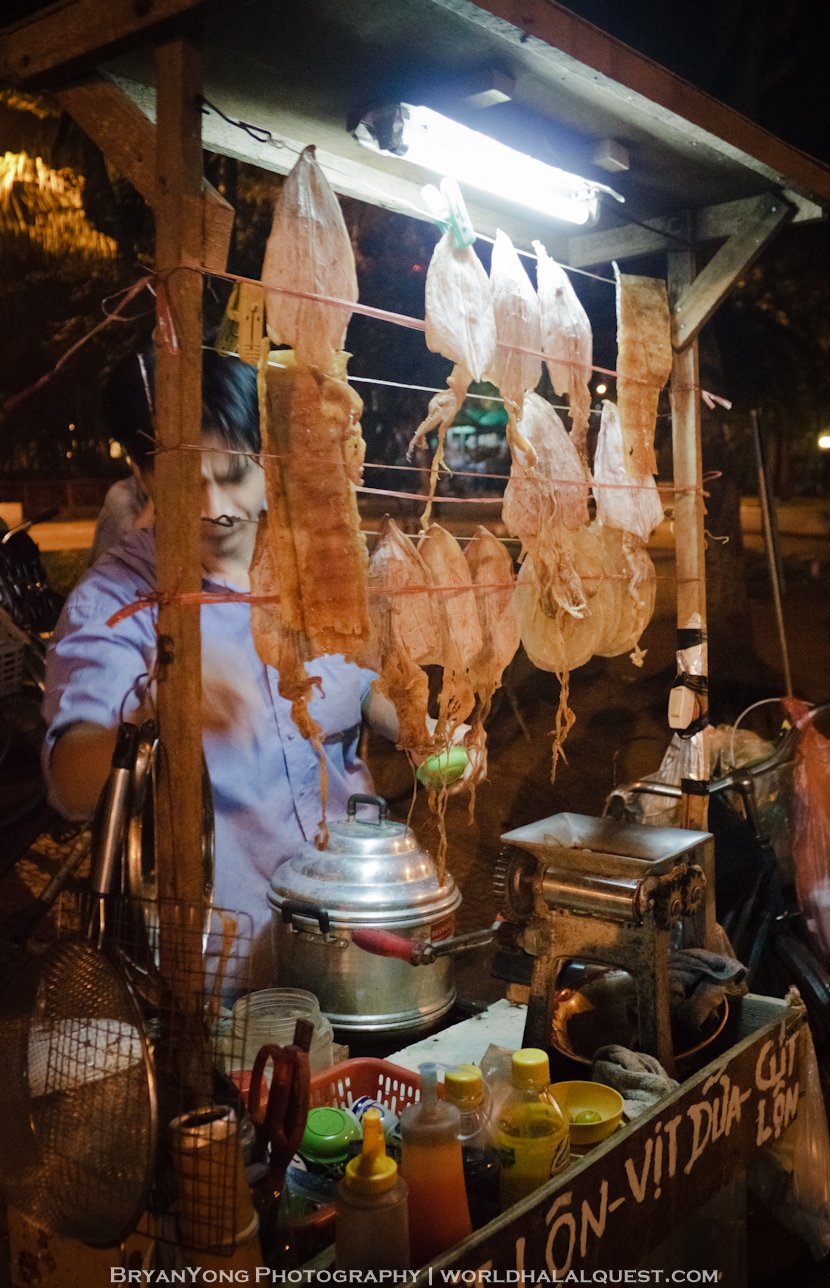 Day 2 – 0010: Street vendor selling dried Squids for 30,000 dongs (1.5 USD) a piece. Next!
Day 2 – 0030: Banh Mi Tay a.k.a Vietnamese Baguette for 15,000 dongs (0.75 USD). Next!
Day 2 – 0030: Oh wait, gotta Instagramed it before we leave.
Day 2 – 0040: How about roasted piece of octo for 70,000 dongs (3.5 USD)? Maybe next time.
Day 2 – 0045: Fruits? Next!
Day 2 – 0048: A stall frying snails caught our attention.
Day 2 – 0049: Let's do this. Let's eat snails instead of bread, fruits or octopus.
Day 2 – 0049: Clams, but Bryan did not order this.
Day 2 – 0055: Lo and behold. Bryan's wok-fried snails for 50,000 dongs (2.5 USD).
Day 2 – 0115: We ended the supper with a glutinous corn for 20,000 dongs (1 USD).
Day 2 – 0630: Boy, it was too early but the locals are already getting ready to go to work.
Day 2 – 0640: Before WHQ's lunch appointment with a halal certified Malaysian – Vietnamese Restaurant, We decided to do a little bit of exploring.
Day 2 – 0715: For breakfast, we got ourselves a vegetarian Banh Mi for only 12,000 dongs! (approx. 0.60 USD)
Day 2 – 0730: She looked like she was waiting for someone to pick her up
Day 2 – 0800: Halal or not. You decide
Day 2 – 0900: Found ourselves a Vietnamese durian
Day 2 – 0915: Whiff a durian a day, all the sadness will go away. WHQ Lina having a good laugh with the durian seller.
Day 2 – 0945: Crossing the road like a boss! p.s Vietnam's traffic is crazy
Day 2 – 1100: A cuboid of delicious halal ice-cream to cool us down
Day 2 – 1200: It was time for our appointment with the owner of Warung, Mr. Hadi.
Mr. Hadi enjoying his cup of iced coffee.
Lina Masrina, founder of WHQ
1. Warung's menu is comprised of various savoury Malaysian Vietnamese cuisines
2. Tasty and Affordable
3. First, we were served a glass of Iced Coffee, local favourite.
4. Then came a plate of Malaysian most famous dish, Nasi Lemak. The rice (Vietnamese quality) is cooked to perfection. *thumbs up*
5. Mr. Hadi ordered a Roti Canai for each one of us. We were up to the neck after the plate of Nasi Lemak but there is always room for Roti Canai
6. A mega thirst quencher
7. Thank you Mr. Hadi for your hospitality and Kevin for your recommendation.
Day 2 – 1530: Girl with a dragon flag tattoo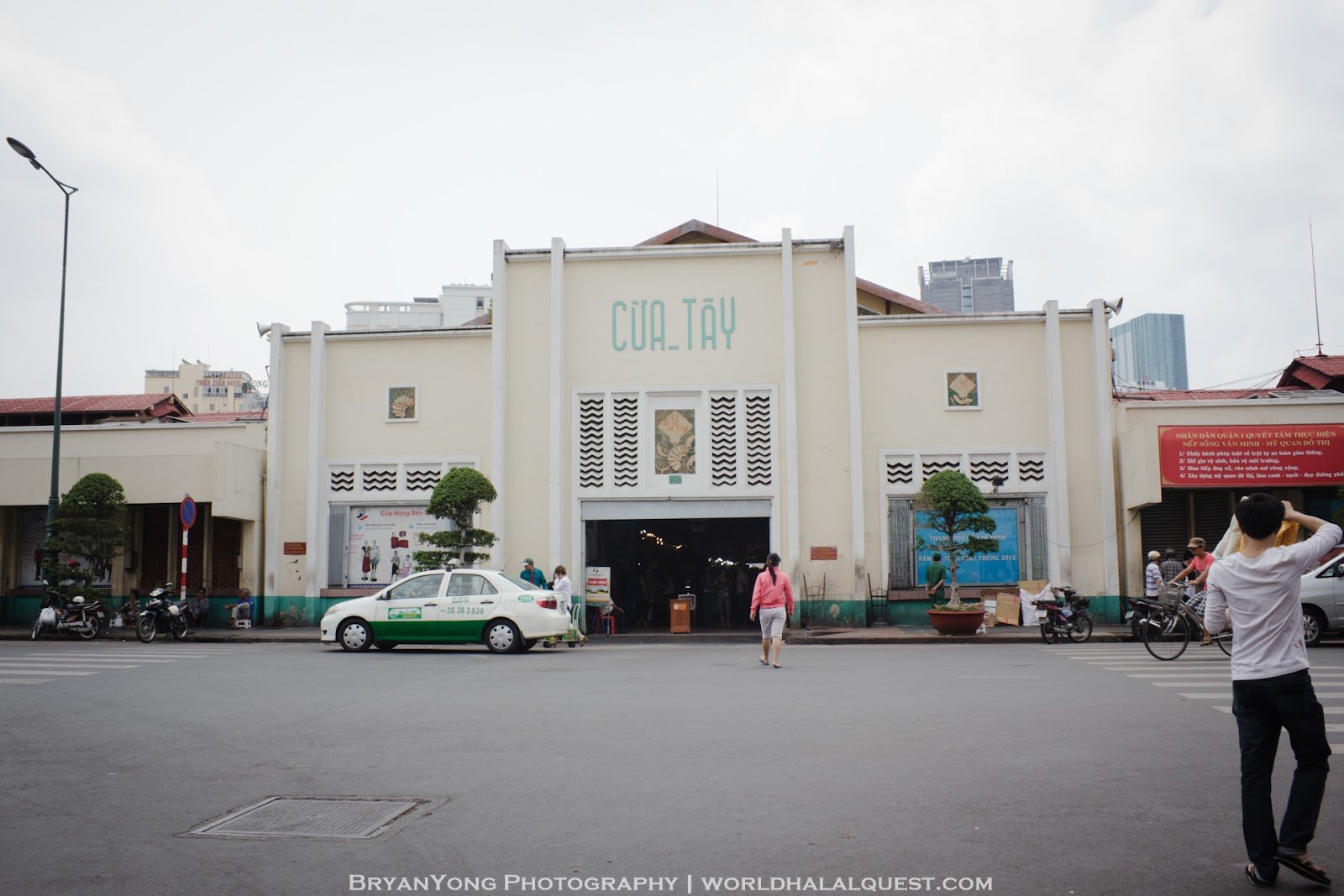 Day 2 – 1545: The famous Ben Thanh Market was just a couple of blocks away from Warung
Day 2 – 1555: One can find all sort of local stuffs there (albeit at a higher price).
Day 2 – 1610: These sesame balls

(bánh cam or bánh rán can be filled with mung beans paste or hollow)

are so good.
Day 2 – 1700: We couldn't get a cheaper price for fruits so we engaged street vendors instead.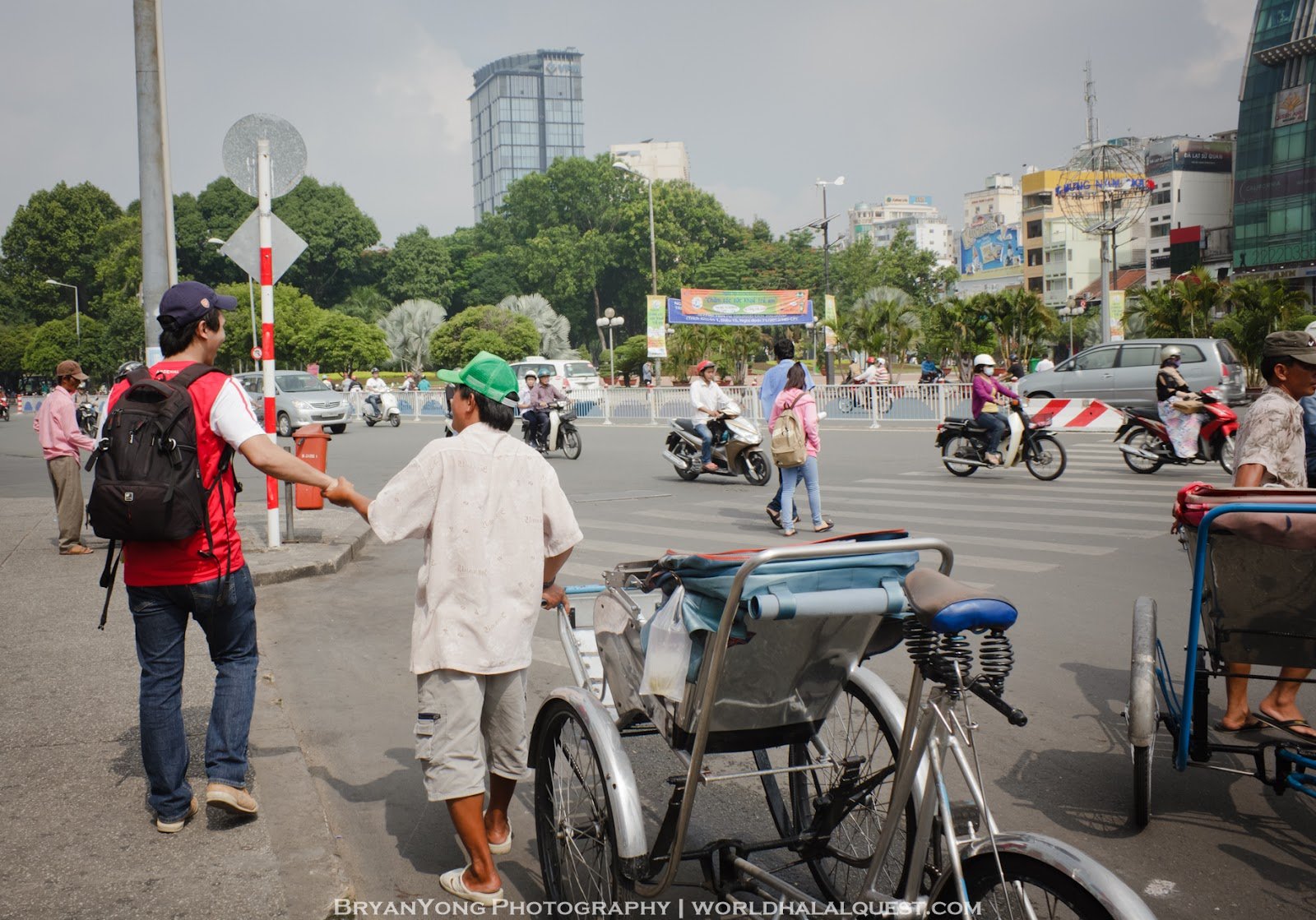 Day 2 – 1800: To our surprise, this rickshaw cyclist volunteered to helped us cross Ho Chi Minh's busiest road to our next destination. Thank you, chú (uncle)
Day 2 – 1815: Our next destination, Halal Champa
The owner of Halal Champa is a direct descendant of Cham. Cham descended from

the

Kingdom of Champa

(7th to 18th centuries).

They form the core of the

Muslim

communities in both

Cambodia

and

Vietnam

.
1. A Vietnamese Cham appetizer. Raw Long Beans + Pineapple + Cucumber + their unique fermented dipping sauce "nuoc cham" (too bad no picture) = Greatness
2. Vietnamese spring rolls (betel leaves included). Could eat these all day
3. A plate of Cham fried chicken. The chicken meat was tender and the batter adds the crunchiness
4. Cham Beef Soup
Day 2 – 2030: Time for our dinner walk. There's a night market every night outside of Ben Thanh Market. You can buy a t-shirt there for less than 180,000 dongs (9 USD) and they are subject to bargaining.
Day 2 – 2100: 3D post cards. These are fantastic. Only for 30,000 dongs (1.5 USD)
Day 2 – 2145: Vietnamese dessert. It's very similar to kuih onde-onde except that it didn't have any 'gula melaka' (palm sugar) inside.
Day 2 – 2300: WHQ were heading back to the hostel. Oh and we were staying near the Taj Mahal… hehe
Disclaimer: WHQ doesn't care how other foodies do it. We are not critics. We are simply food lovers who love to eat while indulging all our senses and especially our hearts. We are not representing anyone. Halal is an act of individual's responsibility. What we feast on may or may not fulfil your standard of 100% halal. We are not responsible for your own tummy and bodily experience. Our intention is to make Halal a no.1 brand in the world for the world …in our own unique way

.
Day 3 – 0630: Another beautiful morning. A portrait of the Inn Keeper.
Day 3 – 0645: Lina came by to the hostel to pick up Bryan for the Mekong Delta trip
Day 3 – 0715: Bryan chit-chatting with a couple of passengers on the bus to Mekong
Day 3 – 1030: We were on the boat moving through Mekong's floating market
Day 3 – 1040: Most of the boats act as both the locals' house and store
The view of the boat
Day 3 – 1100: We arrived at the time where most sellers were ready to leave and go back to their personal dock
Docking
Doing overtime
Sunbathing, Vietnamese style
Some of the more fortunate sellers' house along the river
Day 3 – 1200: WHQ arrived at a local market producing all sorts of authentic Vietnamese snacks. Shown above in the picture was Vietnamese coconut candy
The process of making crispy Vietnamese biscuits. The aunty poured a thin layer of rice juice on the cloth
She then used a wood to slowly separate the layer of rice from the cloth
by blowing air in between, it eased the separation
The local market allows tourist to sample their cobra's whisky for free
They produces fresh honey too
Day 3 – 1245: Tea time for WHQ
Local Vietnamese tea isn't complete without half a lime
Day 3 – 1300: Time to head to our next destination for lunch
Day 3 – 1320: On our way there, we saw the local's ways of life. The pictures above shows an elderly harvesting water from the river to wash his clothes
Day 3 – 1400: It took the boat approx. an hour to get there before we had trek for another 15 minutes into the village where the restaurant was located
Day 3 – 1430: It was a simple lunch.
Rambutans for dessert
This boy cocooned inside the hammock.
Day 3 – 1515: WHQ's Bryan went for bike ride around the village after lunch
Day 3 – 1600: We were on a tight schedule. Wish we could spend more time at the village. On the sampan back to the primary boat.
The human propeller
Bryan tried his hands on rowing. p.s it didn't work out so well
Another Vietnamese friend from Hanoi! It's her first time at Mekong too.
WHQ sampan overtook others. We were too fast too furious
Texting
A lone boat on the Mekong River
Day 3 – 1730: We were dropped off at a local fruit market. There were plenty of rambutans. 1kg was selling for only 20,000 dongs (1 USD).
Enormous jackfruits. One whole jackfruit for 70,000 dongs (3.5USD). CHEAP!
and more fruits to choose
Two bag loads of fruits! Awesome balancing seen only in Vietnam
Day 3 – 2000: We got our dinner back at one of Ho Chi Minh's most famous halal street, Nguyen An Ninh
Halal Satays
Deep fried spring rolls
and a bowl of pho. What a satisfying dinner
Day 3 – 2130: Bryan and the little girl laughing at a joke that he made so that he wouldn't need to buy anything from her. Smart!
Halal coffee? for our dessert
Last but not least before we head back to our accommodations. A Vietnamese pancake.
(Visited 3 times, 1 visits today)