Country:
Singapore
After National Achievers Congress (NAC 2013) , with much left-over excitement of meeting Sir Richard Branson upclose… some of us, decided to hang out and get to know each other better. I was very much intrigued by some of the crew members who actually flew in to volunteer for this event.
So where do we head to?
The "tourists" in our group wanted to see a different view of Singapore and Esplanade-Theatres by the bay came to mind. And also I was somewhat hungry and have not step into the Gluttons bay in years.

It was about 11pm on a Sunday. The crowd seems unaware of the time. They were busy immersing themselves in Singapore favourite past time- Eating and chatting.
I was kinda conked out. And so this image that I shoot was kinda weird like a distraught bird's eye view in which you will never see me take. But I did. Oh well, there is always the first time in everything.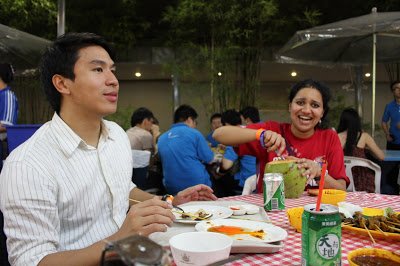 My event buddies who are also avid travellers of the world:
Bryan, Ayesha and Crystal De Souza.
Battling our wits against each other while chowing down in a positive manner. I'm just an observer. I only partake in peaceful discussions. *lol
Gorgeous smile from one of Angels… Ayesha (we missed you, Aqilah!-another gorgeous Malaysian)

Once a stewardess ,always a stewardess…Crystal.
Of course, after that we started measuring our own paunch. (yikes?!).
Thanks Bryan…
Verdict:
My take on the satay was that it was ok.
3.2 hearts out of 5.
The flavour is there.
I would much preferred the satay to be crispier especially at the sides.
The meats were tender.
The sauce is not as formidable as I thought it would be. Because I remembered how thick and scrumptious it was…ages ago.
For the rest of them, they were busy segregating the thick oil floating on the Satay gravy but there were no complains. They seemed to like the Satay.
For me, it don't really matter. I normally eat my satay on its own unless the gravy is super-chunkily good!
I really miss the good old Satay Club. Those were the nostalgic moments even for a lil gal like me. Missed them so much! I can remember the tantalizing juiciness of each and every skewered satay, the aromatic indulgences barbecued over charcoaled fire. The perfection of charred bits at the sides and melting fats, drooping all over… Ooh…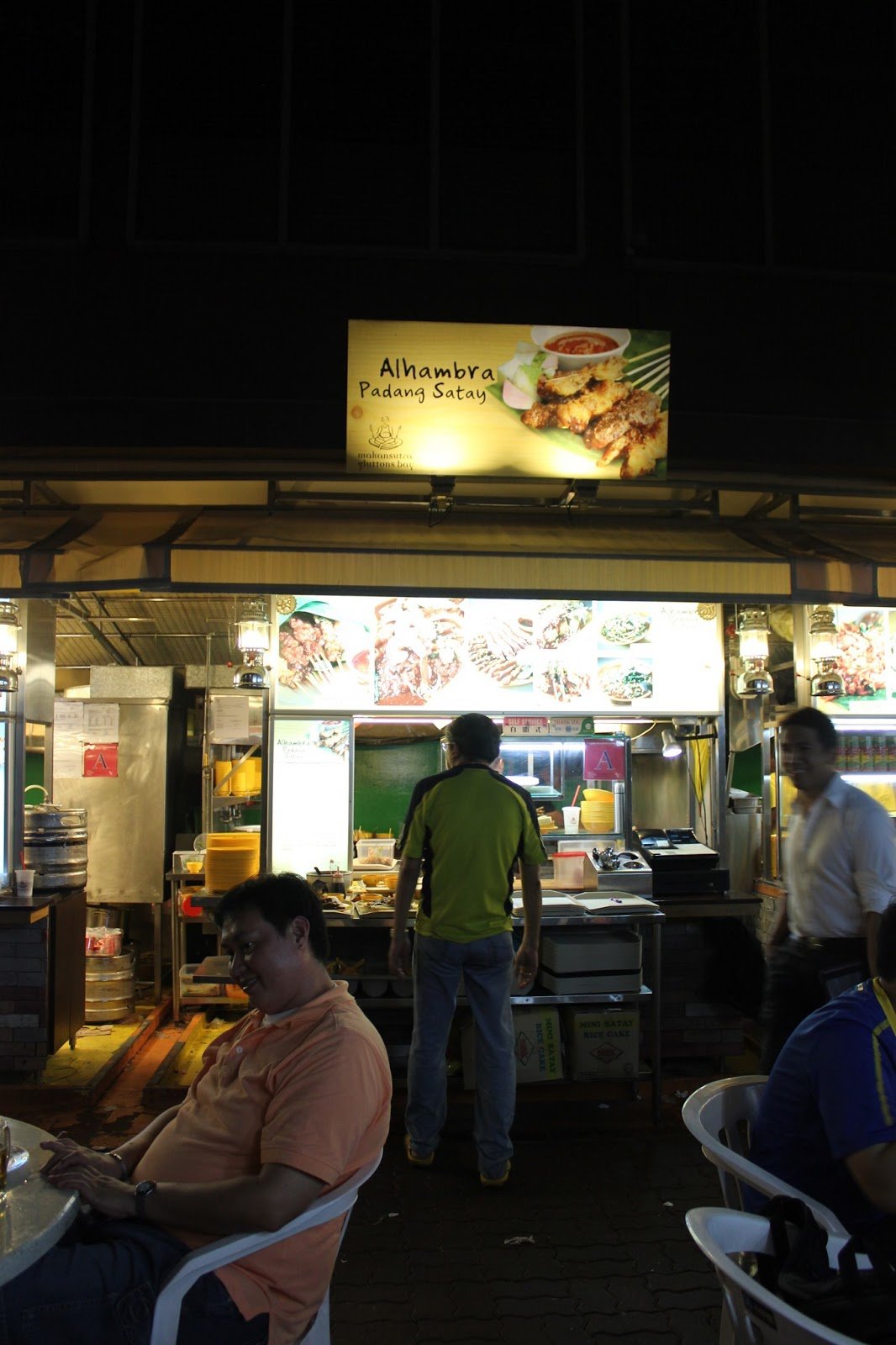 Alhambra Padang Satay
8 Raffles Avenue #01-15C Esplanade Mall Makansutra Gluttons Bay
Operating Hours: Monday – Thursday: 5pm- 2am
Friday & Saturday: 5pm-3am
Sunday: 4pm-1am.
Muslim-owned.
Disclaimer: We don't care how other foodies do it. We are not critic. We are just typical food lovers who eat with all their senses and especially thru their heart. You don't have to entice us, just let the food do the talking. We are not representing anyone but our own body. Halal is every individual's responsibility. If we eat it, doesn't mean its 100% halal for you. We are not responsible for your own tummy n bodily experience. Our intention is to make Halal a no.1 brand in the world for the world …in our own unique way

.
(Visited 10 times, 1 visits today)