Country:
Singapore
For the first time, WHQ has created an event : Love eats.
Its intention is to connect like minded passionate individuals and talk about LOVE. Love of food and people. Opens to all race, gender and religions.
www.meetup.com/loveeats
Main theme: Unconditional love -Be open, embrace whoever whatever that comes.

Alhamdulillah. Thankful for the gorgeous company. Of myriad backgrounds. We learnt lots from each other. Beyond love of food, we actually discuss about the inner health and quality of the food we consumed. I have always been a fan of food of intentions. And these people spoke my language. They are all passionate and care deeply about the origins of each and every ingredients consumed.
Fascinating topic!
Awesome company!

Ratatouille Sirloin Steak
Home made creamy soups of Wild Mushroom (brown) , Carrots (vibrant yellow)and Potato(with leek)

Lamb Ribs

Fillet of Norwegian Salmon with lemon butter sauce.


Grilled Sutchi Dory with lemon garlic sauce – Not bad.

Chocolate Pear Hel'ena is quite a refreshing and intriguing dessert. It's nice.

Siti Teeya is a wellness coach, a Jamie Oliver's food revolutionary ambassador (one and only in Singapore). If you need an internal external detoxification, do check her out. She is one of Suria Mohd's promising protege:https://www.facebook.com/sititeeya

Zachariah Elias is a passionate cook whose utmost intention is to bring the best in everything he does. He blogs about food as well in his own unique way. http://thetruezachariahelias.blogspot.sg/

And if you have the chance to taste his home-cooked biryani, you are LUCKY… it is to die for!
For the others, they are shy to be "showcased", and so I shall respect their privacy.
We did have more food like Poulet Basquaise, Chocolate Orange cake and all that…
Verdict:
Today is not about reviewing the food but to embrace whatever and whoever that comes your way in gratitude and with loads of LOVE. And so I'm gonna say..

My favourite has to be the Kit Kat cake: 3.89 out of 5 hearts.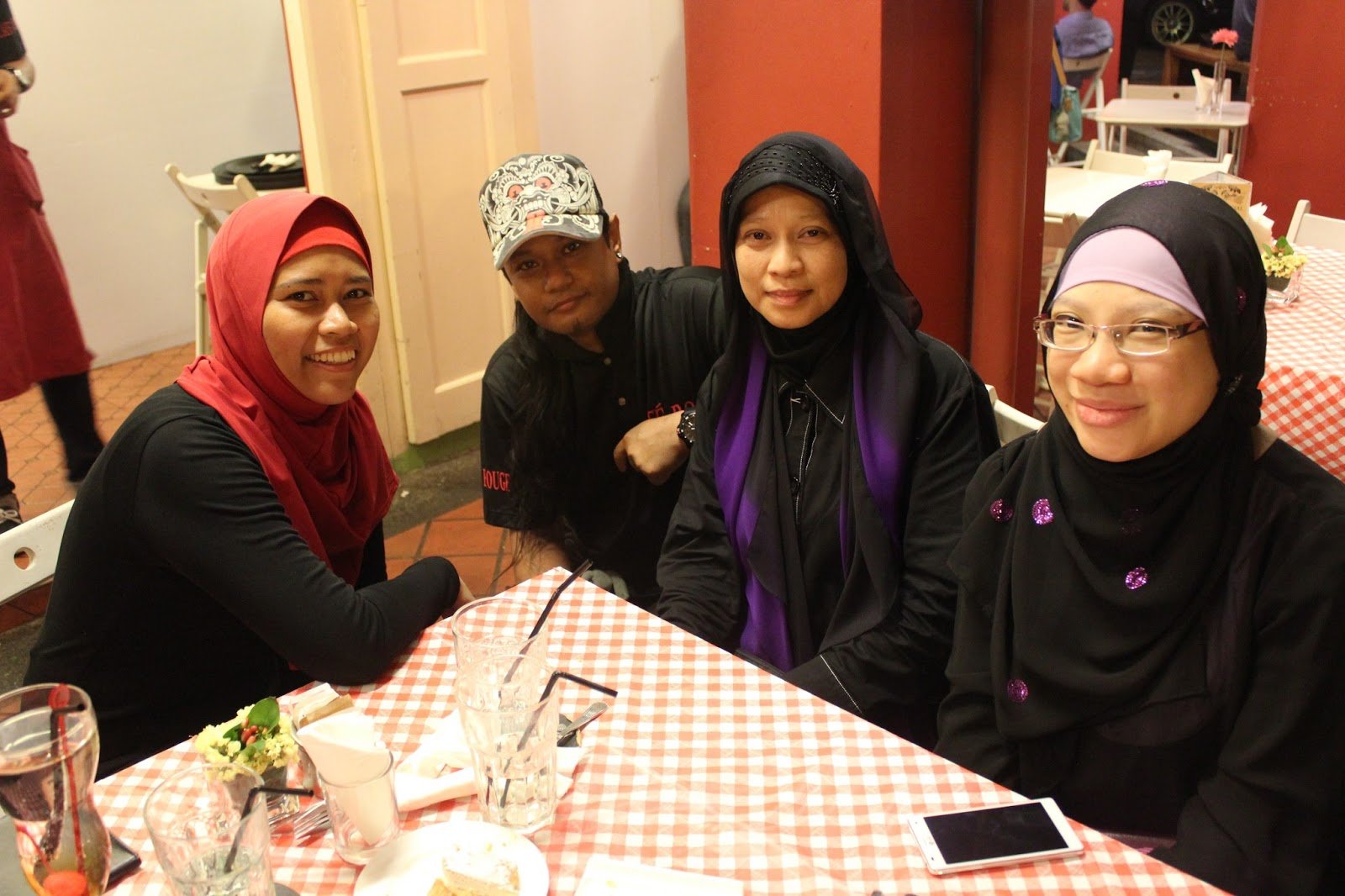 I heart Chef's Alf's open mindedness in receiving our presence and our comments about their food. Awesome guy! And not forgetting the hardworking staff who had served us much more than just food…loads of smiles! *wink.


Cafe Rouge: Halal Alfresco French Bistro.
Menu: http://caferougesingapore.wordpress.com/menu/caferoguemenu/#main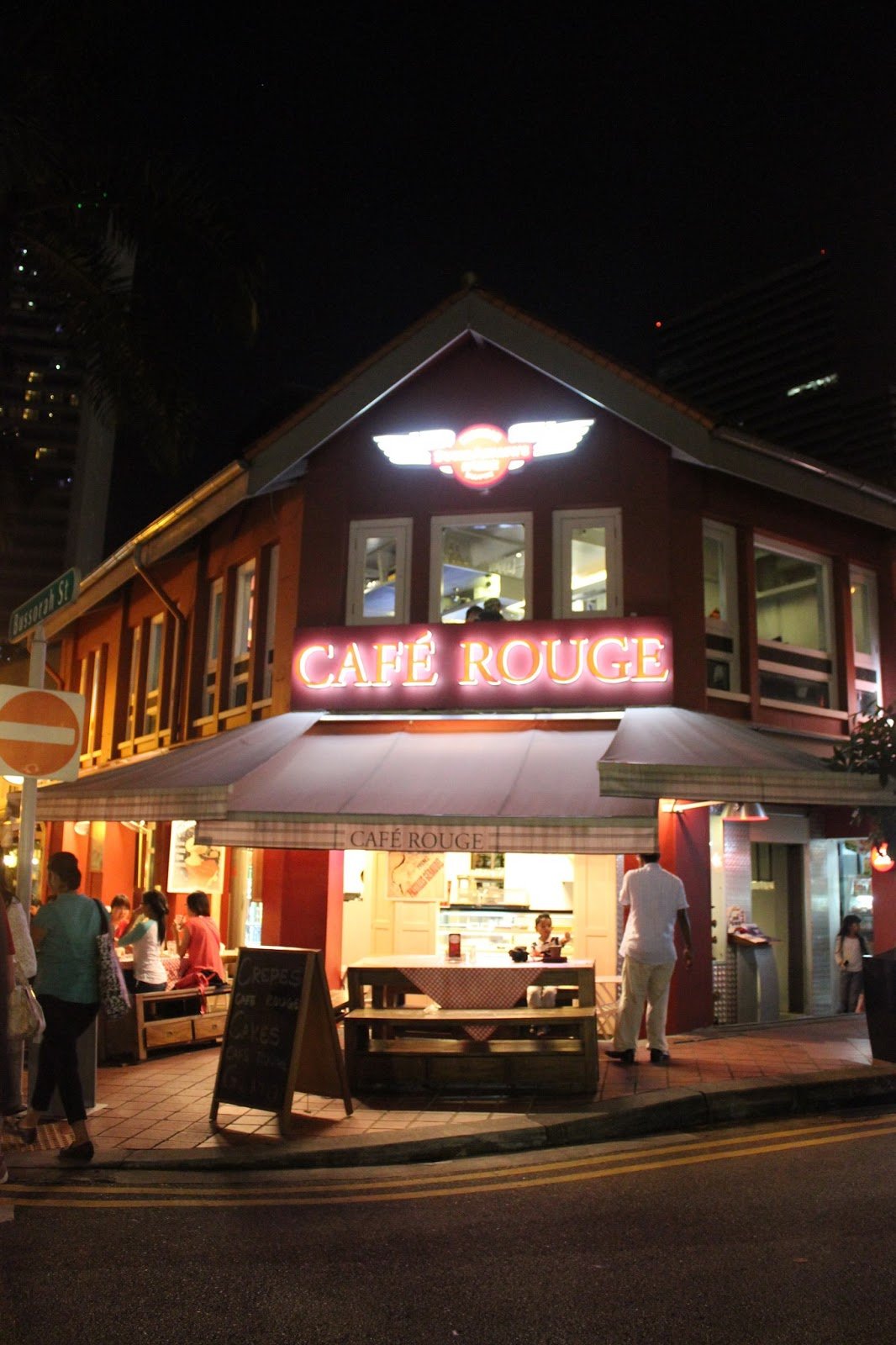 Location: 20 Baghdad Street Singapore 299659
Phone: 6291 1107
8:00 am – 10:30 pm daily (Fri – Sat: 8:00 am – 11:00 pm)
Nearest MRT: Bugis MRT (5-10mins walk to arab street)

Reservations@rouge.sg
http://www.rouge.sg

Muslim-owned
Disclaimer: We don't care how other foodies do it. We are not critic. We are just typical food lovers who eat with all their senses and especially thru their heart. You don't have to entice us, just let the food do the talking. We are not representing anyone but our own body. Halal is every individual's responsibility. If we eat it, doesn't mean its 100% halal for you. We are not responsible for your own tummy n bodily experience. Our intention is to make Halal a no.1 brand in the world for the world …in our own unique way
.
(Visited 2 times, 1 visits today)