Country: Singapore
The last time, I was here was in 2009. I was doing the Pilot Video Project- Halal food Fun project on my own (with permission from the MDA). I wanted to showcase one of the few gems in Singapore that has moulded the foodie that I am. I had a great pleasure in interviewing the wonderful couple, owners of the Rumah Makan Minang. They told me old stories when the restaurant was first set up. And it goes back all the way when the Hajj pilgrims were taking ship to Mecca for their Haj pilgrimage (wow! That was really retro..my granddaddy time!)

I also chatted with their friendly staff to get glimpses of the "happy working environment" here.

Back then, the restaurant was in the old setup. Now, it has a chic modern café makeover. I was told of their future plans and the makeover. And the very possibility of a new generation taking over, their lovely kids.
The history of me eating their food goes back along way, probably in the 1998-1999, when I was in my teens. I was very active in my Hifz school and often have to be the Program Manager who ensures the whole event run smoothly. And one of the favourite location was the Sultan Mosque Auditorium. And when food was concerned, they often cater from Rumah Makan Minang, just opposite Sultan Mosque. And when we catered, I always loved their Malay Beef curry (only during catering). Best eaten with Roti Peranchis (Locally made Baguette).
And over the years when I do miss homecooked traditional malay cooking such as Asam Pedas Fish, Lemak Pucuk Ubi (Tapioca Leaves in coconut gravy),green bean dessert.. I will come over (my house was always within walking distance) and satiate my longing tastebuds. And I will not be embarrassed to use my bare right hand to indulge this Malay rice dishes (irregardless of the many Japanese tourists who often come over to take a look and sometimes, eat as well). I felt so at home.
And today, I was craving for one of my favourite Tahu Goreng (fried fresh beancurd with blanched beansprouts, cucumber slices,all immersed in generous dollops of peanutty sauce somewhat like Satay gravy but much thicker and fragrant), to me, its one of their signature dishes introduce to me by the old timers, of Sultan Mosque staff in the 90s. But alas, it was not ready yet. But fret not, many dishes are already on their display as early as 8.30am.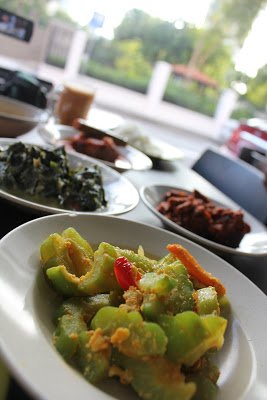 What I like about dining here, is the taste and quality has always been tip-top, thruout. They have not disappointed me in every of my visit. If they use coconut gravy, they will use the fresh coconut milk. If you don't believe me, try their famous Chendol!(watch out for that calory count!)
So without much hassle, I immediately helped myself with the food. There were too many mouth-watering ,yummy looking dishes that I do not know what to choose. We ended up with the Sotong masak hitam (cuttlefish cooked in their own black ink), pucuk ubi masak lemak (my childhood favourite), asam pedas(another hot and spicy favourite), beef rending (beef stewed in Indonesian spices), lontong (local Malay breakfast), and some kuih.
I sensed something different but I'm not sure whether it's me (Cos I've not been eating here for many years) or has there been a change of hands in cooking the recipes?The owner was not on site and so I did not pursue the matter. But nevertheless, my favourites are still the same- Asam Pedas Fish and Pucuk ubi lemak (Tapioca leaves in coconut gravy).
And as I was still looking around for Malay Kuih, I saw these Pineapple Tarts and Kuih Makmur …all bottled up. (If you are looking for last minute Chinese New Year shopping, this is one place to chunk up on your food cabinets!)
Then I saw the fried fritters, the fried bananas are still quite soft, although its not that hot and piping anymore. The fried keledek is ok, the Gendang Kasturi is not bad (fried round fritter filled with sweet greenbeans and grated coconut). All are so HUGE!
Then, I get up and check out their Kuih display, again. This time, the savoury talams and etc are ready to be eaten! Woohoo! They looked as though they were saying-Please eat us with LOVE because we are made of LOVE. *chuckles
Truthfully, I know not much about these Kuih. I only know how to eat them. And I do not really fancy them because they never really take my fancy, generally …in all Malay shops.
But today, they proved me wrong.
I have tasted my fair share of Malay Kuih in Singapore, and they were often not that interesting until today. I was so curious when I saw them freshly brought out from the kitchen, that I immediately ordered them.
These are so good that… I was converted into a Malay kuih fan,instantaneously.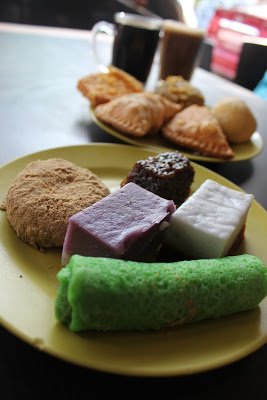 My Favourite Kuih are the ones on the left….
I absolutely adore and love the Getas-getas (the ovallish one covered in white sugar), Kuih Dadar(bright green one which looked like spring roll), Tepung Gomak (round brownish covered in powder), and the Talams (colourful rectangular kuih often are purple/brown/green with white layers below/top). I am not a fan of wajik (the dark brown glutinous rice in rectangular shape at the back) but my mom said they made them, just right!
Getas-getas has the chewy effect of the glutinous flour and so sedap! Kuih Dadar (looked like green spring roll ) is totally moist inside and outside, the thin crepe-like skin is so moist and yummy! The sweet dessicated coconut is perfect.The Tepung Gomak also has the chewy effect of the Glutinous flour which I love playing gentle tug of war with.. masked by the generous green bean flour (we often called people who put too much talc/powder on their face as "Tepung Gomak" *lol).The talam, the marriage of sweet and saltish savouriness,Mmm…yummilicious! And as for the taste, the colourful kuih are all not too sweet, perfect for my tastebuds. Mmmm…. kinda rekindle those moments when I was with nenek (granny) and she was making the Malay kuih by hand. And I was helping her by eating them right out of the oven, pots etc..hehehe…especially the melt-in-the mouth Bahulu!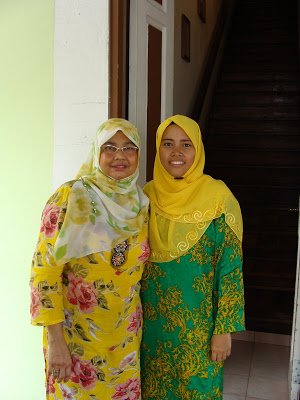 What can I say, whenever I miss my imaginary kampong family, I shall come over here to reminisce those good old "Makan" time…
Rumah Makan Minang
18 & 18A Kandahar Street, Singapore 198884
Tel: 6294 4805 Fax: 6299 5647,
Mon-Sun: 8.30am-7.30pm.
http://www.minang.sg/
Disclaimer: Food featured are subject to my personal taste. I hold no responsibility for your body's gastronomical adventure.All food shown are either from Halal-certified or Muslim owned establishments(with no liquour/alcoholic beverages unless otherwise stated).Do ensure that the Halal-certificates are up-to-date,renewed (not expired) and displayed promptly before ordering/consuming. If in doubt,always ask the staff with a smile.Remember: Use ur senses especially your heart.But mainly, ask your iman (faith).Our body,our responsibility, check its HALAL authenticity.
(Visited 7 times, 1 visits today)