Country: Singapore
Mizrea, the owner of this Nasi Lemak stall has one same dream as me: To be Millionaires. And so it was fateful that we actually met during one of The Millionaire Mind Intensive event , last November, in Singapore.

And as I got to know her upclose and personal. I found many similarities. And one of them is the passion to travel the world. Mizrea was a SIA stewardess before she actually took over this Nasi Lemak stall from her mother. So she had a vast experience and knowledge on local and world food.
Even though she was the daughter of the owner, she is not at all bossy. In fact, she humbled herself by learning the ropes from the basic beginning. Starting everything from ground zero, as an assistant, in preparing the fresh ingredients and working her way up to cooking everything according to her mom's original recipe.
As we laughed and chatted more, I found out that the famous International Nasi Lemak (who used to be opposite of her stall, now way off in front row) was actually related to her… The stall belonged to her step-grandmother.
Hmm… fascinating.
And then she prepared a sumptuous Nasi Lemak feast for me and my makan-kaki (foodies). They have many arrays of fried fritters to go along with my favourite nasi lemak from.. fish cakes, to potato cakes (bergedil) to sambal sotong (chilli squid) to normal favorites like fried chicken wings, hotdogs, anchovies and more.
They are also crowned by some media as the top ten Nasi Lemak in Singapore.And even received thumbs-ups from Makansutra.
After the recent refurbishment, the stalls in Changi Village Food Centre has all changed places. And thru balloting, Mizrea seemed to have won FIRST PRIZE! She got the stall in which International Nasi Lemak used to be. And her Nasi Lemak 's popularity seems to be increasing every day eversince the Food Centre re-opens.
I was fascinated by the fact that her nasi lemak is one of those that can last very long, more than few hours and it will not turn bad at all. I was fortunate enough to hold an event recently and it lasted for more than 6 hours and the rice stayed great thru out. And of course, Mizrea was open enough to tell us the secret in which I shall not revealed. *chuckles (One of the many perks of being a food blogger..I learnt so many tip and tricks of cooking that I can actually compile a book on the SECRETS of the Singapore Halal Food Hawkers hehe!)
And the best part is that their stall is open 24 hours a day. Woohoo!!
Mizrea was very particular about quality and ensure that the food is always good thruout that 24 hours. Well, so far the business has been so good, there are no leftovers in any particular hour!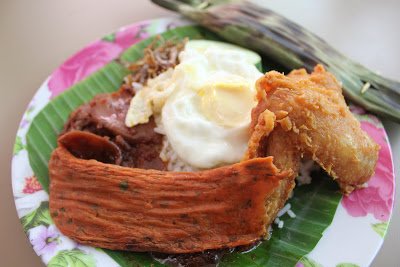 Anyway, the rice is fragrant and its not sticking to one another. The sambal is my favorite. So shiok and sweet! Mmm…
Address:
Mizzy Corner (24 hours)
Changi VIllage Food Centre
2 Changi Village Road
#01-26
Singapore 500002
Phone: 97931103

Disclaimer: Food featured are subject to my personal taste. I hold no responsibility for your body's gastronomical adventure.All food shown are either from Halal-certified or Muslim owned establishments(with no liquour/alcoholic beverages unless otherwise stated).Do ensure that the Halal-certificates are up-to-date,renewed (not expired) and displayed promptly before ordering/consuming. If in doubt,always ask the staff with a smile.Remember: Use ur senses especially your heart.But mainly, ask your iman (faith).Our body,our responsibility, check its HALAL authenticity.
(Visited 17 times, 1 visits today)