Country: Singapore
In a bustling lil town in Bishan,there stood a little Malay stall.They start as early as 7.30am daily and most of the food will run out by ten in the morning daily.By 11am, they packed everything and by lunchtime, its officially close. The queue of people has been forming continuously since 7.30am. The two ladies who managed the stalls are busy preparing and serving the customers non-stop.But admist all that, they never stop smiling and converse happily with their customers. I watched their customers patiently queing up for their favourite Malay breakfast.

When I first heard about their stall, I was shocked at their unbelievably cheap prices. Daily entries such as Mee Siam, Mee Rebus, Mee Soto, Lontong and Gado-gado (saturday,sunday only) for only $2?! Are you kidding me? And then upon hearing the cheap prices, my mind started wondering off to….skimpy ingredients and mini proportioned servings…

But I was pleasantly surprised, when all proportions are quite generous (both eating in and take-aways) and the food are yummy especially their star-studded Mee Siam (rated 5 out of 5 by insing.com editors) and Mee Rebus. And I can taste the freshness of the ingredients especially the vegetables. You can hear the healthy crunching sound as I chewed upon the beansprouts in Mee Soto, vegetables in the lontong and especially the bright green long beans in the sambal goreng dish.

I saw the Malay "kuih"s (savoury or sweet traditional Malay pastries and snacks)being displayed.The sardine curry puffs were gone within an hour.So come early to prevent any disappointment!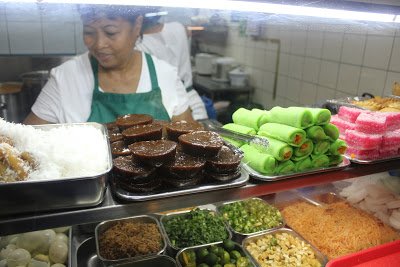 I looked at the row of other stalls.There are some prominent stalls with Makansutra and other TV shows with certificates proudly displayed.But they are not halal. But I can safely say most of the stalls here are focussing on the "healthy" side. No wonder, the people who are queing up are mostly in their "exercise-attire".

And this stall kick it up a notch with their good neighbours by serving some of the healthy version of Malay food and trust me, they are beyond yummy.If you don't believe me, try their Mee Siam, Mee Rebus and some say Gado-gado!

They also serve Malay rice with some popular dishes like Asam Pedas ikan Pari( sting ray in sourish tamarind gravy), ikan belado (fried mackerel in dollops of chillies), sambal goreng (stirfried vegetable and tempeh in sambal/chilli paste), chicken/meat rendang (Indonesian dry slow stew),stirfired bittergourd,eggplant stirfried in sambal/sweet chilli paste etc…

What I like is the freshness of the sweet sambal, the ikan belado, the ikan pari asam pedas, rendang,sambal goreng and especially the stirfried bittergourd….it reminded of my childhood moments when me and late granny were eating in the kitchen.They tasted as good and as nostalgic as that moment!

Mmmmm…I am tempted to order as I heard stories from the customers queing up (but my tummy can only expand as much) They were chatting happily telling me their favourite food from this stall and guess what? 90% of their customers are Chinese! In between,there were stories of their life too… It was one of my happy moments watching the customers queing up happy ,being served by happy people and leaving the stall with smiles on their faces.

But of course, there were customers who left empty-handed when they reached after 10.30am…They grunt and complaint a bit but the staff always smile no matter what.I will give them a 5 star customer service award badge, if I have one.

Good food, good prices and good customer service….all these in a small Malay stall in a neighbouring food centre in Bishan. Where else can you find such a fantabulous combo?

I am a satisfied customer.

Read what my other comrades have to say:
http://www.camemberu.com/2011/03/dapur-asiah-2-goodness-at-shunfu-market.html
http://www.linamasrina.com/2011/06/dapur-asiah-cheap-and-good.html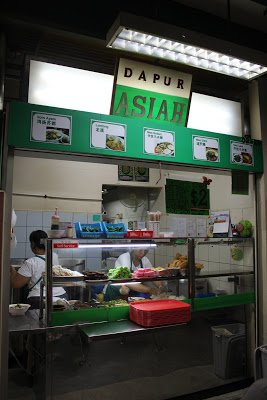 Dapur Asiah
Shunfu Mart
320 Shunfu Road
#02-29 Shunfu Food Centre
7.30am-12pm (Monday closed. Take note:By 10.30am, most food are almost gone!)
(From Bishan MRT/Bus terminal, take feeder bus service 410)

Disclaimer: Food featured are subject to my personal taste. I hold no responsibility for your body's gastronomical adventure.All food shown are either from Halal-certified or Muslim owned establishments(with no liquour/alcoholic beverages unless otherwise stated).Do ensure that the Halal-certificates are up-to-date,renewed (not expired) and displayed promptly before ordering/consuming. If in doubt,always ask the staff with a smile.Remember: Use ur senses especially your heart.But mainly, ask your iman (faith).Our body,our responsibility, check its HALAL authenticity.
(Visited 8 times, 1 visits today)