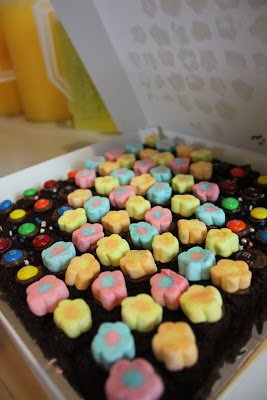 Country: Singapore
I have a sweet tooth but not that "razor-sharp" sugarcaney sweetness, more of a milky, savoury sweet tooth.
So I seldom picked upon cupcakes, brownies and such… unless there is a very GOOD reason for celebration to spike my sugar level to that party awesomeness.
Anyway, after a life-changing, mind-intensive, action-packed, gruelling, intensified, emotional break-through…all of us…need to let our hair down (in my case, scarf down) and celebrate wildly! Woohoo!
Our theme was:
"You've gotta dance like there's nobody watching,
Love like you'll never be hurt,
Sing like there's nobody listening,
And live like it's heaven on earth."
― William W. Purkey
And what better ways than to increase your party energy …..than these awesome gorgeousness?? They spell out F-U-N and highlight the colours of LIFE in which we should always celebrate….
And behind these brands are super-awesome women who stand tall, determined, motivated, passionate, like-minded, super achievers who have gone thru the hard knocks in Life University.
Just the right role models to look up to after these graduations….
Anyway, look at their handmade products..
Don't they look so cutesy and yummy at the same time?
I dare not even blink…
like they are a part of Hansel and Gretel Fairy-tale house or something….
Let's look from another yummy angle…
MnM…and the cutesy dunlo-pillow marshy-mallows….Aww…
This was the second time, I have tasted the brownies. On first try, it was heaven…first impressions always last…It's a Melt-in-the mouth experience. The chocolatey taste and the softness of the warm brownies…Ooh la la.
Sorry about the cupcakes…I only got one shot. The second one came too late because by the time, I got there, its gone….
As for the cupcakes…they were chocolatey as well but as you bite them, the vibrant pinkish softness of the cupcakes just hugs you…and won't let go.
Ok, let's find out more about the strengths behind the Brands:
"Simply Sinless Creams is a home-based business run solely by a full time Senior Paralegal who loves the kitchen more than her comfy, cushy job. Baking cupcakes began as an avenue for Aisyah Jumari, the 28 year old Founder of Simply Sinless Creams who survived an emotionally and verbally abusive relationship, to suppress the unwanted feeling about and express herself. …."
–Excerpt from their facebook site.
What I love about these Super Women are that, they have faced many challenges and have fought many life battles and not just survived but emerged winners by manifesting their dreams, passion and then give back to the community thru charities/non-profitable organisations (eg Mercy Relief, Singapore Anti-Narcotics Association), educations, courses etc..
Watching them succeed, spur me on to create my own LIFE SUCCESSES.
Wow! These WOMEN are POWER!
And if you are sensitive enough, you can almost feel their love, emotions thru their food of love.
If you are doubtful to even pinch these mini cutey cakes, then fret not…they are of healthier versions. And you can request for much, much healthier ingredients("..In line with its objective to be the 1st Choice for Healthier Cupcakes, it has also served Celebrity Fitness for one of its events for its members.." ) …to them and they will be happy to oblige you. And best part is…they are HALAL!!!
And if you are interested in learning how to make them…they do have classes for all ages (kids included).What a better way than foster that family love by baking some cupcakes/brownies with family, right? *wink wink
Thank you to these Gorgeous Femme Fatales,
both yummy businesses are Muslim-owned:
The founder and Managing Director of
Simply Sinless Creams Cupcakes
10 Anson Road International Plaza,
Phone: +6592201468 / +6591309408
simplysinless@rocketmail.com
Qhatijah Binte Bashir for Deliqious Delights
(Melt-in the mouth Brownies)
p.s: Recently I had completed 2 major life-changing programs in Executive Coach International. The programs are: The Courage to Create and Making Courage Work. Don't let these simple names fooled you. These programs will uncover depths of your true self, reveal your powerful strengths, conquer the fears and clear the clutters that you might have kept hidden in the attics of the subconscious' archives (even if they have been covered in cobwebs for more than 3 decades). I can be a witness of that. If you wanna learn more, I suggest for you to attend their TCC previews held every Tuesdays. Just sit in, listen and be open. Ask any questions from the experienced Coaches. Previews are free.
http://www.liveyourmark.com/
Thank you everyone for this awesomest party….
May all our dreams come true!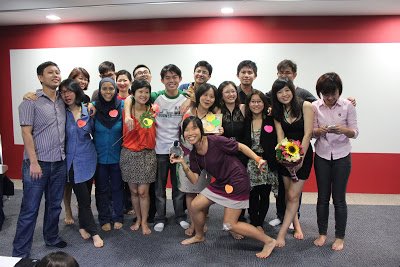 Disclaimer: Food featured are subject to my personal taste. I hold no responsibility for your body's gastronomical adventure.All food shown are either from Halal-certified or Muslim owned establishments(with no liquour/alcoholic beverages unless otherwise stated).Do ensure that the Halal-certificates are up-to-date,renewed (not expired) and displayed promptly before ordering/consuming. If in doubt,always ask the staff with a smile.Remember: Use ur senses especially your heart.But mainly, ask your iman (faith).Our body,our responsibility, check its HALAL authenticity.
(Visited 4 times, 1 visits today)