This restaurant is closed. Replaced by a new trendy Celebrity Chef's restaurant.
Country: Singapore
The first time I heard about Canadian Pizza's dine-in, I was expecting it to be like any pizza parlour joints…just like the Big names of Pizza Hut, Dominos, Oishi etc.I don't find anything unique about it. To me, Pizzas are strongly linked to delivery. And being in a pizza parlour means, you have more time to eat it there. I'm not so big into pizza but Canadian Pizza has always been in my tender heart during my student days. It is one of the pioneer brands that is so generous in providing 2 pizzas for the price of one. And I have always liked its Hawaiian flavour.
Today,I embraced Mr Karim's invitation to visit one of his outlets. Mr Karim's big heartedness and his generosity in wanting to help strangers won me over.( That shall be another story, to be told…on another day…)
Anyway, I arrived one night, during its cold drizzling moment. I arrived in its location within minutes from the nearest bus stop. My foodie crew has not arrived yet.
I took a moment to inspect its vicinity. I love to be in the moment when no one has arrived yet. A small cosy restaurant. Hmm…
If you are in a hurry, you might have missed its charming brightly litted restaurant because its name is not that prominent.
Anyway as soon as the foodie crew has arrived, we soon put out tongues to the test. We asked their signature dishes and beverages.
First start was the appetizer. The bruschetta looked so simple but yet,this is one of my favourite. Very savoury and mild garlicky presence can be tasted. I like!

Second was the Smoked Salmon Salad. Refreshing.


Next was the air-flown Rib eye cooked to Medium doneness. I like the tender texture of the meat. I would prefer the black pepper sauce to be slightly fiery than its current mild nature.
After that, the Peri-Peri Chicken came in. I would say the taste was in between.If in Nandos, I would say,its probably the lowest spicyness. But might be slightly fiery for kids,though.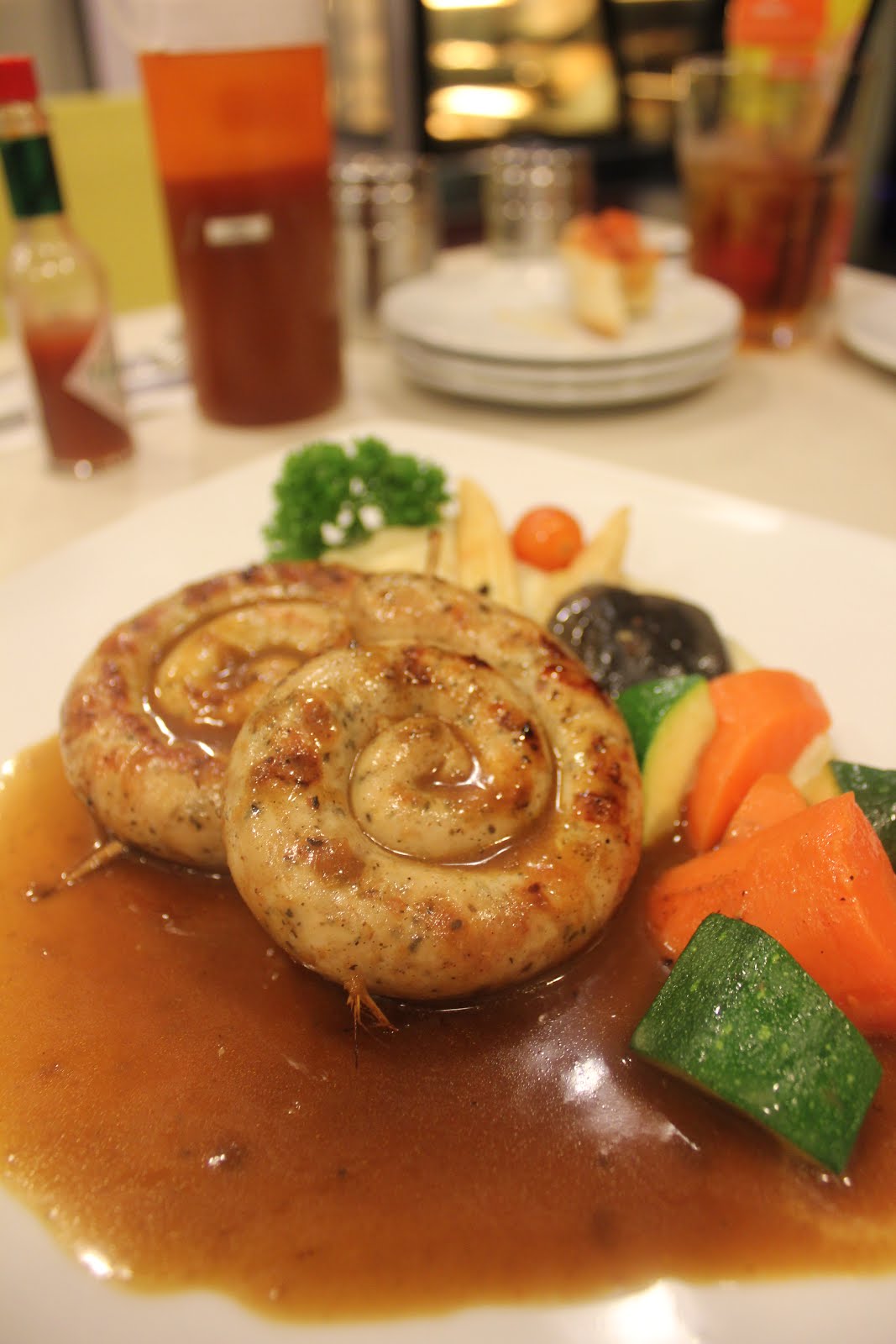 Sage sausage was very unique. They looked so beautifully orchestrated in its spiral form. Adults might like the strong taste and smell of sage but it might turn off the tastebuds of some kids.
Next was the Lamb shank. Very tender, mild in taste.It reminded me of Secret Recipe's flavours.

Super Stacker burger totally drive me crazy. It's so HUGE!The biggest meat patty that I have ever seen. So much so it looked more like a burger patty ball with onion rings decorating the layers.If you ever got sick of the Whopper,this is the one to go for,next.

A word of caution though: The meats are drenched in dollops of barbecue sauce.Unless, you are a fan of barbecue sauce and burger,then this is the one for you to feed those midnite cravings in macho soccer watching meetups and gatherings.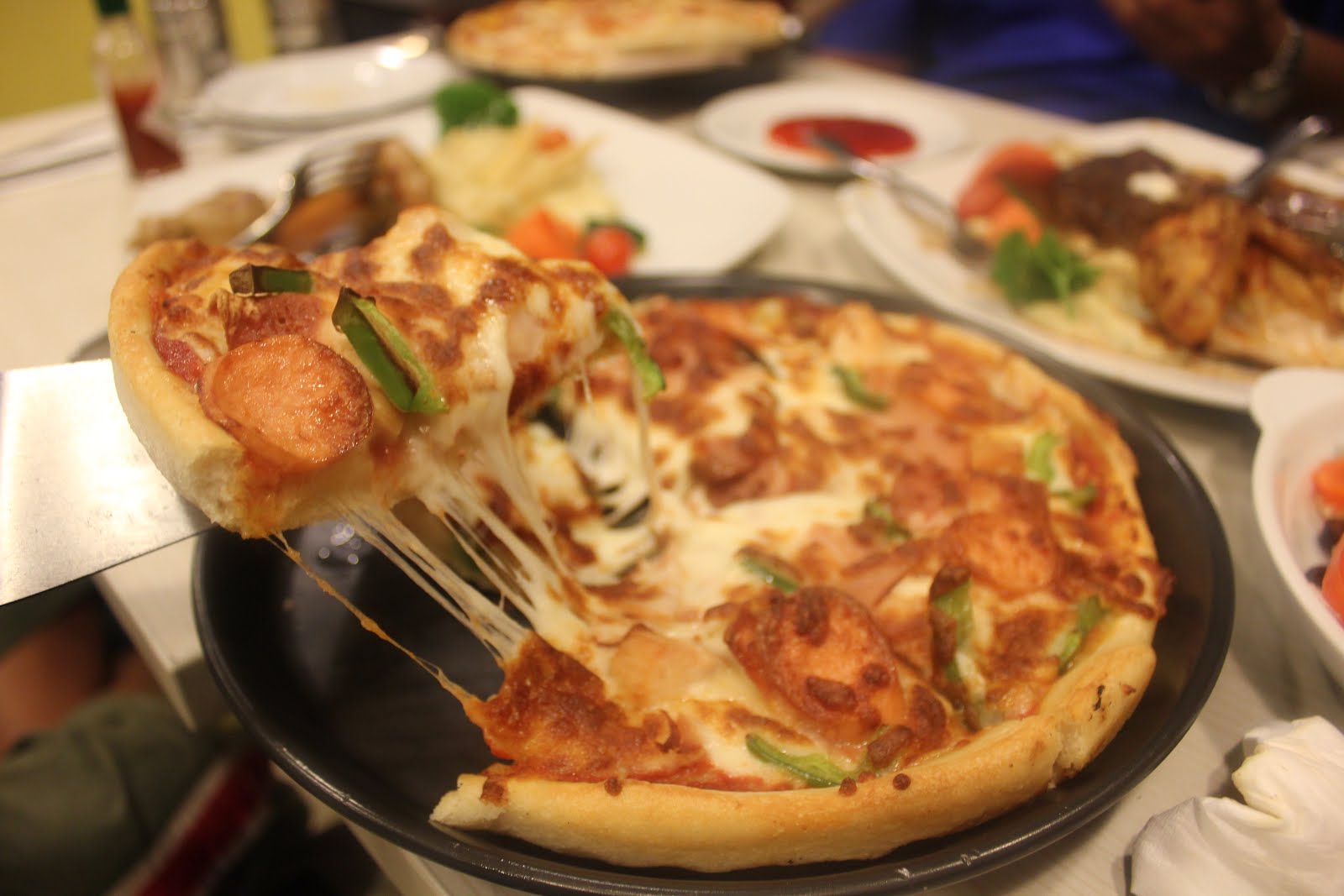 We also ordered the Hawaiian Supreme and the Xmas special Pizza with turkey ham as the main fillings.Not bad.
Overall,I like the tender Steak and the savoury Bruschetta.
I also love the fact that Mr Karim and his staff made the whole eating experience,a very enjoyable and fun experience. Very attentive and helpful staff awaited our order and serve them efficiently.
Mr Karim has a very big dream in wanting to make his restaurant be filled with happy and joyous families and friends who can have a wide varieties of menu…all under one roof.

So what are you waiting for? Come on down with your friends and families this festive season..and celebrate,there!
Address:
248 Jalan Kayu
Jalan Kayu, Singapore 799472
Opening Hours:
Mon – Thu: 11:00 am – 11:00 pm
Fri – Sat: 11:00 am – 1:00 am
Sun: 11:00 am – 11:00 pm
Phone 6556 3588
intaiintai.restaurant@gmail.com
https://www.facebook.com/canadianpizza.jlnkayu
Disclaimer: Food featured are subject to my personal taste. I hold no responsibility for your body's gastronomical adventure.All food shown are either from Halal-certified or Muslim owned establishments(with no liquour/alcoholic beverages unless otherwise stated).Do ensure that the Halal-certificates are up-to-date,renewed (not expired) and displayed promptly before ordering/consuming. If in doubt,always ask the staff with a smile.Remember: Use ur senses especially your heart.But mainly, ask your iman (faith).Your body,your responsibility, check its HALAL authenticity.
(Visited 7 times, 1 visits today)