Are my feet ,that tiny? Mama, u should have known..I was born to be….
a ball picker *just joking…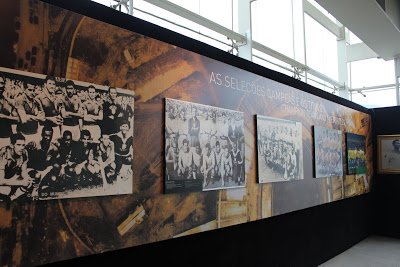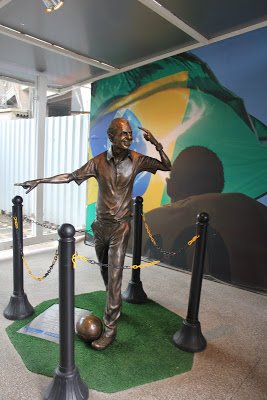 Maracana Stadium
was a work in progress when I went there and so it was cordoned off.Completion date? 2014. But I did get some sneak peeks.Impressive!
Too bad, the soccer season is not active at the moment. So I was not able to experience the splendid atmosphere…of cheering as one of the local spectators…
Luckily, there was a mini exhibition/soccer museum beside it..and so I went to take a look.
You need to purchase a ticket to enter. Opens 9am-5pm. Ticket is R$3.
Soccer in Brazil is beyond religion, it's like the air that they breathe. It's present in every of their dna cells…and their passion in soccer is unbelievable!
Just look as their face lit up just by sharing their soccer stories and stuff…
side story: alhamdulillah I had the good fortune of witnessing KNVB played in Holland-that was the furthest soccer match that I ever went aside from the ones in Singapore, I did go to old Arsenal stadium(UK) but I have no ticket to enter their match so I stand outside and experience the ground shake,(really!) when the crowd roared with thunderous applauses during the goals..
But then think again, I did witness the Brazilian team played against the Malaysia (in KL)(Ronaldinho,Carlos,Ronaldo..etc..). They were so fast and nimble that they were so at home and cosy with the wet slippery field much more than the local players themselves. Unbelievable!!
But I cannot say, I'm a soccer fan cos I went to matches for different intentions..and definitely not for the LOVE of the game.Oops.. *grins
(Visited 13 times, 1 visits today)