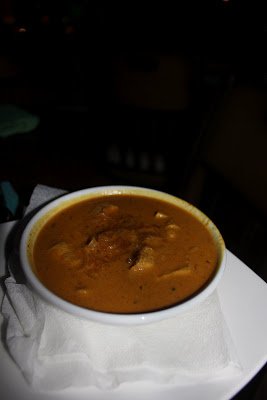 Late Supper, I was guided here by another local friend. In one of the building ,facing the sea. As mentioned previously, it's dark (probably they are reducing the electrical usage) everywhere…and even darker in the restaurant.
I was looking for the famous fish soup, but everywhere I searched, no one seems to be making them. Probably lunch is a good idea for soup.
Anyway, I chose the Tuna curry.
I love the curries here. It's not as thick nor creamy but its flavourful, unlike any that I have tasted…(not like the Indian curry, nor the Cape Town curry nor the Malay curry).It has its own unique personality.. And the boneless tuna meat, is shiok! Eaten better with hot and piping rice…and cracker. woohoo!
We sat and chat and take our time till after midnight. The rain started to fall, the wind blows strongly…that some of the customers have to rearrange their seating positions from getting wet. We were on the second floor. I can hear the waves crashing from a distant.
I reckon many Maldivian youth are night owls. Although Male seems relaxed and laid back…with the clock ticking slowly..sometimes, the hardworking are too hardworking and the laid back are too laidback….heheh..Don't understand?Never mind.
P.s: Next time, remind me to carry a night vision goggles or something…so I can see my surroundings and especially the name of the eateries I went to.
Hey, I found the name of the restaurant..
The Seahouse
Boduthakurufaanu Magu,
2nd Floor Hulhumale Male' Ferry Terminal, Male 20005

(Visited 7 times, 1 visits today)