Alhamdulillah, I am in Brunei Darussalam..Bandar Seri Begawan…The abode of Peace..at last..
Another research into my ethnic roots-Malay culture.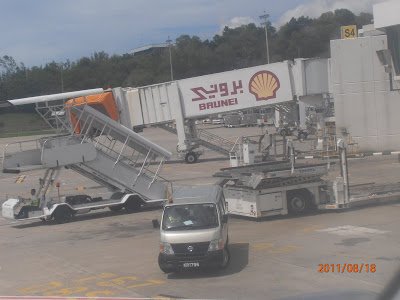 I've heard fascinating stories from my parents about Brunei.I regret so much that I did not join them that I vowed to come and experience it for myself, personally. They did emphasize on the warmth and hospitality of the locals who embrace their presence as tourists and treat them like their own family.
I've heard a lot about Brunei and some say it's boring cos the lack of night life and stuff. I tried to research about this country from the net and in the library but not much can be retrieved to allow me to visualise its splendid colours. So mush unknownness trigger my eager curiousity. Therefore, its time, I fulfil my vow…
Lucky for me, Bruneian dollars are of same value to Singapore dollars. In fact, I can even use Sing Dollars in Brunei and viceversa. So no need to change money. Even the coins are acceptable. But the best part is, the cost of living is slightly similar to Malaysia. So, imagine spending Sing dollars on products that cost as cheap as in Malaysia. woohoo!

Seriously, I do not know what to expect from this country. The last time I visited here, I was on transit to Mecca Medina Umrah pilgrimage in 1997. Brunei that I know were just miniaturedly seen from the airport ground..Not much can be seen…
When I returned 14 years later, the airport is somewhat the same. Not much different. It's still as small with little shops. It's exactly as it was 14 years ago…from what I've remembered.
And I remember the plane food was quite tasty. And it still is..(as compared to some rubbery egg omelette from the big brands)
One of the challenges of this journey was that, it fell on Ramadan month. But no worries, I have had experiences travelling and fasting at the same time, so insya-Allah this is no biggie.Furthermore, I'm in a muslim country.The locals are also experiencing Ramadan and so I get to join them in their Ramadan moments and not forgetting the gorgeous food too!
I did have the intention to visit the Sultan's palace during its Open House days on Raya but, I might change my plans last minute…so..no promises.
I like the initiativeness of this country in corporating English and Malay subtitles in every prayer and Islamic readings/supplications cos it aids in my understanding as well as for non-muslims.
Note: I'm trying out a new Olympus camera,so if u see the dates, then u know,thats from the new cam…just fyi. Stil a newbie.
And erm, there are many pros in marrying a Bruneian especially those working as Civil Servant. In Brunei, education is free. I even heard that they give free breakfast of milo drinks and eggs and stuff. And those spouse who are Civil Servant, gets many benefits. Sponsored or discounted holiday trips with families overseas, Umrah/Hajj Pilgrimage, and many more. Hmm…. so if you are looking for potential hubbies and wifeys, feel free to drop by… *grins
(Visited 6 times, 1 visits today)