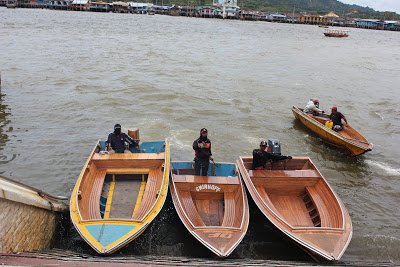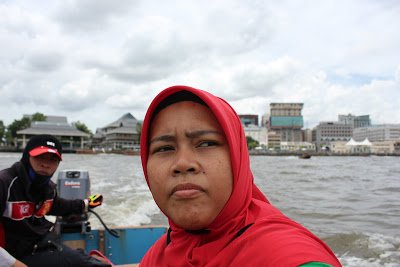 If I were to hang every belangkas (horse shoe crabs) that I ate, I think the walls shall be covered immediately….
We took the river taxi. Very cheap mode of transport.We did not take the round-the-village- tour but instead do, what the locals do. Cross over to the nearest water village by water taxi. And then let the legs do the walking.
"Peramu is a part of the water village collective though it is actually considered as a mukim itself. It is adjacent to the other six water village mukims. It borders Mukim Kianggeh to the north, Mukim Saba to the east, Mukim Sungai Kebun to the south and Mukim Burong Pingai Ayer to the west."-Wiki
Nipah Tree/Pokok Apong often can be found floating the Brunei river or Belait river..Leaves for ketupat making…unlike us, they do not use Coconut leaves.

Charlie's Angels…

I sniffed some yummilicious scent in the air and I followed the trail. It led me to a long house whereby they cooked homely food and kuehs (savoury biscuits/pies/pastries for the festive seasons). These people are very friendly. Their doors are open and they welcome strangers like me to enter their house irregardless whether its tidy or not. Main importance: Welcoming embrace and warm hospitality comes first.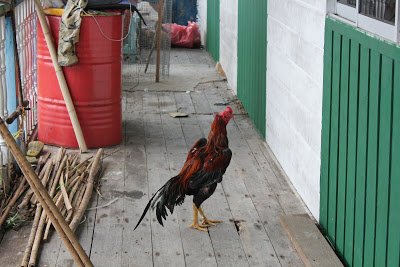 Cock-a-doodle doo!
As I walked around these rickety bridges, at first I was scared cos it did not seems sturdy to hold me (and my constantly increasing body weight is not helping) but again, I have a fit "bodyguard" who can swim very well.. with me and so I was not afraid to fall into the water. I was more concerned about my electronic gadgets.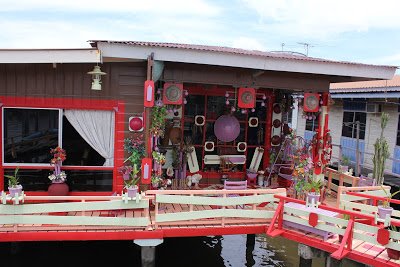 One of the most colourful water home, Ive ever seen..too bad, owner was out. I love to check out its interior design as well…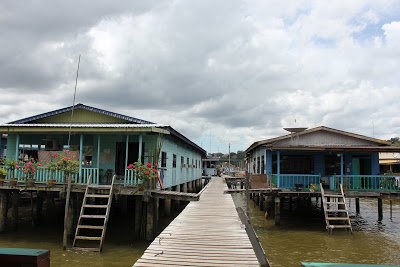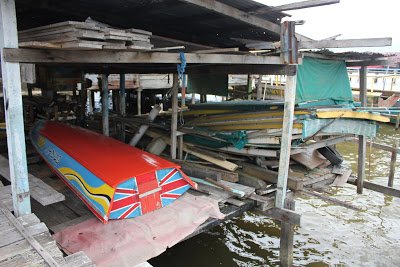 It's cheap to buy a boat here..I was stunned when they told me the price.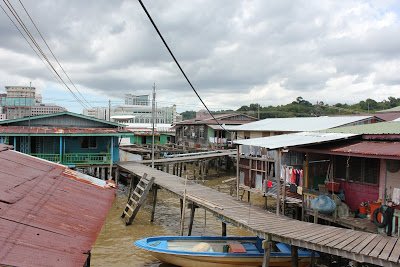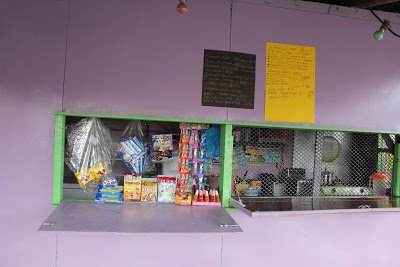 The "mama" shop…
One of the many heritages that is being preserved. Soon, many will moved to a concrete water houses because many of these wooden water homes were burnt down due to fires.
In each cluster, there have their own schools, mosque, community centres and even fire post/station.
Imagine living here…
I like! Cos I love water…and I can jump into the river whenever I felt like it!
Thank you… to all… for your kindness.
p.s: I can understand when the locals talked to me but when they talked amongst themselves, I try to eavesdrop but I cannot comprehend a single word at all.
(Visited 11 times, 1 visits today)