http://www.aminaharif.com.bn/


Kiulap Branch:
Unit 2 & 3 Blk B Ground Floor,
Bangunan Hj Abd Rahman, Simpang 88,
Kg Kiulap, Bandar Seri Begawan


+673 2653036
+673 2671212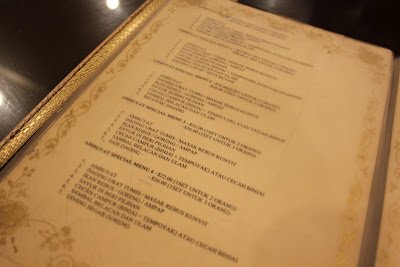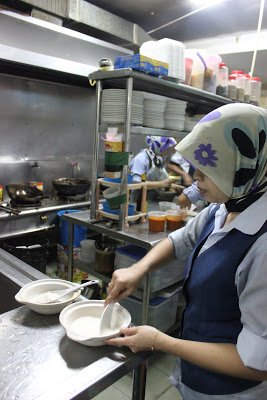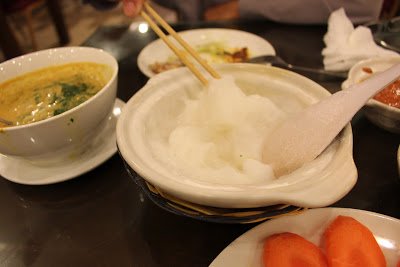 The locals have been very kind to me (Thks Mr Matali and family!) Showering me with loads of love and gorgeous food. One of the most authentic Bruneian food is the Ambuyat. Made from sago, eaten with various dishes.


I was so keen to learn more about Ambuyat. So they brought me to a restaurant specialised in this. Although it looked delightfully plain and simple…When immersed with the right dishes, your tongue goes Oooh lala all the way.
But first, I followed the waitress into the kitchen and even got a video and pictures of how they do it. They use some kind of flour (ambulung) which I believed is the Sago with boiling water. U need to stir it until it reached a certain thick consistency. The whole process took about 10minutes.
They ordered the local favorites- Lemak pucuk ubi, ikan bakar, rendang, sambal tempoyak (fermented durian chilli paste)…
The way to eat this, is by using Chandas. A pair of bamboo sticks that looked like chopsticks. Use them to twirl the ambuyat around it kinda like eating spaghetti. And then you dip it over into the sambal belacan. Fantastic!
How does the ambuyat taste like?
It's tasteless. Its like a translucent starchy blob…thus its a must to be eaten with a dip (cacah).
The trick in eating the ambuyat , simply just by dipping into the sambal (without dishes)…and swallowed immediately. I had difficulty doing this cos, my mouth will automatically starting the chewing action…even though I tried to stop it.
But I did try once without chewing, it kinda melts slightly and smoothly flow into the back of your throat and into the opening of your esophagus…
Anyway, the sambal tempoyak is perfect! Its sourish taste is perfect for the ambuyat and everything on this table! I love it. One of the best sambal tempoyak I ever tasted.
Even the lemak pucuk ubi was the bestest I ever tasted. In my youth, I was called "the goat" by my family cos whenever my mama cooked a whole pot of it, it will soon be empty without her knowledge cos its absolutely my favourite!
But this one is so different. The tapioca shoots were delightfully young and soft. Yet it dances with the creamy coconutty gravy. So kampung-like and authentic! No. 1 in my list. (just nice, cos my mama has retired her kitchen apron,and I've been longing for authentic lemak pucuk ubi for so long!)
Rendang and the grilled fish are fantastic too! U dont have to go to Indonesia for rendang. U can have it here! Everything tasted so good that I didn't want to leave the restaurant… Employ me!
My food experience is definitely 5 stars!!
(Visited 13 times, 1 visits today)