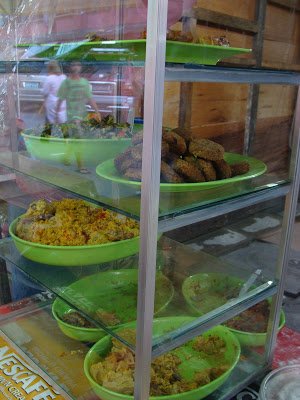 Kue-tea time snacks, anyone?
It includes fried banana fritters, kue koci, sweet glutinuous rice, kue bakar ,buns and…
The top picture …were bite-sized fishcakes (dry tasting) mixed with dessicated coconut. I thought it was bergedil (fried potato cutlet) like the ones back home in Singapore.
Most of the kue are similar to the ones we have in Singapore and Malaysia with a slight variation of coconut and sweetness.Sedap!
Did you notice the "messy" arrangement of the kue?That means, I'm still jetlag…mind disarray, eyes blurry but cannot sleep, so I went around-zombified.
(Visited 2 times, 1 visits today)