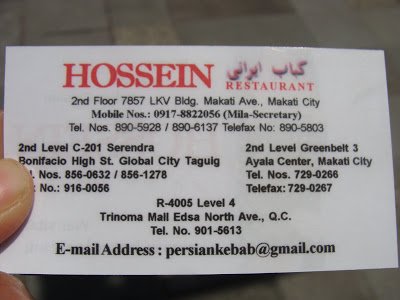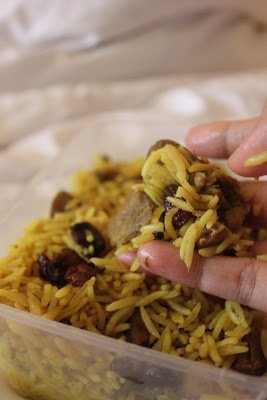 Coming here was no easy feat. The malls in Manila are so huge, I can easily get lost.
I saw one Kebab restaurant but after thorough investigation, the staff advise me not to eat there cos its not Halal. And suggested I went up here.
I found out that people ,even non muslims know the word-Halal. So when u asked around, especially the shopping staff, everyone should be able to help you.
Like I mentioned, it's so huge, that I had to go thru many buildings….(like part 1,part 2…)
Eventually, I just have the Persian briyani.. takeaway.The food was good. I had to wait for 20minutes. As you can see from the picture, the quality of the grains and the spices (cardamon,cloves..etc)were there.(Cos some remove the spices cos some customers dont like biting these spices but they are the killer secret to the best briyanis recipes).
The lamb meat was generous and bite sized and the rice is just right , a proportion for 1 person. I wished there was more. It was so good! Ya know, if its good when cold, its fantastic when hot and piping,right?
p.s: I did not see the bar corner when I was there the first time. And the menu did not show any liquour. But the second time, I went ..I saw it…so this was the first and last.
But again, Halal depends on your iman. Whether you eat it or not, whether u think its halal or not, it all depends on you. fyi-It's not easy to find Halal food in Makati area. And I did chat with the staff previously…he said owner is Muslim.
(Visited 3 times, 1 visits today)