Not Halal-certified nor cooked by Muslims…
Grilled Tuna
Squid in Adobo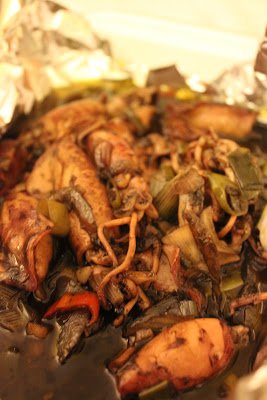 Mussels stir fried in garlic

Clams in soup

So why did I eat this?
Cos if you have read about Balut and such…post, you have known the reasons. If not, let me just summarise it for you.
Cos it's not easy to find Halal food in Manila. And it's the only option that me and driver know where, there is no pork included in the menu…and also recommended by his muslim buddies…
The seafood are fresh, from the market…they were cooked by the "professionals" who truly understands how to bring out the bestest in each and every different dishes. This experience totally bowled me over.
Perfect finale before I depart from Manila.
Note: There are many such eateries everywhere especially near the beaches…
I was not able to find a Halal one. And so my driver found me one that has no pork in its menu.Their English are good and so I have an easier time conveying my dietary restrictions like no rice wine or liquor in the cooking and non halal stuff etc…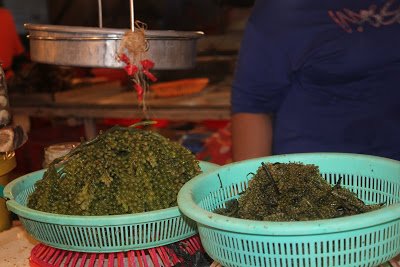 I like the part where we discuss how to cook the seafood. They will give me some options and we chat like friends, laughing over my bizarre ideas…and one regret though- I did not choose the seaweed. The variety of seaweed (above) looks so peculiar with small lil balls..I was not intimidated by its looks. I was more intimidated by the size of the seafood and its small price tags. I feared, I was not able to finished up this whopping servings!
My favourites are the grilled Tuna steak- moist yet cooked perfectly. Sweet and at the same time,fresh. Second was the Squid adobo-One of the bestest ADOBO I've ever tasted! The squids' sweetness intermingle with the adobo slight sourish saltishness…
p.s: I've tasted the classic adobo in Quiapo(chicken), Singaporean sourish garlicky version (from muslim filipino family in Singapore) and my mama's friend adobo who often homecooked for us…and I've never tried squid adobo before, it is yummilicious! It sets out all the fireworks in my tongue, jiggling and wagging for more…
And after I finished, I was floating on air even before I embark onto the plane…to my next destination.Will seafood ever be the same again for me..? Hmm…
(Visited 3 times, 1 visits today)