I dunno how to thank my foster family for all their TLC and hospitality. And so on the day, I was leaving, I woke up with a sudden urge to cook for them.
For the Princess to cook, she has many rules to abide..
Rule No.1- I only cook for people I love.(If it's not nice, that means I don't love u enough…hehe!)
Rule No.2-I cook only in the presence of me alone.(so I chased everyone out of their homely kitchen hehehe!)
Rule No.3 and more…-cannot be revealed yet..
So with no idea what the spices in the local stores have and what type of curries were available, I am plunging myself into unchartered territories , probably..there were hidden sharks and alligators.Either my food can make them love me more or hate me (yikes!what have I got myself into?!)
Luckily, I was familiar with SHAN brand (from years of scrutinising the curries in Mustafa Centre) and so I focus my intent and let go.
It was an easy meal. Curry Chicken…with loads of fresh love.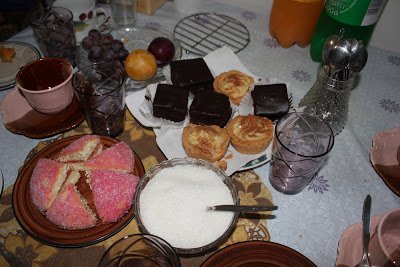 Sweet Pastries and cakes bought from a local Malay bakery.

My "signature" dish… *chuckles

Eh, many people coming?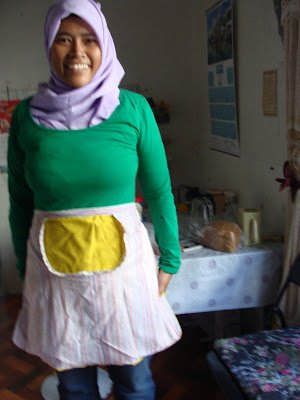 I had to don the apron..I looked so cute, some say… Erm, is cute-ugly but adorable?
I thanked the Sisters for helping me out..and lil Mustafa for his kind reviews …
I dunno how it turned out, I was already full by cooking and smelling the yummy food. But I did eat it eventually, in much nervousness, later on. It's GOOD!- I applaud myself(hee!)
Everyone loved the food. We hugged and depart …it's time to move forward. Next destination, please…. *teary eyed
(Visited 3 times, 1 visits today)