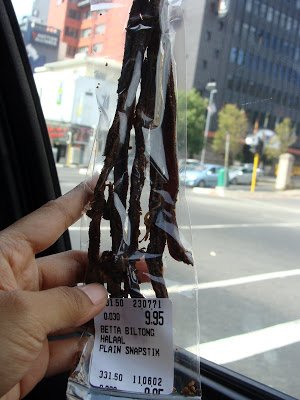 What's a Biltong?
http://en.wikipedia.org/wiki/Biltong
I learnt a lot about Dutch people here in Cape Town than back home in Rotterdam.
So when the locals speaks their Afrikanse language, I was able to catch some Dutch words here and there within their sentences…I'm not that proficient in Dutch but I can understand simple basic conversations, signs and TV subtitles (YIPEE!).
Many times, I tried to squeeze out some "juices" about Dutch people and its culture from my family but not much traditional information I received.The food that I knew, were those I showcase in the Holland post-Herring, speculas, stroop waffles etc…
And so I was excited to try out Biltong…origin from the Dutch.
And it was easy to find the Halal versions…Just head down to Rose Corner Cafe at Bo Kaap, the Malay community area. U can find loads of Halal food there…and in the evening or lunch times, I did see n sniff some yummilicious open air barbecue/BRAAI , so if you are game for some street food…head down there!
As for the Biltong, they have varieties…they even have chicken biltong…In my haste, I had forgotten to buy that… *sigh.
But still, the beef Biltong was so good, that it satiates my cravings for jerky for years… (I had a sudden amnesia about Jack Links.. Jack Links jerky, what's that?)
I like the tugging and gnawing part of this Biltong…it was tasty. Great snack indeed.
It's a must-try!
I did have the urge to stuffed my luggage with kilos of these Biltongs, but the thought of lugging it around, restricts my freedom, so sorry…fellows back home!
p.s: I was searching for another Dutch delicacy here-Milk Tarts but as we went round n round in vain(either not baked yet, finished or MIA) , I was wondering what clues do the tarts have to "reconnect me with my Dutch roots"…Hmm….
(Visited 1 times, 1 visits today)