One of my many dream destinations has always been Tibet.Its mysteriousness piqued my curiousity so much so,I believe I will go there irregardless of the money in my pocket.
And the fact that there are more than 2000 muslims there boost my vivid dreams even further.So when the mind has made up to soar up in the sky to be with the Tibetans,I immediately left with an empty tummy,hungry for Tibetan food and its colourful culture.
Lhasa is the capital of Tibet.It is one of the highest cities in the world with an altitude of 3490metres. It was winter when I arrived.The cold weather of about minus 1 degree whet my appetite even more.And the sight of my huge heavy winter jacket really covered up the protruding tummy from showing because the food was absolutely gorgeous!
The food scene here is similar to Chengdu with spicy rage of chillies being its main fear.And another fear was the dollops of MSG seasoning in their food.They used it like i doused myself with baby powder after my every bath.Its that much and Im not kidding.
Visitors who wants to go to Tibet has to ensure that they do not have heart problems.Due to its high altitude, first day might be challenging.The heart is working hard to pump up the blood thru out ur body.The only advice is to go slow-mo:Slow motion.
The staple food there has always been barley flour called Tsampa.This is made of roasted barley (with husk) ground with a hand mill into very fine flour, which is mixed with a little tea and then rolled into small lumps and eaten with fingers. Butter, curds and sugar add flavour. I had been asking for this authentically Tibetan fare since day one but everyone warned me that it might give me a tummy ache for beginners. Nevertheless, i was not thwarted off my tongue adventure and instead repetitively persuade them to make some for me.On my final day, they relented. 
I looked at 3 kepalan of barley flour.Can I do this? Yes, I can. Its brownish colour is unlike any I have ever seen.It reminded me of the sandy ground. As i touched and tasted it, it tasted like raw roasted flour mixed with water.Its not bad.Good to experience.
Another must try is the Tibetan butter tea.Similar to the Hong Kong milk tea (not as fragrant n slightly diluted) with a slight creamy taste of saltishness from the butter made from the female yak.I like it!Its different than the typical sweetish Lipton tea that Im used to back home nor the frothy teh tarek but I love it especially during the cold wintry season.No wonder there are many tea houses in Lhasa.
Another hot favourite is the half moon momo.These are similar to Chinese diumplings often steamed to perfection.There are two varieties,meat or vegetables. I love the skin of the momo.So smooth and soft,very gentle and caressing yet goes very well with the flavours of its fillings.Eaten with chili dip or on its own.
I love their Tibetan salad.It consists mainly of cold cut cucumbers in sourish vinegary sesame and Tibetan chilli peppers.Very crunchy and refreshingly sour.
Most of the Muslims in Lhasa sell noodles of all sorts and fried fritters doused in fiery peppery powdery n loads of MSG seasoning.Some noodles are with gravy or hot soup while some can be dry, left cold on its own.There is also a hotpot version of yong tahu.Just picked the many arrays of vegetables and meat, and then hand over to the food vendor.She will immersed them in big pot of spicy broth.I once took a peek (with permission of course)and I saw bones of beef or probable yak.
Oh, just a quick reminder, the breads baked are often very hard and large.If you throw at someone,you might injure them.Its that hard n heavy.I cannot even finish one "tiny" bread bun.
Last but not least,do not attempt to leave LHASA without tasting the yak meat. I was expecting it to be like muttony kind of smell and taste.But infact,its more like beef…slightly richer in taste and leaner.
I had a tough time asking for Yak steak.I saw many yak steak in non-halal restaurants. But in Halal restaurant, they often slice the meat too thin and too tiny to even taste it.Once it goes in my mouth,it disappears along with the saliva.But nevertheless, i did taste it.Woohoo! It was unforgettable.
The food of Tibetan has all the components of wild peppery spicy,sourish,saltish,sesame oil flavours,MSG seasoning…but not so much on sweetness.Their fresh dairy products are nowhere comparable.If you get a chance to drink yak milk,go for it!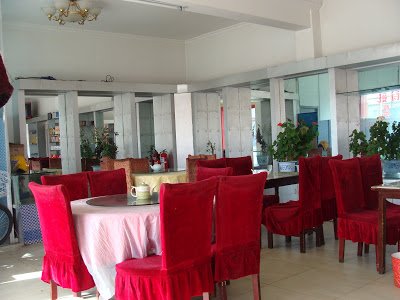 (Visited 18 times, 1 visits today)