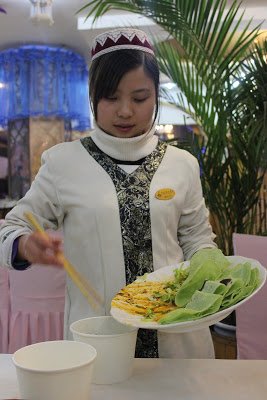 Silky noodles with mutton bits…
Tomato Mutton Soup
Roasted Duck
Xiao Long Bao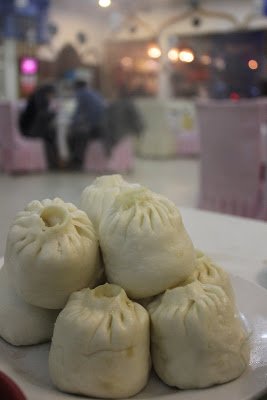 This restaurant was packed with families. They came in big numbers per table. But unlike me, I am no Anthony Bourdain, no crew nor videoman by my side. And so, I follow my guts but importantly my nose and follow the crowd-Do what the locals do, EAT.
At the corner is the grand Huang Cheng Mosque which is also the home of the Islamic Association of Sichuan Province.
When I enter the restaurant, the people are all leaving. Still jetlaggy, I asked the waitress what are her favorite dishes, in Mandarin. And for her to understand me, I congratulate myself with a feast!
The truth, I did not know it come in American sizes or Jumbo family packs. Perhaps, they did see me enter with a huge invisible crew of 7 people. Cos the food servings are HUGE! But they are terribly GOOD!!!
And immediately after the dinner, I was cured of my jetlaggyness.
The tomato mutton soup was my soul food.It's so good, I lapped up every single drop of it.
Only the Xiao Long Bao were not what I expected. Probably, my short stiff tongue curled the word in a different way. Cos I see no soup in my buns. Or are they evaporated? It was thick and fullypacked with meat. One bun is enough for lunch.It was really filling.
I told the waitress to keep it, she happily put it aside for her later dinner. The green pancakes,with vege and the mutton meat marinated well with some spicyness was terrifickly gorgeous. It was harmoniously meant to be together.The meat is moist yet perfectly grilled with some eccentric spices. The waitress did ask for my tolerance of spicyness. Cos I am still in a zombified mode, I asked for the minimum. And it was perfect.Cos the taste outshines its own vibrancy stardom in every bite.
I brought it back for my late supper (Will I ever sleep?)..
Overall food was great! The duck was tender and I love the fats at the sides. The noodles was silky smooth and the mutton bits was good too.
I like the ambience and chatter. And I like the fact that they treat me well and leave me alone, just me and my gadgets. The staff in their cutesy uniforms…And I love the food!! Wow…
p.s: I did see the hotpot, with 2 separate soups. I am coming back, definitely (insya-Allah) with my real, non-invisible "Crew" to try it… Be ready! Aah, for now, I am satisfied…fully.
(Visited 17 times, 1 visits today)