Before I leave for my quest, I did some preparations. I may be the spontaneous gal who choose any country or continent as she pleases but that does not mean, I did not do any research before hand.
One important research that I need to do was to find out whether travel insurance is a necessity. Yes, in some countries, it's a MUST in order to enter the country. But I want to know from the religious side…so what better way than to get its answer… fresh from the Ustaz himself.
I head down to MUIS…Singapore's Muslim authoritative body and organisation.
Within minutes of getting the queue number, I was soon assigned to a very young looking Ustaz (Qualified Religious teacher cum officer) and he answered my many list of questions.Not only did he explain to me about travel insurance, he also explain to me about other insurances that is non/Halal and many more questions.. (like solat musafir, solat on the plane, jamaa qasar takhir and takdim etc..although I have learnt, sometimes you need to refresh ur memory…)


The answer? I learnt that I cannot purchase travel insurance (because its not Halal) unless its obligatory for travellers to enter that particular country. So far out of my 34 countries, I have never need to purchase any nor do any country impose it on me upon arrival or when i applied for Visa. If unsure, check with your local Islamic organisation/ bodies/ Scholars/ Teachers… (But in Hajj with tour groups, we have a group insurance, why?Do check with your Islamic authority/Hajj organisation on this.Thank you!)
After being clearly explained, I am now more confident to move forward…
Secondly,check out whether you need a visa to visit that country..
http://www.mfa.gov.sg/content/mfa/consular_information/for_singapore_citizens/visa_information.html
Thirdly, register before you go..
https://eregister.mfa.gov.sg/eregisterportal/common/preLoginEregisterView.action
I like the part when they sms the contact details and location of the nearest Consular to your destination.
Fourthly, check out the plugs and adapters used in your destinations (my experience-Universal adapter do not cover all)
http://www.obsessionistas.co.uk/audio-electrical/plugs-sockets-0116/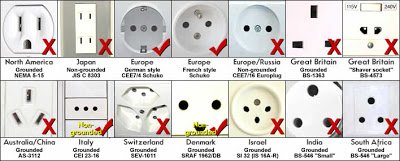 Fifth is to check out the currency exchange rate.
My fav site: http://www.xe.com/ucc/ and I often exchange them at Mustafa Centre (24 hours Singapore/Little India)
You can exchange it locally or in the country of your destination (in Argentina, USD are more in demand than their local currency and when u change them, u need to keep all the receipts in order to exchange them back, and only exchange in authorised centres like the banks, or in airports to prevent any corrupt/fake cash)
Sixth is to check out the nearest mosques and Halal eateries. My fav Halal site worldwide: http://www.zabihah.com
Seventh is to check out the local prayer times. Sometimes on the net might differ, so always pay the local mosque for a visit to confirm the timings. http://www.islamicfinder.org/
Eight is to check out the surroundings:
https://maps.google.com.sg/
http://maps.google.com/help/maps/streetview/
http://www.streetdirectory.com.sg/
http://www.mapquest.com/ (I often use this for USA)
http://www.360cities.net/ (panoramatic views of the world)
and lots of research thru books..
One of my fav guides:
http://traveldk.com/ (I love to see my future travels in colours)
Eighth is the list of sites relating to tickets and lodging:
(Actually I forgot most of them, I just google.. to find what I need)
http://www.zuji.com.sg
http://www.expedia.com
http://www.emirates.com
http://www.airfares.com.sg
http://www.tripadvisor.com/ (important!To check out the real hotel ratings n tips from real travellers)
http://www.eurocheapo.com/flights/ (Europe budget plus rail)
http://www.usahostels.com/ (One of my fav hostels in USA,clean,cheap n fun)
http://www.statravel.com/ (I like this site cos it has volunteer n work projects in various countries)
tip: If going to a certain country, try their local flight cos its much cheaper and you get to socialise with the locals. Find the official websites of the flights and sometimes, its much cheaper.
Debit/Credit Card is a necessity. Try carrying both VISA and MASTER cards (credit or debit) cos some countries prefers/accept only one type, one or the other (like in Argentina). Of course, if Debit, ensure there are money inside ur bank account before using and in the recent case (like UOB), ensure that u inform ur bank first if you are gonna use them for overseas expenses (that's when ur phone starts to ring endlessly with many offers of travel insurance).
Carry your extra cash(if you must) in US Dollars. It's the only currency acceptable anywhere that I've been to…from remotest areas to the bustling city centres. I prefer EUROs cos I can always use the leftovers when I go home in Rotterdam but in some countries like South Africa, they will not accept Euros.
If I remember any more, I shall add them insyaAllah…
p.s: Sorry,I'm not able to spill the beans on the insurance thingy..cos some might misunderstood. If you need to know, do drop by MUIS office or ask your Ustaz/ah for clarifications.
If you travel alone like me, ensure that everything that you planned includes security as main priority.
Don't care what people says, what matters most is what you think.
I travel the world , my own way…a path that I'm most comfortable in…irregardless whether its a path not taken by others…
And,I was taught that before I travel anywhere, I should put first priority on Hajj and Umrah (religious pilgrimage). My first flight was Umrah in 1997. So next should be Hajj-I did put aside the full amount of money for hajj first before travelling. Cos I am ready to go hajj, insya-Allah anytime, it all depends on MUIS decision and appeal (of course, it's actually depend on God's decision whether ur name is already listed in Arafah) and alhamdulillah, on November 2011, I succeeded! So, I'm free to roam anywhere in the world(but of course, that should not be the main intention of going Hajj).Alhamdulillah. Woohoo!
It seems I travelled alone but I was never alone….
Sometimes, I made friends with the locals, sometimes I make friends with the guide, sometimes I made friends with the cabbies…Sometimes, my family drop by on me…but mainly use your intuition and trust that everything goes well. Be open and stay positive.
It helps if you can visualise the outcome that you want from visiting that country before reaching it.
Everyone has its own unique path to fulfil their dreams. If you believe and have faith, everything is definitely possible.
(Visited 4 times, 1 visits today)