Country: America
Hmm, why NYC?
Aside from Alicia Keys's wormy song wiggling in my braincells, the Halal carts being mentioned umpteen times on twitter and the Statue of Liberty kept jostling me in my dream to visit her…. I think there are 101 reasons why I chose to visit NYC. But nevertheless , it shall not be mentioned or else..it,alone can be debatable subject which has no ending.
Ok, In JFK airport, I was groggy and was told that they lost my baggage. I thought- how can that be? This is the only time, I check in my baggage and this is the only time, I ever lost my baggage (in spite of many transits that I have done in my previous travels). The irony of me forking out money to keep my baggage(cos domestic budget flights) in was totally absurd but I dare not argue but then the very thought of them losing my baggage creates a very huge hot white steam flushing out of my ears. Even Thomas the train will run at the sight of me cos he knew that means BIG TROUBLE.
After constant persuasion, and promise that my baggage will be sent to my hostel, I walked out in peace. Guess, whom did I meet? In the early morning of NYC? I only recognise him as Ugly Betty's first boyfriend. He was with his friends. He looked exactly like in character with his nerdy glasses and a hot beverage in his hand. No one was rushing in to ask for autograph. I was as usual, glued to where I am, icy frozen by the sudden blizzard from nowhere. Mouth slightly opened…wanted to ask" Are u..Ugly Betty's Boyfriend? Couldn't find the right structure of words or even sentence..
I laughed later with my Arizona hostel mate as I recalled my "statued pose" upon meeting that Hollywood star. Unbelievable! He was just 3metres away from me and I was glued to the floor. No pictures , no autograph, just a comical , groggy Asian gal with mouth wide open staring for a good 10minutes till the subject of attention moves casually to the exit.
Oh, fyi..his name was Christopher Gorham (I still do not know his name until only 5 mins ago, I googled him for this post).
I took the subway to the hostel. In America, it is easy to decipher their subway routes. The only problem for me is understanding uptown and downtown. NYC hostels are very tricky. When they say they are on Broadway, please check with google map where it's actual location. Cos Broadway can be a very long street and not necessarily meant the blitzy glitzy charms of the theatre streets. I learnt my lesson, my hostel is just few blocks away from Harlem although, it's location emphasis is on Broadway.
The funny thing is before I left for NYC, an American friend advise me not to talk to anyone. And I wonder why? Cos its difficult to travel and not talk cos the purpose of travelling is to get to know the place and its people. I reckon my friend was worried about my safety. And I was warned about Harlem zillion times. (Thanks Greer!)
Anyway, as I approached my hostel/hotel (it was confused in its own name) , I saw a notice on the door stating something like the building is unsafe. I was like WHAT?!!! And immediately I thought that it was a scam from the net. I thought the building was emptied and that they tricked naive travellers like me to book.
As I peered inside, it was very hazy and then suddenly, it was opened by a cheerful round looking security guy. He said Welcome! I smiled halfway, wondering…Am I in the right place, will I be in trouble, is the building crumbling down any moment…
Then I saw people coming in and out as if nothing was wrong. Is the notice a joke or something? As I recalled April Fool's day is months back, Halloween is definitely over…
Anyway, I am still stunned, and so I did not mention anything to the reception, probably because I was having one of the brain freeze moments.
I walked out after registering cos the room is not ready yet.But I did said to my subconscious that, if anything seems wrong or eerie, I can always check in to Hilton (cos its just opposite the famous Halal cart heheh! and I feel safe there…)
I went out for a walk and later, I went to check out one of the largest mosque nearby.
p.s: I am really having difficulty expressing my thoughts cos it has been a very long time since I last expressed them publicly.So dear readers, please pardon my bad and mixed words.
The truth is, I was feeling sort of defensive….visiting NYC. I do not know how the locals might react to me. Of course, the current media do not help at all and so I did not read or watch the news when I travelled. Cos I fear the negativity might react on my subconscious and somehow I might attract all that negativity. *complicated
What I'm trying to say is that, whatever happens around u is due to what is within u. That is what I believe. And so, I was a bit fearful and defensive mode when I reached NYC. And so the surroundings weren't that friendly. But as I conquered that fear and melt away that defensive mode, I realised that it was for nothing. There was nothing to be worried about.
Like what a friend once said- Everywhere u go, people are the same.(Thanks Wena Poon!) They are nice, exceptionally beautiful…
There are many tourists in NYC, everywhere and anywhere. It's always bustling even at odd hours. So there wasn't a time that I was really alone.And you can actually walk everywhere in Manhattan. That is what I did..and that explains my swollen legs and holey boots at the end of my NYC trip. I need a good foot reflexologist (and who also can withstand the smell hehe!)
I was there during Xmas season, it was fantastic! The lights, the Xmas exhibits etc….the shopping OMG!
The boots… I saw boots everywhere, it was a skinny jeans and boots kinda trend. I was also busy searching….for Santa's boots. I was looking for a fiery red boots…Seriously. My boots got holes in them!! I need new ones!!
So will Putri be able to find her shiny red boots in NYC?
Do visit this site often to read on updates…
p.s: OMG, I procrastinate on this too long. I felt that this is one bad post cos I cannot seem to be able to type out what I actually want to express. It seems that the fingers have a mind of their own. This is tough…
Never mind, let me just let out these streams of thoughts and ideas and then as time goes by, it will be flowing smoothly…insya-Allah.
Oh..and be careful of what u wish for, cos it might just come true! *Wink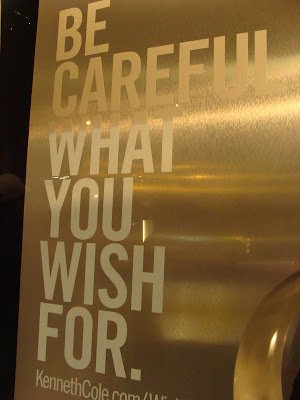 (Visited 3 times, 1 visits today)