What is this?
I dunno..when I looked back, I wondered aloud too. Hmm, I think it must be some kind of kebab.
I tasted the food at least a dozen of these halal carts. I was beginning to spin inside out.
What was so special about the ones at 53rd and 6th street? Hmm, good question. I did some research before I conquer them. There were so many, u will not know which one to pick.
Anthony Bourdain's favourite


More gyro stalls (halal)
The Original (only when night began, the people began to dance)

There was a queue even before the sun went down. And the hours of waiting was excruciating. There were big guys about 5-7 . They were busy preparing or chopping or something (I can hear the sounds). And we the onlookers can just smell the goodness from our overgrowing queue.I do not know what to order. I just listened intently to others and mimicked them. There were also many curious passersby who joined the queue for the fun of it (are u crazy?! Not in this freezing climate) cos they are not even sure what they are queing for.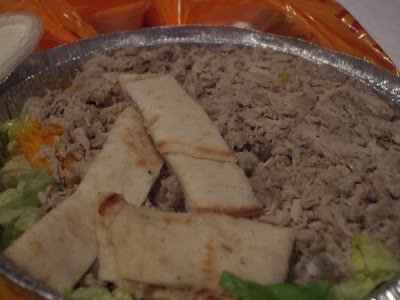 I know the pictures did not depict the actual yummyness of the gyro. These are takeaways.My old camera failed to do justice in the evening n so this was a last resort. The ones I bought were indulged n finished off within seconds (it's not me,it's the freezing winter…that made me really,really hungry) .
The price for each gyro was about US$ 6 (They have small change, so don't fret.). U can have them on pita bread or rice. Most ordered rice with white and hot sauce. They have chicken and lamb or mixed.The portions are so GENEROUS. For me, 2 person can share 1 gyro rice set.
Most will go googoogaga over the white sauce. I beg to differ. I did an experiment. I tried with and without the white sauce. The hot sauce was ok. To me, it wasnt the white sauce that causes an addiction. It was the chicken. The chicken meat was well marinated, thoroughly cooked ,yet it stayed so moist n yummy. I cannot say the same for the lamb..it tasted good but the "POWER" taste was not there.
And I compared with the other stalls, this chicken meat was outstanding. I wasnt a believer in the white sauce because I have tasted better, perhaps in Turkey, perhaps in UAE, or even in Rotterdam, who knows…only my tongue knows.
And what makes it even better was that the whole package harmonise with one another. The long grain fluffy rice with yummy moist chicken…aah…oohlala. Especially in times like this, cold wintry season, its good to have a hot piping gyro!
But U have to clap for my astoundingly incredible patience and stamina (no winter clothes, no inner thermal wear, just me n my jeans n my boots in a queue for hours being almost frozen cos the wind was really wickedly strong)..and don't forget, I walked all the way from the ferry… Applause please, standing ovations..? (Oh, u r too kind)
Oh by the way, I think I saw Patrick Dempsey of Grey Anatomy's cast or perhaps its his lookalike.He was in his tuxedo. Very sleek n gorgeous with his beautiful partner. He was 2 heads ahead of me and he asked me the cost of the gyro. He was worried they have no change or something. But to think that he actually approached me than the guy in front, makes me beam from head to toe. Cos I think he believes I am a local. (Or perhaps, my thin clothings looked kinda "macho" in spite of the freezing winter). Sorry no pictures, my hands were in my back pocket, keeping warm.
Woohoo!!
(Visited 2 times, 1 visits today)