Country:
Singapore
Eversince, laptop was down, I was "busy" in outer space. Till, I was brought back to Earth by some tweets regarding Wendy's being Halal at Yishun branch.
Thank you @maioshin(twitter)for the info and Hungry Bunny for bringing us the latest blog on the Halal recent happenings. Check it out! http://www.eatingcorner.blogspot.com/ I was almost lost,circumbulating Northpoint shopping centre. Luckily, I get to check out Hungry Bunny's blog again and saw the reflections of the HDB flats on her Wendy's photo. Thus, I have a hunch that it is beside the North Point mall, the Cinema plex (Im not sure whether it still house the Golden village cinemas) and sure it was. Idling in a corner, there it was the freckled red haired girl!

It wasnt full but it was busy at the counter. My mind was busy looking thru the menu. The shrimp and premium fish burger seems good. But focusing on Wendy's specialty-4 sided patties, I ordered the 3 layered beef patties meal, chillis, baked potatoes with sour cream and chives, chocolate milk shake. I think this is sufficient for a proper first impression lunch.

Wendy's comeback eversince the 80s wasnt a surprise one. Many franchises that have left are making a comeback lately.
I had tasted Wendy's in many occasions in my short stints in KL. So like it or not, my tongue gonna automatically compare experiences.

Staff was kinda muddle headed at my orders. But it's ok, its new after all…Ok,forgiven.

This is my order…
The burger wasnt as huge as expected. I was kinda disappointed cos it look kinda thin as compared to the ones in KL.Tastewise? It's better than McD's big Mac. (I applaud McD's for having the thinnest meat patty around.Congrats!). But to go all the way here or anywhere else for Wendy's burger? Hmm..probably, the Chillis or the chocolate shake might persuade me or probably the seafood burgers (fish and shrimp burger cos I havent tasted any might trigger that curiousity)

The Chilli aint that thick , kinda soupy with loads of minced meat, kidney beans and vege. I like eating it on its own and its very filling. Very economical, about $2.50 if Im not wrong.
The baked potato was alright, the sour cream was way too creamy and sourish for me that I have to scrap some away. Probably other toppings might be better.
The chocolate milk shake was not bad.Thick. Either, I was sold into the Malaysia franchise or my tongue really have not landed back to Earth. I kinda prefer Malaysia Wendy's milkshake. (Just like I prefer Malaysia McD's chocotop cone which uses Cadbury chocolate as compared to our local branches)
Oh well, the locals should rejoice cos at least there are more choices to fast food restaurants. As for me, I think , I better lay off fast food for now. I have been on a fastfood binge straight in a row eversince I landed back on earth. Welcome home, tummy!
Over and out.
Locations:
The branch that I went to is in the building opposite Northpoint Mall (cineplex @Yishun MRT).Halal certified till September 2011.
Wendy's other branches are also said to be at Jurong Point, near SAM, Liat Towers….
for more info:
http://www.wendys.com.sg/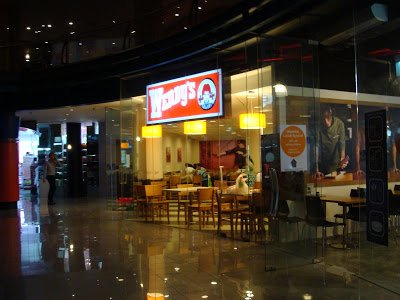 Disclaimer: Food featured are subject to my personal taste. I hold no responsibility for your body's gastronomical adventure.All food shown are either from Halal-certified or Muslim owned establishments(with no liquour/alcoholic beverages).I will try my utmost best to update and maintain the relevant information shown,insya-Allah…but your body,your responsibility.Do ensure that the Halal-certificates are up-to-date,renewed (not expired) and displayed promptly before ordering/consuming. If in doubt,always ask the staff with a smile.Remember: Use ur senses especially your heart.But mainly, ask your iman (faith). Don't assume: A headdress/scarf lady is not equal to HALAL. "No pork no lard" signage is not equal to HALAL. A crescent moon and star symbol is not equal to HALAL. Not all Mediterranean (e.g Turkish kebab), Malaysian, Indonesian cuisines (especially Nasi Padang food) is HALAL. Whatever franchise that is HALAL in Malaysia,Indonesia or in any muslim country does not mean it is HALAL in Singapore or anywhere else. Your body,your responsibility, check its HALAL authenticity. More on disclaimer?Thank you for your kind attention.
(Visited 7 times, 1 visits today)