Update: No longer Halal-certified
Country: Singapore
Food:Sponsored
One fatal weakness of mine is Ice-Cream. It is an indulgence that I can never say NO to. Living in an all sunny tropical island of Singapore makes me feel more deserving in rewarding myself with an ice-cream(or two) every now and then.
Thus when the opportunity knocks upon my door with sweet temptations, I no longer procrastinate, in fact, I just Yah-be-dah-be doo!! and off I sped to the location of this Ice-cream feast.(thank you to one of the fans-Iman Sue Hardy@FB for informing me about their Halal cert!)
Ice3 Cafe (pronounced as Ice-cube cafe) has just been Halal certified recently.They have 2 HALAL branches (Serangoon branch is not Halal yet but I was told eventually all branches will be halal). One is located at the Esplanade and the other is located at the Bedok Library.

My appointment was at Esplanade branch.Leaving my home right after iftar, I wondered what awaits my arrival. Eager to indulge my palates, I left home feeling icy jittery but excited at the thought of colourful ICY mountains prancing around in my imaginative world…seducing my palates.Mmm…
It's been a long time since I've been to Esplanade. This bustling performing Arts Centre is always wickedly crowded in the weekends with flavourful tunes, buskers and youth dancing in the crowd voicing out their artistic passions.
I was captivated by the LIVE performance on my way there.A local femme fatale was singing her soulful jazzy voice to the crowd. As I was passing by, I noticed lots of arts exhibitions are also displayed…keeping my short attention span intrigued.
I nearly got lost… The thought of me making my way to a simple route and ended up being lost tickled me. I have been to many countries and being lost is just a blessing in making me acquainted to a foreign land. But lost in ur own country? hmm…I think, it's time I explore my own country ,perhaps, I should stay grounded for a moment..*chuckles
Anyway, I did reach the venue on time. I realised that this cool cafe has replaced the former "SOUR PUSS" (aka 2 hot halal cafe) specialising in local and fusion delights.
First impression? COOL! I like the neon flashy blue lights decorating the tables. Met Mr Philip, the Owner….
As the menu was handed to me, my eyes litted up with excitement like a kid…WAH! The endless flavours of icecream are too many..almost too much for me cos I really want to taste them ALL! *greedy
But I calmed myself down and ordered dinner. Aside from being a a sweet DESSERT cafe, they also served WESTERN food and soon they will also accomodate Asian Fusion food into their menu.
As recommended by Philip, I chose the Seafood Pasta with tomato based sauce. I like the generous seafood pile within the pasta…fresh prawns, mussels…YUM! The ice-blended coffee was nice too!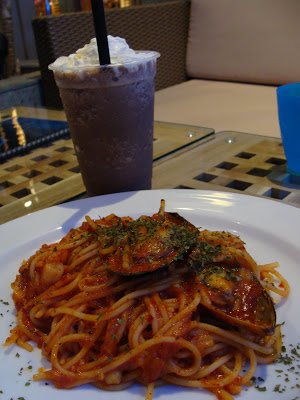 Philip was supposed to go for another appointment and can only meet me for a short moment but ended up , we talked for hours from food to business to life, philosphies and mentors, youth and future. He is an open minded entrepreneur who believes in living green, humanitarian works and seeking enlightening experience in third world country travels.
His beliefs as a Buddhist does not limit only to his race and religion but to all mankind.He embrace everyone's principles and respect their individuality.His belief that life is short and that everyone should do what they are passionate about-empower me to pursue my dream even more. The more I talked to him, the more I felt empowered.It's like having a mentor.
One reason his cafes converted to Halal is because he believed that sweet indulgence like ice-cream should be shared by all-irregardless race,religion or even ages.
He loves to cater for events such as school functions or charity. And love the sight of every kid's beaming face when being served with scoops of his yummilicious icecream.In fact, on the 3rd of September 2010, Ice3 Cafe with collaboration with Nanyang Girls school, try to create a record in mass eating icecream in the school.
Next on the menu, was the D24 Durian mud pie with chocolate sauce dribbling on top and almond flakes..Mmm…. Now this is something interesting. I've never tasted a durian mudpie before.
I am a seasonal durian fan. When I am in the mood, I will indulge crazily. Luckily,right now, the mood ring shows the thumbs up sign!So let's DIG IN!

The mud pie is heavenly! As I devoured in a lady-like manner…mouthfuls after mouthfuls….I can taste the fresh durian flesh within the creamy texture. It wasnt as wickedly sweet as expected. I was told that it was toned down. I really love it! Sometimes, durian flavours can be a turn off because it was masked with various off beats flavours but this one is good!
Seating outside on the lazy chair with the breeze blowing in my face and the romantic ambience of the cool Esplanade…wah! Im cherishing my every moment here….
The only Halal ice-cream cakes that I know of is Swensens (do read my last year's review on that). But now with the Ice3 being Halal, YIPEE! we have more choices !!! And by peering in at the glass display, the cakes did look somewhat classy and much more delicious-looking as compared to Swensens. I should have taken one home…since Philip did mention that I can try anything I want … *smacked in the head. Oh well, I can always order it for my coming birthday (yikes!Within days, Im gonna be a year older??!!!!)
They have fascinating flavours here. One of them is Kurma (dates) Ice-cream. It is very popular especially in Ramadan month (now) cos Muslims eat this first to break fast. Philip personally went to a local madrasah to purchase the Iranian dates.He enquired and research about the dates with local Muslim organisations before embarking on this new flavour.
Again, this is another unique idea which I have not come across before. I thought I will be turned off at the taste of it. Cos I have tasted dates flavoured drinks and other products elsewhere, often its brightly sweetened taste turns me off completely.(although I am an icecream fan, I am not so passionate about sweet food)
Verdict? I love it! It's creamy, mild sweet and the dates pulp tickle my tastebuds…rejoicing every flavourful moments.
I also tasted these fanciful flavours: Peanut butter, strawberry, soursop sorbet, green tea,mocha, chocolate… And I like peanut butter (I am a PB fan!) ,soursop, green tea, mocha and chocolate. Soursop is a very loud awakening flavour. It's not so soursoppish but its sourishness can sure wake me up!
What I like about this cafe is that they are courageous enough to experiment with vibrant flavours and that they only use whatever fruits that are currently in season. Thus if pears are in season, there will be pears sorbet etc… And I heard that there is also a CHILLI flavour once upon a time! Imagine indulging in icy cool icecream but the after effect is hot spicyness at the throat. I love to try that!
fyi-All ICECREAM flavours are vegan….no eggs but milk

Don't forget the toppings!!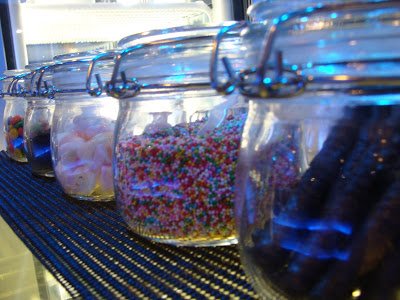 I wished I have brought along my refrigerator..cos then I can store more Ice-Creams…I was too full when I wanted to try their milkshakes. Imagining ICECREAM blended milkshakes?!! For sure, I will no longer look at McD milkshakes anymore…And that is not all…. Crepes and waffles…and chocolate FONDUES??!!! Woo-hoo! If they are open 24 hours, I will be here all night! hehehe!
This place is cool! For sure, if you wanna chill with your friends, this is the place! The staff are cool, the ambience are cool, the surroundings are cool…. On weekends, this cafe is buzzing with people,so take your loved ones here on weekdays if you wanna have some SWEET private moments. There is no rush..I stayed for more than 2 hours here and enjoyed every bit of it! And I'm gonna be back!! Yes, this pesky blogger will be back on her own will….
And if your company, schools or organisations wants to host any events or even weddings (I noticed that Malay weddings are in the trend of serving ice-cream now) , do give them a call! They will be delighted to be a part of it! Just make sure to inform them few weeks/months before hand.
Ramadan promotion? None at the moment because they just received the Halal Certification. But they do have a TUESDAY treats-50% off crepe (dine in only)
Now as I rushed to catch the last train…I noticed one exhibition display (below).Hmm…
Locations:
No.8 Raffles Ave #01-13E
Esplanade Mall
(colours by the bay)
Singapore 039802
11am-11pm
ICECUBE Cafe @ Bedok Public Library
21 Bedok North St 1
(Inside Bedok Public Library)
Singapore 469659
Monday to Sunday: 10am – 9pm
65 6282 8126 for enquiries or reservations…
Or SMS:+65 9780 5073… Or email:philip@ice3cafe.com
http://www.ice3cafe.com/
Gratitude: Thank you to Ice3 Cafe for this yummilicious invitation. Especially to Philip who has jolted and awaken my dream vibes into action.Thank you for that motivating and empowering talk. Appreciate it. And not forgetting the two lovely macho staff who served me delightfully.Thank you.
Disclaimer: Food featured are subject to my personal taste. I hold no responsibility for your body's gastronomical adventure.All food shown are either from Halal-certified or Muslim owned establishments(with no liquour/alcoholic beverages).I will try my utmost best to update and maintain the relevant information shown,insya-Allah…but your body,your responsibility.Do ensure that the Halal-certificates are up-to-date,renewed (not expired) and displayed promptly before ordering/consuming. If in doubt,always ask the staff with a smile.Remember: Use ur senses especially your heart.But mainly, ask your iman (faith). Don't assume: A headdress/scarf lady is not equal to HALAL. "No pork no lard" signage is not equal to HALAL. A crescent moon and star symbol is not equal to HALAL. Not all Mediterranean (e.g Turkish kebab), Malaysian, Indonesian cuisines (especially Nasi Padang food) is HALAL. Whatever franchise that is HALAL in Malaysia,Indonesia or in any muslim country does not mean it is HALAL in Singapore or anywhere else. Your body,your responsibility, check its HALAL authenticity. More on disclaimer?Thank you for your kind attention.
(Visited 16 times, 1 visits today)