My participation will encompasses 2 entries. One being a matter closest to my heart which is "Soul Food". And the other entry will touch upon evolution of one local favourite food.
And there is a contest that goes along with this imprint series and you can WIN yourself a Special Edition Lomo Diana F+ CYMK Camera ,so read these entries and answer those SIMPLE questions!!
Do check the CONTEST details!
http://yesterday.sg/2010/07/imprintsyesterdaysg-contest-details/
A typical local breakfast of Nasi Lemak, curry puff, bun and Teh Tarik (handpulled milk tea).

"Nasi Lemak, epok-epok…panas-panas!"… (Nasi Lemak, Currypuffs..hot and piping!!) are often heard in the early dawn of my grandma's past. Sold by kids as young as 7 years old, carrying a rattan basket filled to the brim with hot and piping breakfast delights. These food are so traditionally home made that each fluffyness savoured can tingle some love and gives that extra positive vibes to start the day.
I have heard stories from my grandparents about their childhood days. Their simple "kampung" (village) life. Often every tale that was told will be decorated with endless "old school" food that often encouraged drools to be formed.Simple yet vibrantly tasty.
One of such simple, humble fare is called Nasi Lemak. In translation, it meant -"rice in cream". Cream referring to the richness of the fresh coconut milk used in its traditional recipe.
What is Nasi Lemak? Nasi Lemak is basically rice cooked in coconut cream,eaten with fish/egg and with chilli paste. It is then wrapped in banana leaves. It is part of the Malay cuisine.
In the past, Nasi Lemak is almost a daily breakfast ritual for Malay families. Today, it differs. Not only it is eaten by Malays but it also includes other races as well. And it is often eaten for lunch or supper.
In fact it has evolved tremendously with inclusions of wide variety of side dishes. Every race-Chinese,Malay and Indian has their own versions of nasi lemak.
Favourite supper hang out at Sheikh Najib Nasi Lemak in Rowell Road (Lt India) .Opens 7am – 3am daily.

Sitting down reminiscing those grandma stories, I remembered my late grandma told me that in the 60s, they cooked Nasi Lemak using firewood. Thus cooking the rice took about 45 minutes up to an hour. Simple freshness of fresh coconut being plucked from the backyard garden and husk removed and then grated by hands. Later, the grated coconuts are being squeezed to attain its creamy milk. All these are done purely by manual labour with lots of love to create a delicious Nasi Lemak meal for the family.
Cooking the rice is relatively easy with boiling of fresh coconut milk and rice.Together with a dash of salt,the rice's savouriness is further enhance.Constant stirring is essential to prevent the rice from getting burnt or become extremely charred. Few leaves of screwpine are then added to the end product.Sometimes, mashed ginger slices are being used instead.
In those days (60s) , the nasi lemak is very simple. With basic ingredients : Fried crispy anchovies, bite-sized "ikan selar kuning kecil" , cucumber slices and dollops of sweet spicy sambal (fried chilli paste made from hand pounded fresh chillies).All wrapped up intricately in a banana leaf. And it only cost a meagre 20cents!!
And it is most commonly sold in school canteens too! The prices are as low as 5 cents per meal(Woo-hoo! Cheap bargains!)But then again, in those days, 5 cents is of the same value as what a dollar is today.
Qiji-Nasi Lemak franchise (chinese) located in many parts of Singapore.
Modern Nasi lemak is no longer simple. It now includes many side dishes such as grilled fish otah , fried fritters like chicken wings, fishballs, fishcakes, eggs,fish fillets,chicken fillets, squid in sambal (cooked in chilli paste),teriyaki chicken, kangkung vegetables , curry….and many more.
Fong Seng Nasi Lemak (Chinese) boasts the widest variety of side dishes at Bencoolen.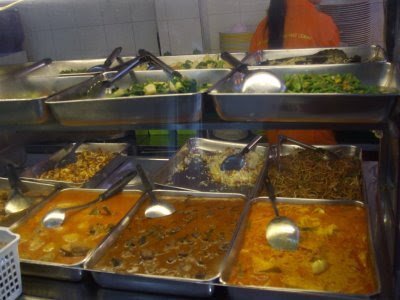 Thus not surprisingly, modern youths prefer their Nasi Lemak to be adorned with fried chicken wings and otah. Otah is a fresh fish paste mixed with bursting flavours of spices and then grilled in banana leaves. Sometimes, beef or mutton rendang (indonesian specialty) is also added. It gives that extra meaty-oomph in their meal! Regular prices is between $2.50-$5.
Nasi Lemak can also be found in Malaysia (national dish), Indonesia, southern Thailand and in Singapore. Its laid back simplicity and subtle tastyness are the ones that draw tourists to come back for more.
This is my favourite old school nasi lemak! The taste rekindles my primary school tuckshop memories…Located at Istanbul Restaurant in Tampines. Breakfast hours only.
What I love best about Nasi Lemak is its fragrant rice. Mmm, I love the smell of freshly cooked Nasi Lemak rice…and the screwpine leaves. One sniff of it can bring back childhood memories of the good old days.
The difference between Chinese, Malay and Indian Nasi Lemak are not much. From my personal tastebuds, I detect that Chinese Nasi Lemak has less coconut cream (healthier) in their rice ,it's chilli paste is sweeter and less spicy.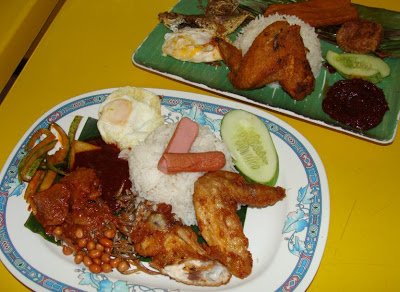 2 different Malay Nasi Lemak stalls at Adam Road Food Centre.Long queues are expected.
Malay Nasi Lemak has full flavours of coconut richness in their rice which sometimes can lull our senses to sleep after lunch. Their fried chickens are wellknown because of it's deep marination of local fresh herbs like ginger,turmeric,cumin… and then deep fried in batter. And some stalls added mutton rendang (spicy mutton stew), begedil (fried potato cutlet)and acar (pickled cucumbers)for that authentic Malay taste. The sambal is less sweet (than Chinese version) but rich and is much spicier.
Indian Nasi Lemak at Khan restaurant (popularly known for its duck curry on tuesdays) at 149 Dunlop Street ,Little India… is often sold out by lunch hour.
Indian Nasi Lemak uses fresh coconut cream and incorporates curry leaves,corn and fenugreeks in their delicate basmati rice,making it more savoury,sweet and creamy and deliciously fragrant. Side dishes includes the popular sourish acar (pickled vegetables),freshly fried fish,fried quail birds in sambal, boiled quail eggs in sambal (chilli),Korma Chicken, fried chicken,fresh juicy prawn sambal, mutton curries…and lots more…
For sure, 20-30 years down the road, Nasi Lemak will continue its legacy to be one of the top popular food in our local menu. And I believe my future generations of kids and great grand kids will get to sample this simple joys of our yesterpasts….
Imprint series:
http://yesterday.sg/2010/08/imprintsyesterdaysg-evolution-of-nasi-lemak/
Gratitude:
Thank you to National Heritage Board for creating such funky IMPRINT series and not forgetting the hardworking,fun staff behind it (Especially to Faiz!Thanks!)
(Visited 11 times, 1 visits today)