Country: Malaysia
Let's play a game:
This is my first entry on this Wedding Crasher Project.Insya-Allah there will be more.
I will only post photos of this post for now. I want u to create your own story by looking Through these photos. Sometimes, reading an entry without words help to free your imagination. You can even create a better story than the actual event. So …. be creative .. Enjoy!
Updated: 23.5.2010
Thank you so much for participating in the above exercise.Ok, I shall revealed the story behing the scenes…
I have to admit, I love going to WEDDINGS! I love the positive vibes of happyness,smiles and hugs spreading thru and not forgetting the positive vibes from guests .The "love-ness" fluttering in the air makes the mood jovial and loads of HAPPYness written on the walls of their faces.And I get to meet and get to know more people.Woo-hoo!
Let's get started!
Ok,I wasn't able to attend this wedding at first but alhamdulillah,somehow I was "chosen" to. This is my first WEDDING CRASHER Project. What I meant by wedding crasher meant that I will crashed any wedding at any given time without much planning.(but u can INVITE me to your Weddings, I love it!) But don't worry, I will ask for permission before I crashed any wedding. I know its no fun crashing with permission but that is who we are.Asians are very delicate,intricate beauty with many etiquettes and courtesies which I love.(tatasusila/adab)
The journey to this destination took us about 2hours+. Lucky for me, I was driven in a comfy car while the others have to crammed in a van (oopss..sorry!) .The driver was kind enough to add that special service of being my "personal tour guide". I do know Johor Bahru but to get a different views and info of places from a Malaysian..well,that is a gift! I want to know more!I am hungry for more!
It was exceptionally hot today.I was excited donning my blue Malay attire, I feel cool cos the silky material hugs me in comfort and lets the air passes thru every seams.
In Singapore, we have the luxury of having everything catered.But in Malaysia, Im happy to say that they still do it within the community amongst families. Whereby many will gather and start the preparations of the wedding from scratch. Often,these ideas are borne by creativity of housewives. From the decoration of the bedroom, to the bride ,the gifts for guests,gifts for groom and bride (exchanged),beautiful display of food and dining area/tent..and not forgetting the cooking of the wedding reception is often done as a community. It was cooked with TLC.That is why I love "Kampung weddings"! The food are so authentically GOOD!Upon reaching we were greeted with lots of warmth ,smiles,hugs and kisses.
First step in coming to a wedding is that we will be invited to eat first before we sit down and chat.That goes well with my tummy cos I can smell it upon my arrival.And I cannot wait to taste it!
Not as much varieties as in most Singapore's weddings (we are pampered).They have here 6 different type of food (including rice and green beans dessert)
We have the option of choosing Briyani rice or plain rice. For me the choice is definitely BRIYANI!
Ayam Masak merah-is one compulsory dish in many weddings. It is often cooked in tomatoes and chillies for that fiery red colour.It has a slight sweetness to it. The tender chicken meat undress itself in my tongue as I scoop a spoonful in my mouth.Mmm…
Oh my,I fell in love at first sight with this rendang. Its dark brownish colour is calling my name in its most delicious voice "Putri,eat me".And it was oohlala…melt in the mouth experience….not spicy at all.The smoky flavour of charcoal decorated my senses as I was savouring it….Mmmm…
Pacri Nenas -Is what I called pickled pineapples.Its sweet and slight sourish.Its a perfect companion to all the dishes.Love it!
As you have known,Green beans dessert is one of my favourite.This is exceptionally different because not only it is slightly savoury and sweet. It has hint of ginger in it.Which I find pleasing though its not as convincing when I first hear it…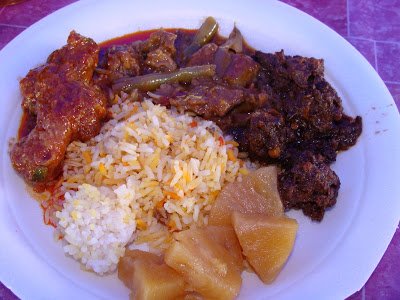 Mmm, as I was enjoying my meal, I discard my surroundings chirpy ambience.I was like in my own world….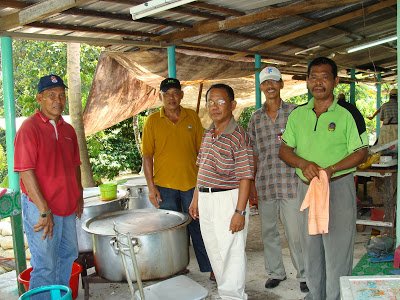 The heroes behind the food…
Cooking the food with much TLC…
The man in green told me that I had not seen his bestest culinary skills yet.He encouraged me to come again to JB (in another wedding) for his 1st grade catering food. He even volunteered to cook for my wedding…(erm…*blushed)…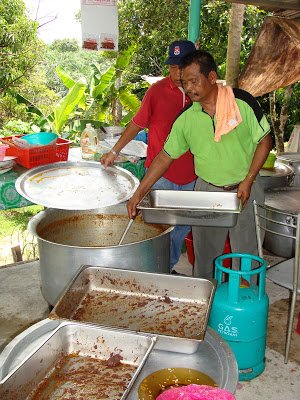 Ok with a full tummy where shall I go? How about snooping around the gardens? I just love all these fresh produce at their own backyard!!
Bananas and mangosteens are abundance!
I do not know what is this… I think it is some sort of a gourd or something…
Aah…coconut juice is the best thirst quenching drink especially in this hot weather….
My favourite tapiocal leaves….I was once labelled as "Goat" once upon a time, cos I can finish up a whole pot of tapioca leaves in savoury coconut gravy.
Sugarcanes..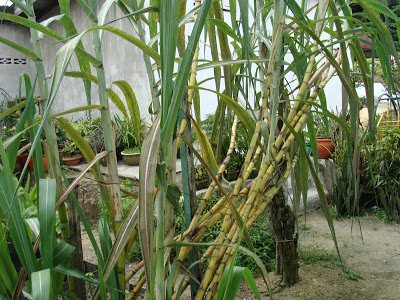 And the best moment is here….meeting with the real princess of the day-The BRIDE!! Woo-hoo!
Aah…these are the "Dayangs of the kitchen".They are responsible for the creativity of food,decorations and everything….Check out the items below!
I love this cake (below!) its made with Marie biscuits. I think its name is something like BATIK CAKE. Sorry,everyone was too busy to handle my inquisitve minds and so I made up their names as I go along (hee!)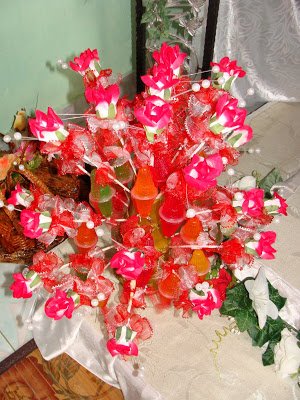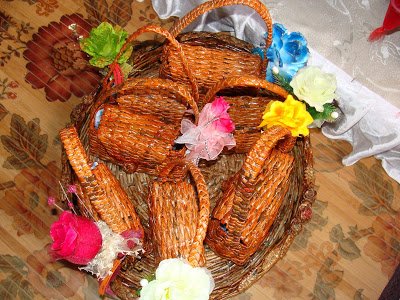 Beautiful creations of creativity-these are made with newspaper. So Singaporeans,what are you waiting for? We can recylced our newspaper and make money out of it!
This place is one of the many beautiful homestays in Johor.
Throngs of crowd appear…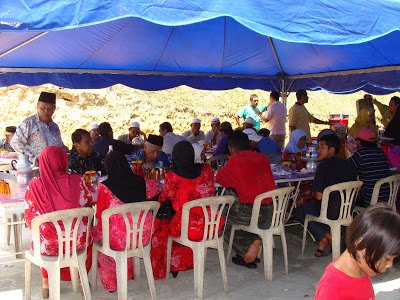 Cheerful Dj with a melodious voice.Often weddings will have karaoke,thus it attracts many "Idols-wanna-be" to croon their bestest voice and impress the guests…Erm, not today…suddenly I feel like I have a sore throat *excuses
Pak,pom,pak pom….What did I hear in a distance…?
The arrival of the groom is accompanied by Malay percussionists.They played the kompang to announce the arrival of the groom from afar.I love it!
Bunga Manggar- I wonder why is it called Palm Blossom in Wiki…hmm…
Pencak Silat is a traditional art form which is beautiful to showcase to the Prince of the day-the groom…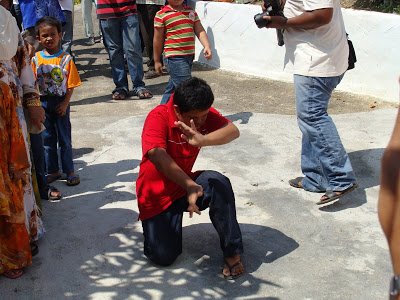 Aah..the heroes of the kompang…
2nd man doing the pencak silat…
The groom is brought in…For more information on Malay weddings:
http://en.wikipedia.org/wiki/Malay_wedding
But wait a minute! Before he can enter,he has to pass thru many "Gantries"…
The gantries served as a negotiation point between the bride negotiator and groom negotiatior.They will display the art of bargaining and negotiation and will pass the gantries (gates),if the amount of $$ to be paid is mutually agreed and gain satisfaction from both parties…
As they enter the house and reached the "pelamin/dais" (higher platform kinda like a stage for the prince and princess of the day), they have to successfully answer the Mak Andam's questions (the beautician responsible for the elegance of the bride) before the groom can actually seat on his "throne".
Aww…smiling so shyly…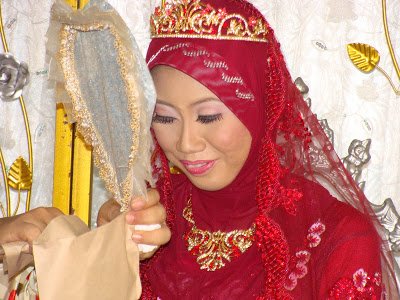 "Paparazzis"…
Beautiful!
Noticed the red colours in their nails and fingers?They are henna…
The above elements are for "blessing the couple"..this is the malay culture which had been mixed with hindu elements due to its strong presence in the early days of Malays before Islam emerge….
The "pindang eggs" is some sort like Chinese tea eggs (herbal) but it is not as strong smelling as that and it tasted somewhat "musky"…I do not have the right appreciation word for that…U gotta try it…

Wow! What a beautiful day it was….Alhamdulillah. Semoga masjid yang dibina berkekalan hingga ke Syurga Firdaus.amin.(May their marriage last till in Paradise)

Disclaimer: Food featured are subject to my personal taste. I hold no responsibility for your body's gastronomical adventure.All food shown are either from Halal-certified or Muslim owned establishments(with no liquour/alcoholic beverages).I will try my utmost best to update and maintain the relevant information shown,insya-Allah…but your body,your responsibility.Do ensure that the Halal-certificates are up-to-date,renewed (not expired) and displayed promptly before ordering/consuming. If in doubt,always ask the staff with a smile.
Remember: Use ur senses especially your heart.But mainly, ask your iman (faith).
Don't assume: A headdress/scarf lady is not equal to HALAL. "No pork no lard" signage is not equal to HALAL. A crescent moon and star symbol is not equal to HALAL. Not all Mediterranean (e.g Turkish kebab), Malaysian, Indonesian cuisines (especially Nasi Padang food) is HALAL. Whatever franchise that is HALAL in Malaysia,Indonesia or in any muslim country does not mean it is HALAL in Singapore or anywhere else. Your body,your responsibility, check its HALAL authenticity. More on disclaimer?
Thank you for your kind attention.
(Visited 7 times, 1 visits today)