Country: Singapore
I have covered this previously, I think..it was last year but many fans have wrote in to suggest that I bring the BOLD message outfront again to remind others.
This is not to singled out anyone who has consumed them with or without knowledge. My job is to spread Halal awareness. Again the sole responsibility is your own. Your body,your responsibility.

I understand that although IKEA has done their part in specifying details (thank you!) to their HALAL counter in their posters. Sometimes, seing a lady in headress overpowers every posters sighted.Cos the symbol of headress lady= HALAL!!! And the mind was so excitedly wanting to go a food spree that often it cloudded our judgement. So always,check for the HALAL certificate being displayed wherever you go for food.
I love to come to IKEA Tampines as early as its opening time 10am. Just to wander thru their stores is quite an eye opener and will boost some household creativity in my head.
Ok, the IKEA restaurant is open earlier but the HALAL section (Nasi padang counter only) opens from 11.30am onwards. I have written to ask about IKEA hotdogs and any possibilities of their wings and erm…specialty: Meatballs to be halal but still no reply.

Previous year, I saw a lady in headress manned the currypuff station beside the hotdog counter and till today,there is the headress lady. And as I probe again on the Halal aunthenticity of the currypuffs and hot dogs, she replied…
The curry puffs are made in a HALAL factory but the HOTDOGS and others are NOT HALAL.

I have previously seen a Chinese lady handling both the hotdogs and currypuffs counter months back.Was kinda turned off and no longer eat their puffs but since this Malay muslim lady has reassured me time and again that it's Halal and since its early morning, the curry puffs batches are still fresh,hot and piping.Furthermore, she will personally hand out the puff to me, I agree. I like it! It has boiled eggs in them. Mmm…yum!
Then I proceed to the Nasi Padang counter…the only HALAL certified counter (so the salmon, the meatballs, the glorious looking red chicken wings are NOT HALAL). Often, I ordered kids meal cos that is the only ones that look appetizing.This time, I try not to let its sombre outlook thwart my intention to try the nasi padang at least once.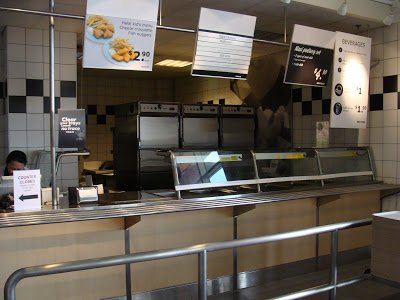 Today, they have fried rice. It came as a set…with all the otahs, vegetables and chicken curry. Drinks have free refills.
The fried rice was as dry as it looked. The vegetables was very dead. The only thing I like is the tender juicy mild curry chicken.Otah was ok..very thin.

Previously,they have chicken nuggets..and I have commented that it tasted exactly like McDonalds and eversince, I have not seen it on the menu ever again. That was the best amongst the kids meal. The cheese croquettes and fish nuggets are just for tummy filling. Tastewise…I believe the kids prefer the inhouse mini play area than these.Fries was not bad. Service wise, its best if served with smiles. I feel like its a dread working there.


Overall Verdict:2.3 out of 5. If you REALLY need to eat, just head down to nearby town centre of bustling Tampines with their wide array of hawker meals and affordable prices or you can head to Courts Megastore (just beside IKEA)…I heard their Halal restaurant has a recent uplift,a different menu and settings.
Location:
IKEA Tampines Singapore
60 Tampines North Drive 2
Singapore 528764
Tel: 6786 6868
Fax: 6786 6888
10a.m. – 11p.m. daily
Disclaimer: Food featured are subject to my personal taste. I hold no responsibility for your body's gastronomical adventure.All food shown are either from Halal-certified or Muslim owned establishments(with no liquour/alcoholic beverages).I will try my utmost best to update and maintain the relevant information shown,insya-Allah…but your body,your responsibility.Do ensure that the Halal-certificates are up-to-date,renewed (not expired) and displayed promptly before ordering/consuming. If in doubt,always ask the staff with a smile.
Remember: Use ur senses especially your heart.But mainly, ask your iman (faith).

Don't assume: A headdress/scarf lady is not equal to HALAL. "No pork no lard" signage is not equal to HALAL. A crescent moon and star symbol is not equal to HALAL. Not all Mediterranean (e.g Turkish kebab), Malaysian, Indonesian cuisines (especially Nasi Padang food) is HALAL. Whatever franchise that is HALAL in Malaysia,Indonesia or in any muslim country does not mean it is HALAL in Singapore or anywhere else. Your body,your responsibility, check its HALAL authenticity. More on disclaimer?

Thank you for your kind attention.
(Visited 343 times, 1 visits today)