Updated Sept 2010:A fan told me (thks Anonymous!) that they are no longer at this location and are in the process of relocation…
Country: Singapore
I was spinning round and round in Hougang Central area trying to locate the Halal Western food featured in BM months back(or is it last year?hmm). I heard the Chef's oxtail stew was the BOMB!! (from a friend). Thus, in the blistering heat, I went in circles.
Tried to google but no data was found. So using my intuitive skills and some key words like "its just beside the Hougang Mall…", I try to sniff my way but….near exhaustion, I saw a bright chirpy yellow tiny hut. Its name -CHICK CHAT kinda pull me back like a magnet. I heard of this before….hmm, I think the readers have mentioned to me in the facebook to try…(whoever u are,thanks!)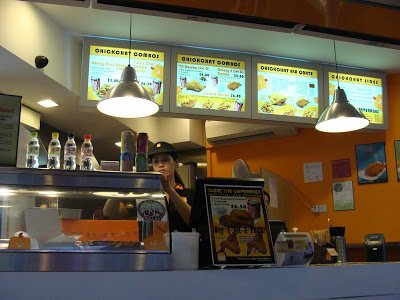 I saw the HALAL certificate almost immediately..oh,the expiry date is 2012…
The seats are meagre..perhaps only less than 20. As I sat to catch my breath, the chirpy staff…flash their most beautiful smiles and encourage me to try the promotional $6.50 set which consist of 2 piece chicken, mini coleslaw and a can drink. For a limited period, I got 2 fried chicken wings FREE!!

Ok, I look at the menu,there is SPRING CHICKEN!! Woohoo! But I think, Im too tired to devour a whole chicken now. Let's do a "chicken test" on them. If they can pull this off just by frying the various chicken parts with me, I bet their fried spring chicken will be VAVAVOOM!
And so I read with interest the posters around. It stated that they freshly fried their chicken. Hmm..is Singapore congested with Arnold's wannabe? Or is this the real thang?!
Waiting time was surprisingly short about 5 minutes. One thing, I noticed is that the seating area is not that comfy if you wanna enjoy fried chicken because its open air,although shady..And its HOT out here!! *wails the pampered Princess..
Ok as the food arrived,the moment of truth is creeping… Hey! The staff served us a stainless steel bowl.
Wait… is this for drinking?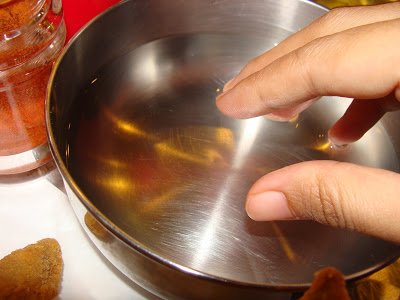 Reminiscing my Little India days,some Indian restaurants will present me stainless steel mug for drinking sky juice(another name for plain water).Nah, I think these are for washing my hands. Although I have already used my antiseptic handliquid, I embrace this kind gesture. Very unique cos I did ponder where the washing taps are.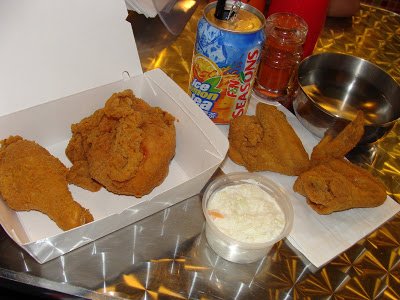 The chicken has a healthy glow, more orangey brown than the often yellow light brown presented in Arnolds or Chicken Champs. Even KFC sometimes,turn me off with its irregularities of chicken skin tones. (YIKES! What am I blabbering about?! Chicken skin tone? Is this some sort of cosmetic issues? hehe!)
The chicken parts are huge!(as compared to KFC and Arnold's) They came hot and piping (perhaps sizzling too?). The skin was exceptionally crispy and the flesh…ooh lala…was fresh and juicy. Batter was slightly saltish but I like!*puzzled.
There is no second frying nor excessive frying detected. Its just right.No bloody mess either (no blood oozes out to indicate, some parts are still raw)
Delicious just like when I fried fresh chickens at home (blowing my own trumpet).So if u wanna know how I fry my chickens,do drop in for a BITE! For sure it will make u drool for more!
Now this is another alternative place, I can pop in for takeaways.To bring home for my family (and occasional visitors).If I fear the laborous work of manual frying at home and not forgetting the prevention of occasional scalding,this is the place to ta-pow!!
The coleslaw was more milky than usual. Perhaps more mayonaise or something. It was alright.Arnold's coleslaw is much better.
If compare to Arnold's …Hmm, hard to say, I need to try their fried spring chickens to compare…but for now, it is on par. So look out Arnold's another contender vying your top spot….
Erm, I see something like Chop on the menu but it looks kinda messy not the usual Chop that I visualised or often being served with…Hmm, they also have some freid fritters like squid and also homemade onion rings….
Do check them out!
And as I was leaving the 3 charming ladies came out shyly and volunteered to be photographed…Say CHICK CHAT!!
Note: The food served are like packed and go, not really for eating in. So don't be shocked.It's easier for them to clean up especially during peak hours.
Location:
Hougang Mall
90 Hougang Ave 10
#01-43 s(538766)
tel:90068163
info@chickchatfc.com
Halal-certified
p.s: So sad, so many HALAL eateries are closed for good/replaced…e.g Ishimura Japanese concept foodcourt has a HALAL western stall at Jurong Safra,now no longer HALAL, then there is MELLEO's at Simei East Point also HALAL but now I dunno where it is…nasilemaq.com at the Jurong Superbowl is also replaced…and many more…It's like Oreo's catchy phrase-"Now u see,now u don't…". Main key here is publicity..and best thing to do, is email me (putri-berendam@hotmail.com) and insya-Allah I will be there in a jiffy with my naked tongue…*chuckles .Internet publicity as compared to other medias are longer lasting. And easily to find by search engines and all that…

Disclaimer: Food featured are subject to my personal taste. I hold no responsibility for your body's gastronomical adventure.All food shown are either from Halal-certified or Muslim owned establishments(with no liquour/alcoholic beverages).I will try my utmost best to update and maintain the relevant information shown,insya-Allah…but your body,your responsibility.Do ensure that the Halal-certificates are up-to-date,renewed (not expired) and displayed promptly before ordering/consuming. If in doubt,always ask the staff with a smile.
Remember: Use ur senses especially your heart.But mainly, ask your iman (faith).

Don't assume: A headdress/scarf lady is not equal to HALAL. "No pork no lard" signage is not equal to HALAL. A crescent moon and star symbol is not equal to HALAL. Not all Mediterranean (e.g Turkish kebab), Malaysian, Indonesian cuisines (especially Nasi Padang food) is HALAL. Whatever franchise that is HALAL in Malaysia,Indonesia or in any muslim country does not mean it is HALAL in Singapore or anywhere else. Your body,your responsibility, check its HALAL authenticity. More on disclaimer?

Thank you for your kind attention.
(Visited 53 times, 1 visits today)