Country: Singapore
Bismillah.
I procrastinate on this entry…long enough.
I have been a flogger (food blogger) for years but the fresh experiences received have never ceased to amaze me. I learnt lots and embraced every one of them. Read this with an open mind.

I moved a lot in this country. In fact I have lived in almost every part of the island..North, South, East and West… but one region that will stay close to my heart is HOUGANG. This is one of the longest time, I stayed in this vicinity.
One stall in Hougang has been one of the favourite family dinners when I was staying there, probably a decade ago. It was spread thru word of mouth from Firemen to Malay families to whispering giggly neighbours…Their popular chicken rice are one yummy factor.
And not forgetting their moisty fried noodles (mee goreng basah). But I only go there for one reason- Mee Bandung. I have never tasted any Malay Mee Bandung in Singapore which can replicate their thick pinkish "adorable" gravy.Yeah, it tasted good too.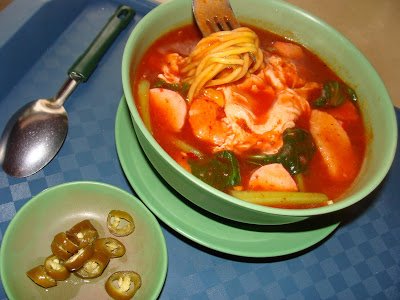 It's been ages since I last visit this place. I wanted to come here many times but again, many events have hindered my visits. Sometimes these "natural excuses" are just blessing in disguise. Anyway, here I am…one lucky afternoon..
The foodcentre has been revamped into a much modern clean concept coffeeshop. I approached the bustling stall asking for permission to take shots of their shop and nameboard. The female staff misunderstood my probably soft spoken request and answered.
Mistake No. 1: "Menu? Menu is on the board.."pointing to the giant name board…with no smiles, just nonchalant gesture. Ok, I correct myself.. " Can I take a picture of the shop, just the external..? " my hands flying about indicating my interest in the external facade only.
The kitchen crew took an immediate interest since the female staff echo my questions to them. Then I felt a defensive air of vibes surround us, almost choking me.
"What for?"-My question is being answered with a question. I explained my "cause" and one of the Malay chef blurred me with more endless questions when he heard the keyword "HALAL" in amongst my many sentences explaining myself.
He asked: " What is this all about? WHere are you from? What HALAL? There is no HALAL cert.. what makes u think this is HALAL?…" and loads more which gets kinda fuzzy.
Hmm, why are they so defensive and why are we in this position? Are they fearing that I could be a HALAL officer in disguise trying to uncover a hidden ploy or something? This is getting complicated.
"But the owner is MUSLIM right?"…Silence,silence…engulf the moment.(Mistake No. 2 on my part). And then I said, something like "But you all cook Halal food right?" Silence..or is it feigning busyness? Hmm, i couldn't tell….
And then I try to insert this question again-"But the owner is Muslim right? Who is the owner?"-trying to sound friendly… (trying to figure out amongst the 4 heads)
But again silence, and the Malay cook said, "the owner is Chinese but cooks are Malay…". I replied- (inside my head-Oopss…I didn't know that.)
"But hmm..u all cooked Halal food,right? and this stall has been so long here.." Again with a defensive tone- "we have been here for more than a decade…"

And as I repeat my previous question that got us all into this "beautiful mess", "so can I take the shot of the stall?" Silence..and everyone seems to be ignoring me…
I further explained that my blog is not just for locals but for others who are visiting Singapore…and to showcase great gastronomical finds around the island. I thought that shall perk their motivations and embrace my kind intentions..but again…Not much enthusiasm. The Malay cook said-"Ok,if u want u take the name board shots and….".

Then awkward silence so much so that I had to say "Ok, I shall leave my card here..".I left my old business card in the hands of the female staff. I wouldn't be surprised if it will be thrown in the bin but nevertheless, I turn my back in disappointment and walked out almost immediately ….
My inner voice prick my hearing-Wait…aren't I supposed to take that stall picture? "What picture?" I muttered to myself and stormed out…
There are 2 types of people I will encounter thruout my food journeys…Either they (food staff and readers/foodies) will embrace me or they will be defensive. Irregardless, bitter or sweet..I have spoken..

I am in somewhat weird situation, its like I am trying to convince the staff that their stall is Halal whereas it should be the other way round. I have no idea, what the chef/cook's intention in rebuffing my questions. But I gladly accept the whole situation cos I learnt not to assume (irregardless who suggest/recommend) and to really do my own research, best bet is to check out the HALAL certified stalls.
Sometimes, its not easy to ask any staff from any establishments- "Is this HALAL?" Because they take it personally. Asking whether the food is HALAL is like asking them "Are u a muslim?".It's like peeling their skin off,showing their most sensitive pinkish layers..*gross.Pardon my imaginative world.
So it gets kinda messy when its answers are retorted in a self-defensive way. No finger pointings blame on anyone but if there is time (glancing mostly at impatient customers queing behind me), I would love to say the whole full sentences with a smile " Hi, your food smells good. Is this Halal? (noticing no halal sign and a probable sign of a feeble crescent and moon symbol in the banner). Wait, I am not judging you, I'm just interested on targeting these HALAL questions on the food and solely on the food sold here. Are these HALAL? I have to ask indepth because I represent a circle of HALAL conscious awareness customers from around the world thus I need to be 100% sure…blah..blah..blah.".Perhaps, I should have a somewhat Neon flashing signboard above my head so that they can read my "INTRO" (as I enter into their stall) before deciding to embrace me or kick me out!
I will always try my best (insya-Allah) to ensure that the food featured are either cooked in the muslim-owned eateries or Halal-certified establishments. But sometimes, in doubt, I just leave it. If its kinda cloudy or sometimes, u don't even know its cloudy….especially in my case when it was recommended by devout Muslims and the Chefs are muslims and again, how can I barge into people's eateries and ask "Eh, you muslim or what?" OR "can u recite the 2 kalimah syahadah?" …sometimes, the basmalah sticker pasted on the stall is just a "show" of a non-muslim bosses' intention to serve Halal food but without the hassle of official Halal cert.

Sometimes, the makcik (ladies in headress) is also a "show".. just to man the cash counter and has no idea what is being cooked in the kitchen and sometimes, they are the "maids" who obligingly do as told by the non muslim bosses. So…what can I do?- One can get helpless in situations like this but remember:
Halal or not, it's up to you. As what my disclaimer has mentioned…if in doubt (was-was)-leave it, if not…up to you. Ask your faith (ketuk pintu iman dan tanya sendiri). Your body is your responsibility. I rest my case.
Previous post: http://www.worldhalalquest.com/2007/09/zilan-seafoodhougang-ave-8.html

Disclaimer: Food featured are subject to my personal taste. I hold no responsibility for your body's gastronomical adventure.All food shown are either from Halal-certified or Muslim owned establishments(with no liquour/alcoholic beverages).I will try my utmost best to update and maintain the relevant information shown,insya-Allah…but your body,your responsibility.Do ensure that the Halal-certificates are up-to-date,renewed (not expired) and displayed promptly before ordering/consuming. If in doubt,always ask the staff with a smile.Remember: Use ur senses especially your heart.But mainly, ask your iman (faith).
Don't assume: A headdress/scarf lady is not equal to HALAL. "No pork no lard" signage is not equal to HALAL. A crescent moon and star symbol is not equal to HALAL. Not all Mediterranean (e.g Turkish kebab), Malaysian, Indonesian cuisines (especially Nasi Padang food) is HALAL. Whatever franchise that is HALAL in Malaysia,Indonesia or in any muslim country does not mean it is HALAL in Singapore or anywhere else. Your body,your responsibility, check its HALAL authenticity. More on disclaimer?Thank you for your kind attention.
(Visited 35 times, 1 visits today)