Country: Singapore
No, there is nothing wrong with this picture, aside from it being blue. The bluishness describes my emotions in that very moment. This is my first time to join in a congregation of foodies and ironically,its also my first time not able to taste anything.

As I learnt from Dr Leslie (thank you, for showing us your passion and professionalism!) that our way of food photography (if done properly), can actually resonates our full fledged emotions, and those nitty gritty details of the food that we want the readers to experience just by looking at it. Some said its food cam-whoring…. *chuckles.
I received an email stating that I was shortlisted amongst the many foodies (hurray!) that have submitted their entries. This contest is for foodies vying for the top spot on becoming a Hawker food lover -a resident flogger (food blogger)who will get paid a whopping $1000 for 6 months! It is somewhat like looking for Singapore food idol *chuckles .
Actually, I have no intention to participate but last minute, I just changed my mind when I saw the limited reviews on Halal eateries.Anyway the next stage of the contest is to listen to Dr Leslie's tips on food blogging and food photography.And then, all we need to do is to apply all of those tips (if possible unless ur mind is crampy and tiny like mine) on the food served in our high tea.
This Chinese restaurant is located at the 60th storey of UOB Plaza. It was exciting for me because I have never been here! I can imagine the beautiful scenery in my mind as I get on the lift..and even the sky gallery (open to public)can't beat that cos its view is from a much lower floor.
Anyway, the high tea is of no pork, no lard but its not Halal. So although I am no able to taste the food, I still get to have some fun in this event. Knowing me, unable to sit still, I move around,socialise and took some shots here and there, get to know more foodies and their favourite HALAL hangouts. Widen that social circle a bit and have quite a good laughs here and there.
Ok, just a brief summary. Halal food is not just 100% omission of the swine, boar or pig by-products. But most "live" food especially meat (chicken,beef,lamb..whatever) has to be slaughtered according to Islamic rites (except seafood). And no liquor or wine is allowed either in any of the ingredients.Thus that explains why I did not touch any of the food although it looked quite "harmless".
Anyway, I get to know more foodies and I learnt that Im not just a bad pornographer oops I meant…food photographer….I am wickedly terrible in it and I love it! Woo-hoo! I got lots to learn and I realised, I need to slow down. I need to lovingly do lots of training and reading and researching on this matter.
My makan buddies have already grunt and moan at the slow pace of me taking the food shots. I think with my new learning tips, I will take a much longer time!! hahahah! Good luck to those who follow my food escapades…I think, the best tip, I can give them is …Better eat something first before joining me, we got the whole night, baby!! heheh!
And the scenery is splendidly gorgeous….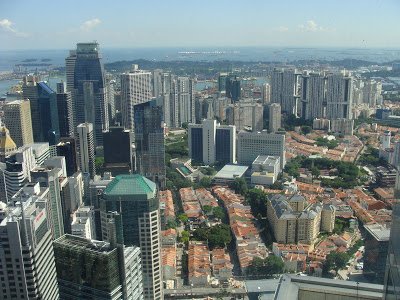 As I exited the restaurant at 5pm, I realised that I have to forfeit myself from this contest.It's only rational.Unless I am starting a new food blog-nevertrustafoodiewhodoesnoteatwhatshereviews.blogspot.com. *chuckles (And thank you to the wonderful fans and readers who has given me bucketfuls of motivations and supports in this contest!)
I did try to review from a different set of perspectives (Without tasting).Tried to sniff,sniff,caress and play around tons of vivid imagination swirling in my mind.And some fellow foodies did help in describing the food too(Thks guys!)…but, the end result is still…the tongue needs to play a crucial part here.
Maybe I can also start another food blog- eatingthefoodthru4senses.blogspot.com (Except tasting it). This blog is where, I go to eateries in which I cannot eat and I actually touch and feel,sniff, hear and see every food served and blog every details about it! Ah-ha that sounds interesting!
Hmm.. but anyway…
Today's event is a good learning experience for me.
Love it!
Thank you very much,everyone!
(Visited 12 times, 1 visits today)