Country: Singapore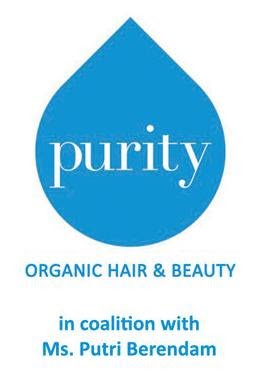 Alhamdulillah.I am proud to be the spokesperson of Glo Minerals (coalition with Purity). Yeah, you must be wondering why the sudden BIG change from gorgeous food to gorgeous cosmetics? Well, if you have read my previous months posts, and walked thru with me ,you might have noticed that I am walking the talk. I am embracing every opportunities given. As long as the key essence is "QUALITY" and "EMPOWERMENT". I seek beauty in my surroundings,my environment and within myself. And I hope to enhance the beauty in women both internally and externally and Glo Minerals embrace and accentuates that.
Truthfully, I am the next-door,no hassle plain Jane. I often go out as raw as possible. With no make up, no hassle, no accessories. To me beauty is in everyone …no matter how you look, how big or small your size is and whatever your shape is, EVERYONE IS BEAUTIFUL in their own UNIQUE way.
I dislike make ups and cosmetics because they are time consuming and I do not like the fudgey,cakey after-feel of putting a make up on.Felt like a clown with all that combustion of rainbow colours on my face.I am the type of girl,always on the go, no more than 5-10mins dress up and zoom!
My concept of beauty is that no one has to hide their flaws beneath all that concealer and foundation. One might say I was born with flawless skin but I do have my bad skin days .But still, I do not find the reason to hide those away. To me,if it's natural, then no need to hide even if the pimples are ghastly prominent on your face especially when attending important events.
I am comfy in my own skin. I believe I am beautiful,therefore I am…Main thing is to feel internally beautiful and the external beauty will shine like the sun.Be positive,confident and happy and you will be blessed with inner shine of radiance that no money can ever buy.
Thus why the need to use Glo Minerals? You don't have to be a Hollywood celebrity to look like a star (psst…a secret-many Hollywood celebrities are using them). If you can look gorgeous right now,will you grab that chance? If you can make everyday a beautiful makeover for yourself,will you do it? It's just a matter of skills and knowledge of the know-how. And this is one way,we can do this…Let's be gorgeously beautiful together! Let's take CHARGE of our own beauty,let's enhance them and let it shine thru our every pores.Say with me "I am gorgeously beautiful!"
When Purity approached me, I was skeptical. The last time I was approached in similar context was a gimmick of a promise of being the next top model type of reality series (years ago).And I was eventually lead to a makeup consultant and workshops that somehow makes me feel that make up is a NO-NO for me.They put the make up for me and I looked fudgey,cakey and HORRENDOUS! My immediate reaction to it, I walked out of the whole thing.Thus my first and (probably last at that moment) impressions of makeups are negative.
Ok back to the skepticism, I went down to take a look at what Purity has to offer before I judge them (although the bitter taste of the past is still there).I was introduced to Glo Minerals products.I listened and watched intently as the directors explained to me in depth about their products.Of course, I have a mini "touch-up make up" to try out their products .I need to see whether it really enhance my beauty or bring back the past horrendous image.
I was impressed,because within 5 minutes, I was doll up casually and naturally. It wasn't thick, it was so light, even better than powdering myself with Baby powder.It felt velvety smooth and as it sinks in later after 20mins,the glow of the blushes creates that natural pinkish rosy cheeks. I have never tried this type of make up.I've often wondered why the Celebritries especially Hollywood stars look so flawless? And I found that Glo Minerals is the answer!It has this tiny particles that can utilise every lighting (natural/man-made) and create a certain glow of radiance in everyone!

I cannot feel that I was made up nor I look like one. I am amazed.The whole make up thingy took about 5 minutes. As I have mentioned, I hate hassle,even lipsticks and eye liners are a hassle to me.But if I can do what Mr Chaqa (Creative Director) did to my face within mere minutes, I think…Why not? I look and I feel that certain glow of confidence. If I can add that enhancement of beauty to my daily rituals ,why not? Beauty is our own responsibility.Let's learn and brings out that glow of beauty in all of us….
I like this ..
"Perfect Skin isn't a matter of luck,it's a matter of science. Glominerals makes science BEAUTIFUL. "
More information about Glo Minerals….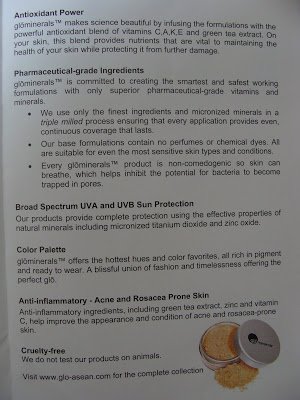 I have the pleasure of meeting the top managements and their key personnel cum owner the gorgeous Dr Sylvia Ramirez. This ravishing beauty told me on the scientific benefits of Glo minerals and what it does to my skin (Im having a bad skin day that day) .She further explains that no matter how sensitive your skin is,this is clinically proven that it will not irrate your skin (especially for those who have acne and rosacea-prone skin). You can even wear it to sleep. It heals as u wear them.
The ingredients are from natural high pigment minerals,made with the finest ingredients and micronized minerals in TRIPLED milled process (thus it's so smooth and velvety after feel!). It contains no perfumes and no chemical dyes.It is non-comedogenic.. so skin can breathe and prohibits the potential of bacteria trapped in pores.And mineral make-up has natural benefits such as sun-block.
Now I understand why I feel that Glo minerals are very kind to my skin.And not only that, it harmonise in unity to enhance the beauty that God has given.It blends perfectly! Alhamdulillah.
The best part is Glo minerals can be used for and during prayers (take ablution first before make up) .The ladies in Brunei are stacking their powdery room with loads of Glo Minerals products.It is very popular there.Not only that,it is also non-hazardous to the environment. And I'm glad that they are introducing it in Singapore.
Ok, I have to spill the details on the brushes sold. I was petrified when I heard that it was made with squirrels' hairs. But they explained to me that these hairs fall out naturally and no harm is given to the animals. But if you are still horrified,then there are synthetic brushes available.But I did check out the squirrel's hair brush,it was so soft! I think they also have horse hair brushes (which is often used in many branded cosmetic products range).
Now you must be wandering..What is the catch? There is no catch. We are creating an awareness of imparting beauty skills in the community. You don't have to apply thick foundations and make up to look beautiful.Minimalist is the best.And Glo Minerals is the answer.Even one of the top "mak andams" (malay bridal makeup consultant)-Mdm Fatimah Mohsin is using these products in her work.
Ok,this is the right moment to reveal….
Only for Putriberendam fans/readers (for a limited time)…

To: All ladies… (irregardless what your age is -twenties,thirties,forties or even eighties …And irregardless what your occupations are: be it.. housewives, professionals, chefs,teachers,postwomen, policewomen….take note:Everyone deserves to be beautiful!)

I am proud to present to you " I AM GORGEOUSLY BEAUTIFUL!" -awareness workshop.This workshop will only take up about 1-2 hours of your time (1 day only).First come first served by appointments only. Choose your own "groupie" timing from: Daily 12pm-6pm and if you need after office hours appointment, do request for it (e.g 7pm)
All you have to do is gather 4 galfriends (or more) and have a great time hanging out and have fun in learning the beauty secrets of Glo Minerals products. Registration is only $10 per person (can be reimbursed upon products purchase and is not subjected to any minimum purchase/price!)
4 of you (or more)… gorgeous ladies will be personally attended by Mr Chaqa, their vibrantly creative Director.He has 20 years of make up experience ,18 years makeovers in Germany media and tv and 2 years in America and Australia. We are very honoured to have him for this workshops (in spite of his busy schedules).And participants are able to try out first hand on the products with no obligations.
You won't walked away empty handed if you choose not to buy any of their products cos they will reveal to you the wealth of the Celebrities' make up secrets.
And if you cannot wait till the appointment date (cos right now,it is very popular just by spread of word of mouth) , you can come down and take a look at the products and test it on yourselves.
Just tell them that PUTRI send you over and the Cosmetic Care Consultants will answer your every queries. And if you want me to grace your event with your girlfriends, just email me: putri-berendam@hotmail.com and I will be there with a hi-5.. insya-Allah.

Fyi- Purity is located in Pacific Plaza but they have an adjoining boutique and clinic.You can have your ritual beauty clinic,hairdressing, beauty facials/spas and makeovers request (for special events) all under one roof on the same level.
Ok what do the professional magazines have to say about Glo Minerals?
WWD Salon Mag (November 2006)-On Glominerals Spring 2007:
"…has softened spring's vibrant palette with cream formulas that use a subtle shimmer,for a retro-elegance effect".
SKIN INC Mag(December 2006)-Best of the Best Winner:
"This makeup applies smooth and lasts all day.."

AMERICAN SPA mag(December 2006)-Professional's Choice Awards:
"Professional's Choice Finalist-Favorite Cosmetic Line".

ALLURE mag (April 2007)-Glo Gloss:
" A long lasting lip gloss that feels soft,not sticky-and comes in 15 appealing colours."
ELLE mag (May 2007)-Glo Precision eye pencil:
"…for a natural look that the camera loves.The texture blends well and resists bleeding into the tiny lines around the lips."

NATURAL HEALTH mag (May 2007) -Glo eye shadow:
"The green tea extracts protects skin from damaging effects of sunlight and pollution."
I hope that you will embrace this opportunity and GO FOR IT! Remember, I seek quality in the products endorsed. Who knows at the end of it, we can have a "graduation party" -An ALL GIRLS masquerade/makeover parties…a Girls night out.., yeah why not?
Psst…and if you are wondering whether its prices are beyond your means. Don't worry, its affordable as those counter cosmetics in the bustling shopping districts. The reason why Glo Minerals are not at self-service counters because they CARE.They want the customers to be able to make the best use of their products to enhance and instil beauty knowledge and to practise.Even after you bought their products , it doesnt stop there.The after sales service is top notch.If you have queries, you can call up or drop for a visit between their opening hours.They will be happy to assist you.They do not want to sell the products and leave it to the customers to figure them out themselves.They will teach you how to outlast the products and make the best use of its many potentials in your everyday life.
Don't just take my word for it.Do your own research and google Glo Minerals on the net.Check out the benefits and the hot celebrities who are using them.Anytime, you are in Orchard area, do drop by and take a look at their products. Just tell them Putri send you. Treat them like friends. Remember your beauty, your responsibility.Have fun while you are at it!
Ok, I feel like J.Lo now, hmm…where shall I go?Hmm.. *chuckles

(All pictures courtesy of Purity)
For more info:
Purity /GloskinMd @ Pacific Plaza,
9 Scotts Road #03-03/06/07
Call 68874542 for queries/appointments
http://www.puritysalon.com/ (hello@puritysalon.com)
http://www.cutislaser.com/
http://www.glo-asean.com/
http://www.gloskinmd.com/
Love,
Putri

p.s: And if you have any special requests (like me).. e.g I asked for male staffs especially Mr Chaqa to wear gloves and ensure my "headdress modesty" is not compromised in anyway,they obliged faithfully.And when I need to do my prayers amidst my makeovers (its not even halfway!),they give me a cosy conducive space for my spiritual ritual…and patiently resume after that….
To gorgeous people behind the scenes: Great big "thank-you"s to Mr Gunther (owner) for this great opportunity,Dr Sylvia (your beauty is a great motivation!),Chaqa (thank you for everything,ur passion is contagious!) ,Saamiyaa (for the masterpiece of threading and unique photos),Francis (love ur vibrant smile!),Anna (hot mama) and not forgetting the "Supper Club"-Thank you to Monica (for the great big initiative!),Syed (thks for the camera tricks and gorgeous photos!),Amin (entertainment of laughters thruout the night) and those I did not have the pleasure to get to know you personally or I might have left out your name-Sorry but GREAT Thank you's from the heart..and for treating me like a Princess…Love y'all!
(Visited 15 times, 1 visits today)