Country: Singapore

Remember the times,when Donut was a living CRAZE that people queue up for 1-3 hours just to buy them? And which responsible brand was that? DONUT FACTORY!!!
And luckily when the fad was so frenzy, it wasn't Halal that moment, thus whenever I passed by the queue, I was happy that I wasn't one of them.My patience often runs out if I have to queue an hour or more for food. Now that the crowd died down….Guess what? It's HALAL-CERTIFIED!! woo-hoo!!

Do you know that? The Dutch are the ones who introduced Donut into North America?Alhamdulillah I have the pleasure of tasting the Dutch "olie ballen" in which the texture and puffiness are similar to donut and I love it! But do take note that,some have beer/alcoholic ingredient in them. So do ask before consuming.
Anyway, I chanced upon their website, few weeks back and I saw the HALAL logo. Went down to Raffles City branch (basement level) but it was no longer there. I suspect the GIANT branch of J.CO donuts there might be trigger that or be the main reason.
Surfing thru the Iphone nowadays seems luxurious but its such an essential tool to sniff out food locations especially since I am always on the move.Thus within minutes, I have the other locations listed right in my palms.Fyi-They have 3 branches: Tiong Bahru, Suntec City and Velocity.
Head straight to Velocity Mall. Right there, I saw the logo almost immediately. It was easy to find since it's right at the drop off point.
Entering the chic cafe, it looked similarly like J.CO..hmm. Anyway,the staff was friendly and offered to choose for me the 12 individual donuts that are popular eversince he saw my bewildered eyes and drooling lips procrastinating.
12 boxes for $12.50 ain't that bad. I remember I was so horrified to find that Krispy Kreme is so costly in Malaysia. And it ain't worth it…too sweet for me.
Anyway, as I take a bite into the mouthwatering donuts….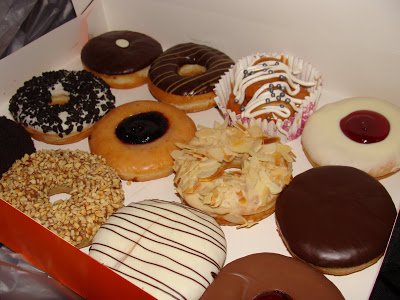 Most popular flavours are chocolate. The flavours are not too far off from each other.Only the 4 donut balls (with cream and tiny greyish balls on top) are distinct in taste and smell-cinnamon taste.The rest are chocolate glaze, Oreo cookies…white chocolate…with fillings like cream, strawberry cream,and toppings of prune and blueberry.My favourite? Hmm, I guess, I stick to the coarsely chopped Oreo cookies-donut.Its the least sweet as compared to others.Perhaps, if I brew a tea like the Dutch, and with no sugar added, and of course with its cool temperature of Rotterdam or perhaps during its chilling Wintry season…maybe its sweetness is forgiveable.
The density of the donut is just right, not as heavy like Dunkin Donuts nor is it too light fluffy as the Donut Empire. But erm….it seems that the sweetness level is again not my cup of tea. I find that most donuts locally are too sweet for me. Im not really a "SUGAR..sweet" fan. I prefer the normal freshly fried homemade donuts with a slight sprinkle of sugar on top. But for Donut franchise brand, I still prefer to stick my tongue in Dunkin Donuts (Malaysia),thank you.
But for that instant sugary rush when ur eyes are drooping in the office, I guess it will be great! So do buy some for tea time break to share with friends and colleagues! They will thank you for that jolt of vibrant surge of energy!


Location:
Novena Velocity
233 Thomson Road
#02-33/34-42
63522297
novena@donutfactory.com.sg
www.donutfactory.com.sg
Halal-certified
Disclaimer: Food featured are subject to my personal taste. I hold no responsibility for your body's gastronomical adventure.All food shown are either from Halal-certified or Muslim owned establishments(with no liquour/alcoholic beverages).I will try my utmost best to update and maintain the relevant information shown,insya-Allah…but your body,your responsibility.Do ensure that the Halal-certificates are up-to-date,renewed (not expired) and displayed promptly before ordering/consuming. If in doubt,always ask the staff with a smile.
Remember: Use ur senses especially your heart.But mainly, ask your iman (faith).

Don't assume: A headdress/scarf lady is not equal to HALAL. "No pork no lard" signage is not equal to HALAL. A crescent moon and star symbol is not equal to HALAL. Not all Mediterranean (e.g Turkish kebab), Malaysian, Indonesian cuisines (especially Nasi Padang food) is HALAL. Whatever franchise that is HALAL in Malaysia,Indonesia or in any muslim country does not mean it is HALAL in Singapore or anywhere else. Your body,your responsibility, check its HALAL authenticity. More on disclaimer?

Thank you for your kind attention.
(Visited 84 times, 1 visits today)