Country: Singapore
First and foremost, thank you for participating in the contest…I received many participation but erm..100% wrong…Oopss…sorry..I guess, U get the info from the internet instead of personally going down to check it out,right? *naughty,naughty.
Well, it's ok… I shall reveal the answer…the coffeeshop is not called VARINICE (by Koufu) but its…..
When I first heard the name of this coffeeshop, I was deeply intrigued…Say what? SEE BEH HO! (damn good!) I chuckled to myself, because I believe with this type of vibrant name, I believe the people behind this must be extraordinary. And I was right… I met with one of the owner, a young businessman named Mr James Foo.
He has a different concept for his coffeeshop.He wants to attract both the youth and older generation the coffeeshop. Thus implementing both modern deco and attracting them with interesting creative advertising platforms. I love his vigour and passion! It seems to be rubbing some positive effect on me.
As I proceed to chat with the young chef , Mr Andi. He was a self taught chef,who learned his ways thru vigourous hours in many kitchens from hotels to family owned restaurants and stalls. I love the fact that he is not afraid of constructive criticisms and always on a look out to improve his food.That says a lot about his passion. He can also customised his menu to accomodate customers's requests on the spot.
And the best part is, if anyone ask for their food to be done in less than 5 minutes, he will tell them that he will not be able to deliver that because to him, quality takes time. At least 10mins. And he will not deliver "food of his labour" if it is not able to depict the quality he adhere to. And he has mission vission of his future dreams. I like that. To me, when u start anything especially your passion, you need to have dreams and it shall not stop there,there must be a continuation….dreams should never die with age…
Oh by the way, those who reside in Tampines (near Tampines JC) this is the popular "lost and found" western food previously from there (Suryati Restaurant). I know many of you have been regulars there and the lunch hours are always packed with students ….So if u miss them,do check them out at this new premise!
Ok ,enough said….Let's check out the food…Hmm,looking at the menu, I was lost,unsure what to order. I seldom eat supper this year…but for the World Cup moments, I am prepared, the body is ready to go for FOOD wars!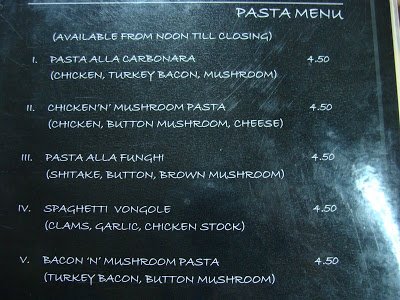 Anyway,after lots of procrastination (amongst my food "crew") ,as usual, the Princess will take the lead and order what her heart desires….

My choice is pasta…


I asked for seafood pasta but instead of normal creamy base, I asked for tomato based. I get easily "jerlak" (muak) when it comes to cheese and cream. (But dessert, I dont mind! *grin)
Pasta Alla Carbonara -Consist of generous amounts of turkey bacon, tender chicken chunks and oh my…juiciest Shitake mushrooms (I love it!).And the pasta wasnt as "jerlak" as I thought it would be. I like!

I love it! The sourish slightly sweet sauce and the al-dente pasta noodles are perfect with the seafood dancing in its lushious tomato gravy. Although the lala cannot be seen, too tiny, I like the prawns,sweet and fresh.Aside from that,there are crab sticks hidden beneath…
Lamb chops, I asked for variations of its sides..U can opt for mashed potato, fries or even fried rice. I heard that if you want mee goreng (indian fried noodles),it can be done too! The lamb chops are tasty but slightly gamey. But because it was very tasty (on its own and I found out that its marination are very basic and simple.Sorry,cannot tell u secrets of the trade..), I cannot let it go thus, I used up all my fingers with a "tug-of-war" game with the fingers and teeth. The dip was alright.
Note:Do not try this "game" if you are wearing dentures.
Next is the steak. Since we were given such generous servings,the steak look small but thick than normal steak. I had forgotten to tell Chef Andi my preference. Often, I will order medium well or medium rare.(Do note, that as muslims,we can order such preferences even though some blood can be seen,cos some premium quality steak such as Wagyu, is best tasted when medium rare.I have consulted Sahl International-worldwide Halal consultancy on this matter.)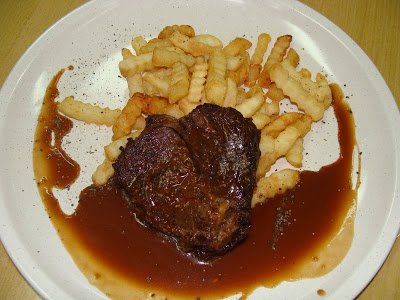 And so ,Chef Andi, gave me a very well done steak, slightly tough for me. Cos he said most malay customers wants their steak to be overly done, ensure no bloody streaks are seen. Thus he thought I wanted the same. My bad…for not informing him, cos too enthusiastic to see so many choices on the menu…hehe! but again,it was tasty…Fries was crispy.
After the first set (above) we are not satisfied, not satisfied meaning…we want more and more! Is it the World Cup spell or something? And so we ordered second batch..
First was fish and chips. It was good! I wasnt expected anything much but it was fresh and came hot and piping. Goes well with the mayonaise given. But if u eat it on its own,there is a slight bitter taste on its batter.Perhaps, a slice of lemon might do the trick.
Next was the chicken cutlet…
Another winner! The chicken cutlet with its breaded crumbs are good! I like it especially hot and piping ,crispy on the outside but juicy on the inside. Love it!
Ooh…chicken chop was tasty and soft…Mmm…did mention to the chef that the mashed potato is kinda bland..tasted very instant-made.But the gravy for the mashed potato is nice. 
And what is the best drink with all these yummies? How 'bout a hot glass of Chinese Tea ? (No sugar added)
Take note: The food above can be customised to your liking e.g if you want indian mee goreng (Fried noodles) with chicken chop or steak or lamb chop,they can customise them for you! Or perhaps, you want to have pasta with sweet and sour chicken…any variations that u crave for,they will be able to do them for you,insyaAllah but….pssst..provided they have the ingredients onsite…)
Fyi-In the morning,they served pratas and malay breakfast food such as Mee Rebus. Lunch time,there are also Briyani and rice dishes..and western food….
Rate: 3.8 out of 5. Verdict: The food is definitely WORTH it! It's cheap (range of $4.50-6,the cheapest I know) ,good and of generous servings (except the rib eye steak is about $10,its thick but size of clenched palm) Ambience is great for gatherings of World Cup soccer Matches viewing and….Have fun,enjoy the show with good company and good food…For sure, most customers end up being regulars there!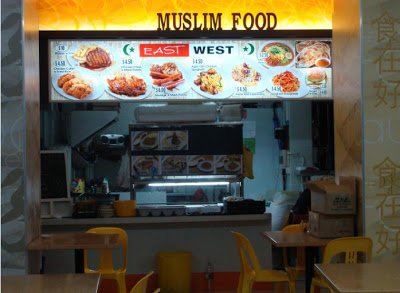 Location:
Blk 704 Bedok Reservoir Road
#01-3624
Singapore 470704
tel:94724085 (Chef Andi)
Opening hours : 7am-12am (normally)
7am-4am (World Cup Season)
Note:Western Food-12 pm onwards.
As I get up to leave, I noticed a small notice…

Now, I understand why the drinks are slightly pricey…but its understandable cos, the World Cup timing is really abnormal thus, a higher price for "zombies roaming around in their favourite jerseys" is hmm…ok.It's only for a month…
Fyi-They do catering too for small groups (about 50 people) from raw products for bbq marination to cooked food…. And for cooked food, again, they can customised the food for you e.g chinese food like hor fun, char kway teow, international food like pasta,steak… and many more) 
And what is the score? France Vs Uruguay…Erm…I think it was 0-0 , the food kinda distracted me although the rest of the food crew was "in the game". And …ok, I confess…the white tight-fitting jerseys of France make me their "instant fan" of the nite…although I am a KNVB fan (it's in my blood) *chuckles. But it was great fun!
Disclaimer: Food featured are subject to my personal taste. I hold no responsibility for your body's gastronomical adventure.All food shown are either from Halal-certified or Muslim owned establishments(with no liquour/alcoholic beverages).I will try my utmost best to update and maintain the relevant information shown,insya-Allah…but your body,your responsibility.Do ensure that the Halal-certificates are up-to-date,renewed (not expired) and displayed promptly before ordering/consuming. If in doubt,always ask the staff with a smile.
Remember: Use ur senses especially your heart.But mainly, ask your iman (faith).

Don't assume: A headdress/scarf lady is not equal to HALAL. "No pork no lard" signage is not equal to HALAL. A crescent moon and star symbol is not equal to HALAL. Not all Mediterranean (e.g Turkish kebab), Malaysian, Indonesian cuisines (especially Nasi Padang food) is HALAL. Whatever franchise that is HALAL in Malaysia,Indonesia or in any muslim country does not mean it is HALAL in Singapore or anywhere else. Your body,your responsibility, check its HALAL authenticity. More on disclaimer?

Thank you for your kind attention.
(Visited 9 times, 1 visits today)