Country: Singapore
Post=Today's freshness
Nuradee Bros are a local phenomenon made of twin brothers, who had transformed from singers,to song writers to successful businessmen and property owners in various countries.
Recently they have invested in the local food scene in Bussorah Street. I know that Arnold's have been their favourite food hangout thus when their business resemble that, I am not surprised. But one thing came to mind. Will theirs emerge a winner or will it end up like the fate of "imitation goods">> trash? Well,let's find out!

Garnering myself with people of different age groups, I went out with my "spy outfit and spy team" to check them out.

The place was not difficult to find, it was amidst the row of shop houses, right in front of the majestic Sultan Mosque. It was 2.30pm. The place was empty. Well,its understandable..cos Arab street is often crowded in the evening onwards.
I was greeted by the presence of one of Nuradee Brothers. I'm not sure whether he is the eldest or the youngest. Anyway, as we entered, we were further greeted with smiles from a female staff.
I like the deco.Kinda modern and cosy.It's quite small but I was told there is a second level which will be open to cater to events and catering.One of them is this weekend "Father's day" event. As for the promotions, they have not finalise on them yet so I was unable to feature the details here…
As I scrutinised the menu.It was really similar…except that they have a SUBMARINE sandwich. I know your heart leapt a mile. Mine did and almost never came back..I thought -"WOAH! SUBWAY submarine sandwich??!!!" And they have similar lengths as the Subways.One was foot long,the other was double the size of my arms (but again my arms are short).I was told the popular ones are roasted beef and immediately I ordered one.
Ordered rootbeer float, ice lemon tea and mineral water.They even have ice kacang dessert,onion rings and all that u can find in Arnolds. Lastly, we ordered 2 sets of fried spring chicken.
Waiting time was 15 minutes for the subsandwich. I like the open concept of the kitchen, cos I can see the chefs at work in the kitchen.
First impression,it looked kinda thin as compared to Subway.But looks can be deceiving. I push those thoughts aside and concentrate on the food infront of me. The bread was toasted ,soft and warm. The inner fillings was ghastly filled with loads of sauce which I have no way of identifying them separately.It's overall taste was alright (but doctored by the mixtures of rich sauces) but I cannot taste and savour the individual characteristics of the thinly slices roasted beef and little veges. The bread was good.Again,try not to compare with Subway.This is a newbie. I applaud their daring ambition to replicate and bring the HALAL version to the locals. *APPLAUSE from me.
Just my personal opinion: Add more thick roast beef and loads of fresh vegetables and try to limit the sauces,perhaps ask the customer for their preferences instead. I dont mind paying $10.80 for it but the fillings has to be lusciously meaty and greenies.OR else, people rather made them DIY at home,it's even cheaper right?
The chicken came 20-25minutes later.It looked awesomely yummy! The skin was golden brown and crispy. I marvelled at its tanned skin wishing that mine was glowing like that at that moment. *lol
Within seconds, hands,fingers are all over the place….No one was in sight, we are the only customers, so we felt so at home…if possible, I wish to sit, cross legged on the chairs.
Ok verdict:
The chickens were freshly fried as promised.They promised to fry only upon receiving orders from customers (similar to Arnold's.But sometimes in Arnold's ..when its full house, u might get one or two whole chicken ,a bit colder than usual….) So if u want quality,be patient!
The batter was not as "pepperish spicy" as Arnolds' thus kids might prefer here. The chickens are fried much crispy than Arnolds thus Malays ,especially older generations might love it here…Although the outer was slightly crispy than Arnolds,the chicken breast was yet tender and succulent when u tear them in bite sized and let it sizzles in your tongue.
Overall,the difference -the marination was slightly saltish and tiny bit of bitterness (in some minute areas).The coleslaw/mini salad was alright (prefer Arnold's)…but is it meant to be eaten with fingers? *lol .I was looking for some utensils… but it's ok. I dont mind indulging the food with my bare fingers.
My rate: I say it is very good for a newbie. I believe if they keep this up and listen to their customers comments and improve on it,they can go far and perhaps even beat its own "mentor"-ARNOLD's. (So watch out ARNOLD's!!!)
4 droolz out of 5. For sure, if I craved for fried chicken, I can just head to the nearest to home -central area here…rather than make my way to far end of the country.Because the eastern sides are colonised by Arnold's -the eastern side(Geylang & Pasir Ris) or North East (Hougang). As for the price,its slightly higher,about $1 more.But again, got to figure out your location first before you can start complaining about the price. Central bustling dining area=costly.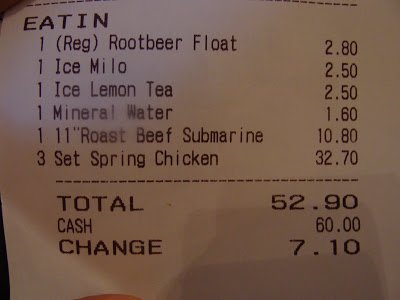 Hmm, looking at the mini stage…I bet, the whole dining moments will be escalated into my good books if the Nuradee Bros were to serenade me with my favourite songs. Aww…I bet it will be an awesome experience or perhaps even romantic!
But then, fried oily chicken and messy oily fingers and lips doesn't go well in my "romantic imagination". *chuckled with meaty chunks of meat showing its "smiles" in between my polished teeth. YikeS!
Location:
Chicken Champ
60 Bussorah Street
Singapore 199476
tel:63963142
Disclaimer: Food featured are subject to my personal taste. I hold no responsibility for your body's gastronomical adventure.All food shown are either from Halal-certified or Muslim owned establishments(with no liquour/alcoholic beverages).I will try my utmost best to update and maintain the relevant information shown,insya-Allah…but your body,your responsibility.Do ensure that the Halal-certificates are up-to-date,renewed (not expired) and displayed promptly before ordering/consuming. If in doubt,always ask the staff with a smile.
Remember: Use ur senses especially your heart.But mainly, ask your iman (faith).

Don't assume: A headdress/scarf lady is not equal to HALAL. "No pork no lard" signage is not equal to HALAL. A crescent moon and star symbol is not equal to HALAL. Not all Mediterranean (e.g Turkish kebab), Malaysian, Indonesian cuisines (especially Nasi Padang food) is HALAL. Whatever franchise that is HALAL in Malaysia,Indonesia or in any muslim country does not mean it is HALAL in Singapore or anywhere else. Your body,your responsibility, check its HALAL authenticity. More on disclaimer?

Thank you for your kind attention.
(Visited 74 times, 1 visits today)