Country: Singapore
Post=Today's Freshness
A tribute to all fathers…
I know my dad would love to celebrate the day with a good ole steak munching with his loved ones.But since, he is somewhere faraway …
"Well, this is for you ,dad! I'm sorry I cannot send this thru airmail.But,dont worry,I am eating this for you,just for you only..". *showing sincerity thru eyes and tummy.
Ok,back to tummy business…
Botak's Favorites is the Halal version of Botak Jones . It is famous for its American food especially its steak. And I heard that they also have USDA quality steak (cost about $30-$40)too! WOW!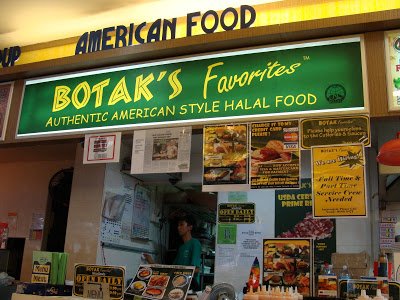 So what are you waiting for? Bring your dads down, for some chow down in town!

Father's day promotion:For more info-go to their Botak's Favorite's facebook .
For Woodlands (halal-certified) and Bukit Batok's Branch( awaiting Halal certificate): 20% off Dad's meal and 10% off anyone's meals accompanying dad and a free mug for dad. Applicable for lunches and dinners.No need reservations ,just walk in.
For the Simpang Bedok outlet, For the Father's Day Weekend DAD will eat for FREE any one item or set from the menu (except the USDA Prime Ribeyes) AND he gets a nice gift. The family dines at regular price.
For more info, click here!
Went to Woodland's Branch….
We ordered….
Mini Me Botak: A 90 grams of pure beef patty burger (optional to have cheese with additional cost,erm, u know..me and cheese..not so tight) with some lettuce,cheese and onions.
I can opt for sides but this visit is solely for meat, no side orders, no diversions just pure meat attack!
The most outrageous burger that they have is U-CRAZY WHAT?! ($13 burger only) which is 3 patties of 135gram of meat!!
Second order was the BAR-B-Qued Chicken Wings (Min order: 3pieces) $1.70 each.
Third was the Chilli DAWG.Long slender beef hot dog with whoopass Con Carne and chopped onions.
Lastly was the steak.
I'm a lady thus I chose NZ Ribeye Lady's Cut ($12.50). Petite steak for me…(I am tempted to choose the 300grams or USDA steak (300g is $44.50) but erm, I think it's too much for a meal.Too much meat!! And my "makan kakis" are waving the white flag already..YIKES!)
Hmm…my verdict:
All food came about 15-20mins. Well, if you want quality,gotta wait…
Oh my….Look at the LENGTH!!! So loooongggg….
If u eat it on its own,its saltish but with the Con Carne and onions, Oh my….The hotdog oohlala…so yummy! And as u bite it, there is crunchy sound that entice u to bite again and again and again. Very addictive. I love to hear the sound of it in my mouth.Bite and listen as I chew…No more cravings for A&W Coney hotdogs (defunct in Singapore).This is the dawg!This is the one!
Another hot favourite is….1901 hotdogs (in Malaysia,not in Singapore branches) are still one of the top beef hotdogs in my list…cos I can taste the yummy beef in the hotdogs.Mmm…
Next is..the burger…patty was slightly dry but taste wise it's yummy…. cos its pure meat! Hmm, next time,perhaps the triple decker burger please….(U Crazy what?!!heheh!)
Barbecued wings took a long time as promised (about 20mins).It wasnt as expected.I am still puzzled whether this is bbq or it is lightly fried.
But anyway,that wasnt important because it was under dollops of bbq sauce miced with lots of chopped raw onions. If the wings are marinated, I cannot taste the marination cos of the overpowering bbq sauce. But I do love the squirmishing raw garlick in my mouth as I pounced on the wings.Wanna smell my mouth? *cheeky hiss
But I don't really like the bbq sauce.Too strong for me. To me,it tasted a bit like petis (prawn paste,really?) or perhaps, my tastebuds are haywire today….
This time, I ordered the steak to be medium well. So expected the meat to be pinkish.
The staff told me to check it out upon serving whether it is done as I wanted. Well-done, I love their good service. Restaurant service at coffeeshop prices.(and no service charge at all!)
Note: I know most of us prefer the steak to be very well done for fear of the bloody trails and all that. I have checked with an international Halal consultant and he said it's ok to consume steak cooked the way you desire e.g medium rare,medium well…. because some premium meat such as Wagyu and Kobe needs them to be cooked medium rare to savour their unique grain and marbling.
Ok, I love their steaks…in LOVE! No more eating steak in restaurants (sorry EATZI!).Im coming here everytime, the meat cravings kicks in.
As for preference, I prefer the ones done in Simpang Bedok branch (by Chef Zahir) cos although it's differently cooked (I asked it to be done in Medium rare), the steak was VAVAVOOM to me.
The whole goodness kinda melts in my mouth.The taste was just right and everything was in harmony….except the slightly burnt garlicky taste in Sauteed Fresh Shittake Mushrooms and erm…slightly diluted Whoopass Con Carne as sides. Oh,there was a Foccacia bread too..not bad,soft.
It was one of the best steak I ever tasted in Singapore. (Ok,I confess,the steak at Woodlands, was slightly saltish..)
Overall-4.5 out of 5 droolz. As for Simpang Bedok Branch: I give a slightly higher rating for the steak only : 4.8 out of 5.
p.s:Again sorry for the limited pics, will top them up soon as soon as my internet recovers from its "fever"…
Location:
Botak's Favorites
Blk 892C Woodlands Drive 50
#01-02 tel:68944225
11.30am-10pm
(only Simpang Bedok branch/tang tea house is open from 6pm-4am)
http://www.greatbigfood.com/
They also do caterings.And if u want to order takeaways,and hate to wait,you can call them up to order first and just collect at the right time.
Happy FATHER's DAY,everyone!!
Ok sidenote to my …
Dearest Daddy Long Leggs,
Lieve …..
Ook al werk je hard in een ver land, mijn doa en liefde is altijd voor jou.
Bedankt voor jouw eindeloze liefde en dat jij er voor mij bent.
Ik hou van jou. May you have the lekkerste Vader's Dag!
Disclaimer: Food featured are subject to my personal taste. I hold no responsibility for your body's gastronomical adventure.All food shown are either from Halal-certified or Muslim owned establishments(with no liquour/alcoholic beverages).I will try my utmost best to update and maintain the relevant information shown,insya-Allah…but your body,your responsibility.Do ensure that the Halal-certificates are up-to-date,renewed (not expired) and displayed promptly before ordering/consuming. If in doubt,always ask the staff with a smile.
Remember: Use ur senses especially your heart.But mainly, ask your iman (faith).

Don't assume: A headdress/scarf lady is not equal to HALAL. "No pork no lard" signage is not equal to HALAL. A crescent moon and star symbol is not equal to HALAL. Not all Mediterranean (e.g Turkish kebab), Malaysian, Indonesian cuisines (especially Nasi Padang food) is HALAL. Whatever franchise that is HALAL in Malaysia,Indonesia or in any muslim country does not mean it is HALAL in Singapore or anywhere else. Your body,your responsibility, check its HALAL authenticity. More on disclaimer?

Thank you for your kind attention.
(Visited 29 times, 1 visits today)