Country: Singapore
I'm off to crash the next wedding this weekend….
I'm glad many wrote in with same affinity as my intention of wanting to raise the catering standard especially in weddings.
I got 2 invites today but I'm sorry …I can fulfill only one…
Anyway, off I go….
As I approached the beautiful tents, there were many guests. Stripping my shyness, immediately I snap some shots cos the beautiful couple were on the wedding dais radiant in their matching vibrant yellow malay traditional costume.
I can see the bride smiling shyly, radiantly beautiful and the husband is charming amongst the crowd taking pictures with families and friends.The atmosphere was filled with both English and Malay songs because this is a unity of 2 different races:Malay and Chinese.
I checked out the food….feeling kinda pampered, need to be served…

Overall verdict: 2.75 out of 5-survival…
The food is about 2.5 out of 5. The prawns were fried with curry leaves.I like the fragrance.It will be better if it is more crispy. The rice has a nice fragrant. The white vermicelli was ok. The mutton was slightly chewy. The red chicken is sweet and has this taste like bottled Indian pickled mangoes (the sourish saltish ones).It was alright.
Amongst the food, I like the fish nibblets best.Crispy on the outside and soft on the inside.And I guess I wasnt the only one as I watched Chinese families load their plates with many cutey nibblets.The Malay kuehs (savoury and sweet) is slightly better : about 3 out of 5. I dont really fancy the tapai (fermented glutinuous rice I think-thks CT!),there is a strong smell and aftertaste which felt more chemical than natural.
Tried to find the name of the catering but none can be found. I did not want to give up and as I probe further, I found out that this is from own family catering. It's not for business , perhaps its a family favour, I guess…It's nice to have families and relatives working together to cook a feast. A yearning sight in the modern society whereby such tasks are often handed to outsiders e.g catering company/wedding planners…. (or probably they know my identity thus the secrecy…*chuckles)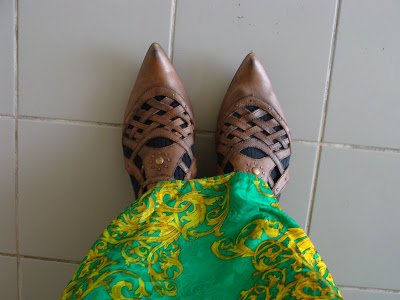 So that's all for today….
Pictures? Here they are…….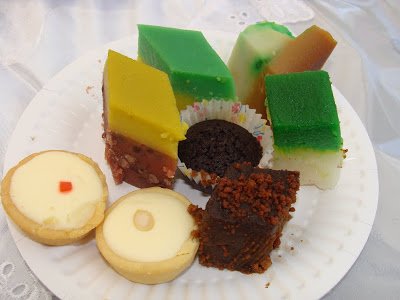 Disclaimer: Food featured are subject to my personal taste. I hold no responsibility for your body's gastronomical adventure.All food shown are either from Halal-certified or Muslim owned establishments(with no liquour/alcoholic beverages).I will try my utmost best to update and maintain the relevant information shown,insya-Allah…but your body,your responsibility.Do ensure that the Halal-certificates are up-to-date,renewed (not expired) and displayed promptly before ordering/consuming. If in doubt,always ask the staff with a smile.
Remember: Use ur senses especially your heart.But mainly, ask your iman (faith).

Don't assume: A headdress/scarf lady is not equal to HALAL. "No pork no lard" signage is not equal to HALAL. A crescent moon and star symbol is not equal to HALAL. Not all Mediterranean (e.g Turkish kebab), Malaysian, Indonesian cuisines (especially Nasi Padang food) is HALAL. Whatever franchise that is HALAL in Malaysia,Indonesia or in any muslim country does not mean it is HALAL in Singapore or anywhere else. Your body,your responsibility, check its HALAL authenticity. More on disclaimer?

Thank you for your kind attention.
(Visited 5 times, 1 visits today)